USM Hosts Construction and Design Career Expo
Thu, 04/06/2023 - 02:28pm | By: Ivonne Kawas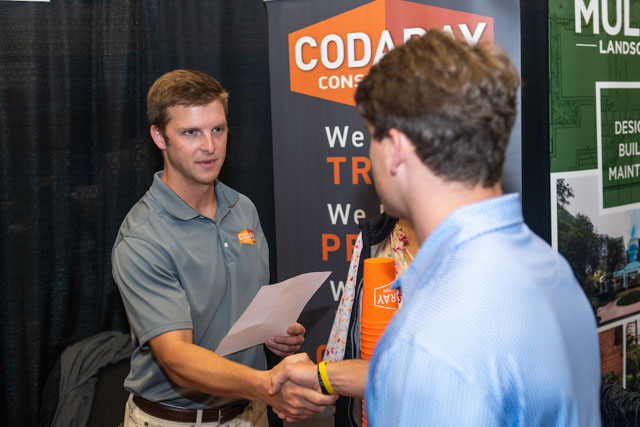 The Construction and Design Career Expo, the first job fair hosted by the School of Construction and Design at The University of Southern Mississippi (USM), was held last month at the Thad Cochran Center Grand Ballroom on the Hattiesburg Campus. Approximately 40 employers from the construction industry and more than 150 Southern Miss students participated.
"I am happy to see that our planning efforts for the career expo since November paid off, and that the first-ever job fair of the School of Construction and Design surpassed all our expectations," said School Director Dr. Emre Bayraktar. "The Construction and Design Career Expo provided companies from the construction, engineering, and architecture industries with an opportunity to enhance their employer brand on campus and meet our talented students interested in obtaining internships and full-time positions."
Dr. Bayraktar noted that cultivating strong relationships with the construction industry through events like this is vital as it enables the school to continue to establish itself as a national leader in construction education.
"By hosting this career expo, we were able to cultivate our relationship with some of the top employers in the construction industry," said Dr. Bayraktar. "We really appreciate the generous support provided by the Mississippi Construction Industry and the members of our Industry Advisor Council. Their support also confirms that our programs offer a value-rich education, and our graduates are in high demand and workforce ready."
Dr. Bayraktar commends faculty, staff, and students for playing a role in ensuring the event was a complete success.
"I would like to thank our faculty, staff, and the amazing students for making this first-ever construction job fair a great success. We had a great turnout and have set the bar high for future Career Expos."
Hensel Phelps, Quanta Services, Brasfield & Gorrie, Dunn Building Company, Roy Anderson Corporation, Yates Construction, APAC-Mississippi, Eutaw Construction, Ryan Gootee General Contractors, Weeks Marine, Industry Services Company, Fountain Construction, Rozier Construction, and Codaray Construction were some of the construction companies that took part in the Construction and Design Career Expo.
To learn more about the School of Construction and Design, call 601.266.4895 or visit: https://www.usm.edu/construction-design/index.php