Center for Ethics and Health Humanities to Host Fall Lecture Series Beginning Sept. 25
Tue, 09/19/2023 - 03:41pm | By: David Tisdale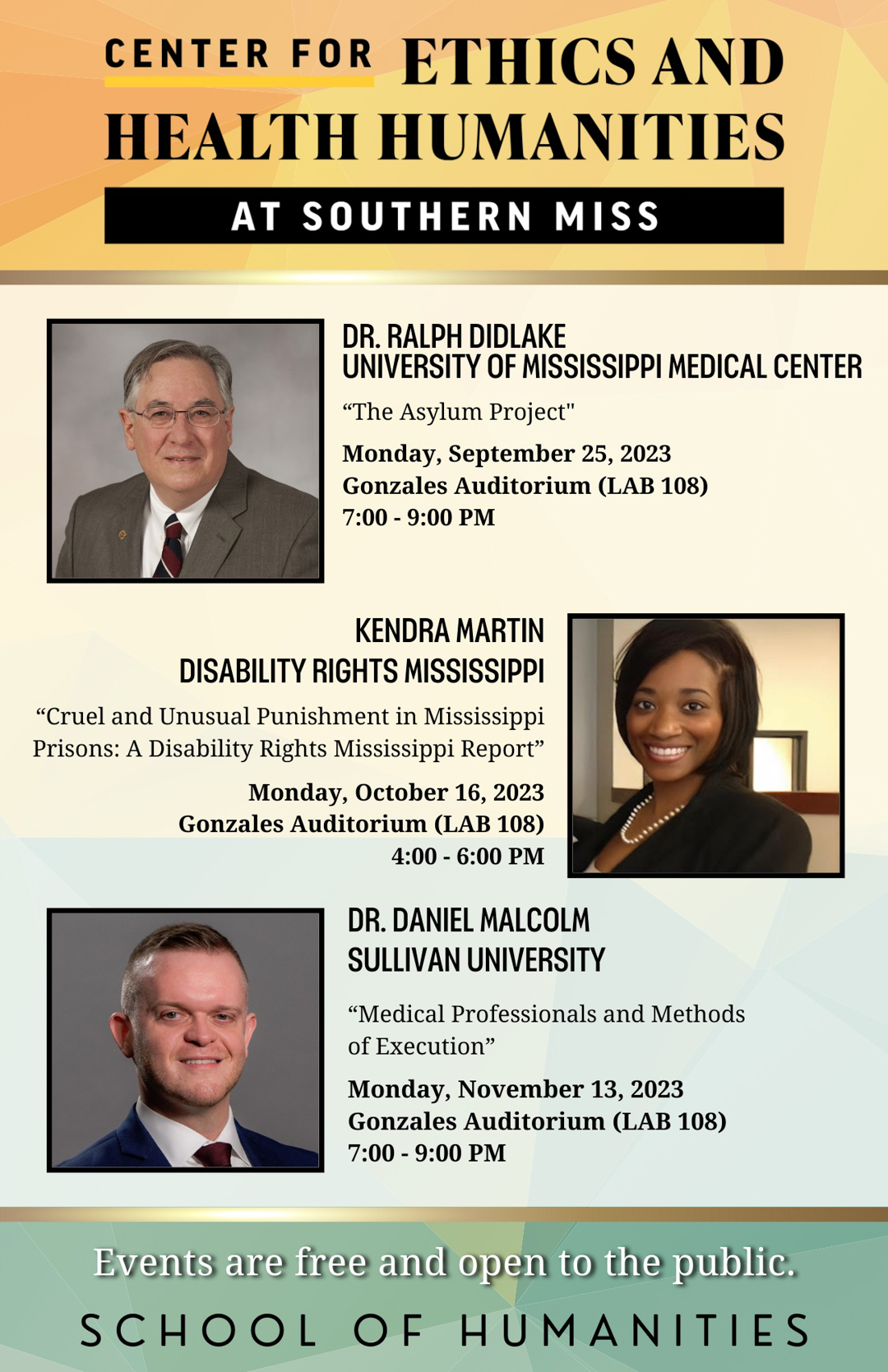 The Center for Ethics and Health Humanities (CEHH) at The University of Southern Mississippi (USM) will host a lecture series in-person and online, starting Sept. 25 with Dr. Ralph Didlake's "The Asylum Project" on the Hattiesburg campus. CEHH events are free and open to the public.
Dr. Didlake will discuss efforts to properly manage thousands of unmarked graves recently discovered on the grounds of the University Medical Center (UMC) in Jackson. Many of the graves are those of individuals who died at what was formerly known as the Mississippi State Hospital for the Insane. His presentation is set for Monday, Sept 25 at 7 p.m., Liberal Arts Building room 108; join online via Zoom, Meeting ID: 880 7072 1142.
The remainder of the CEHH fall speaker schedule is as follows:
*Monday, Oct. 16, 4 p.m. - Kendra Martin: "Cruel and Unusual Punishment in Mississippi Prisons: A Disability Rights Mississippi Report," Liberal Arts Building, room 108; join online via Zoom, Meeting ID: 839 8932 5528.
Martin will discuss a recent report issued by Disability Rights Mississippi chronicling various ways in which the State's prison system fails to respect the rights of disabled persons. The subtitle of the report: "A Tale of Abuse, Discrimination & Undue Death Sentences."
*Monday, Nov. 13, 7 p.m. - Daniel Malcolm, PharmD, BCPS (Sullivan); Jeremy Rainey, DO (UMC): "Health Professionals on the Death Penalty," Liberal Arts Building room 108; online access instructions - Join Zoom Meeting, Meeting ID: 882 7061 5467.
Dr. Malcolm and Dr. Rainey will discuss ethical issues involved in administering the death penalty from the perspective of health professionals. Dr. Rainey is an anesthesiologist at UMC and Dr. Malcolm is a pharmacist at Sullivan University.
The USM CEHH sponsors a wide range of educational opportunities on important issues in ethics and bioethics, including lectures and workshops featuring nationally known sponsors; it also supports three academic minors, and offers continuing educational opportunities for health professionals; facilitates interactions between health researchers and local health care providers; and features continuing education programming in nursing and other health professions.

Learn more about the USM CEHH.