Office of Leadership and Student Involvement Hosts Annual Fall Student Organization Involvement Fair
Mon, 09/18/2023 - 03:39pm | By: Emily Holmes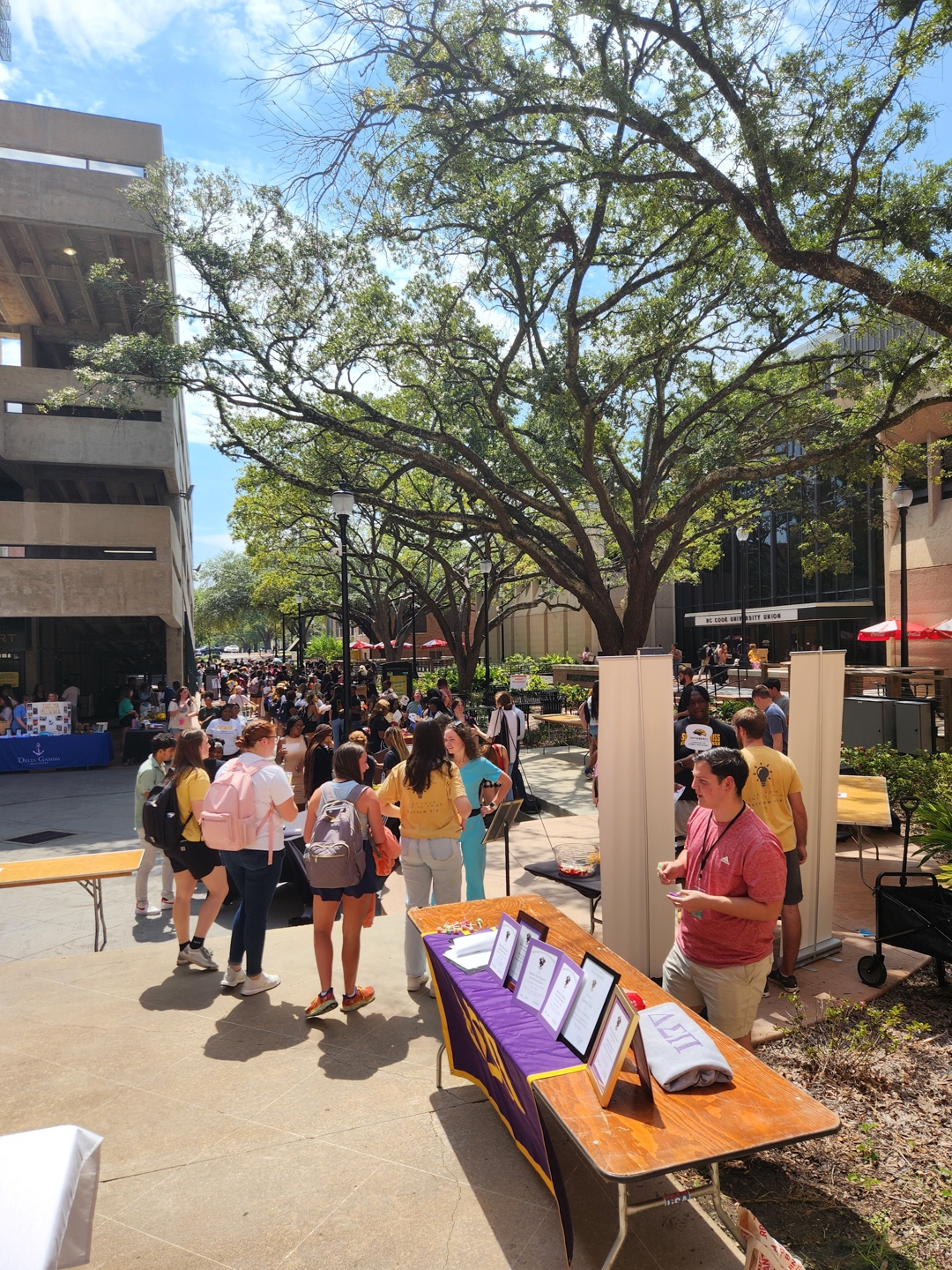 The University of Southern Mississippi (USM) Office of Leadership and Student Involvement (LSI) held its annual fall student organization involvement fair Sept. 13 in the Union Plaza on the Hattiesburg campus. LSI oversees close to 200 active student organizations, and this event showcased 70 different organizations and on-campus offices and departments for students to learn more about.
Early connections to campus life and engagement can help students' overall success and belonging while in college. Student organizations at the fair represented all types of categories of groups, from special interest to religious to fraternity and sorority life.
"Helping students find their fit on-campus is part of the mission of our office", said LSI Director Dr. Emily Holmes. "Close to 300 students attended the event and were able to check in and receive a passport card to encourage them to visit at least several different types of organizations at the fair. Once they filled their card, they were able to turn it in for a prize."
One stop on the passport card was to meet a Student Involvement Ambassadors. Ambassadors are student leaders trained by the office to help students find organizations to get involved in on-campus.
"With so many organizations, we know it can be overwhelming for students to know where to start," Dr. Holmes explained. "Ambassadors meet with students one-on-one, at any time during the year, to help recommend involvement opportunities to them."
Students looking to get involved on campus can meet with an ambassador by visiting the LSI Office in the Student Activities Hub. Ambassadors meet with hundreds of students each year. LSI will host another involvement fair at the start of the spring semester.
The Office of Leadership and Student Involvement oversees registered student organizations and houses the Student Government Association (SGA) and the Southern Miss Activities Council campus programming board (SMAC). As a member of the Division of Student Affairs, it is committed to developing healthy, connected, and learning-focused students and communities.
(USM photo by Kelsey Farr).