Annual Holiday Choral Spectacular Kicks Off Holiday Season Nov. 28, Nov. 30
Tue, 11/14/2023 - 12:15pm | By: Mike Lopinto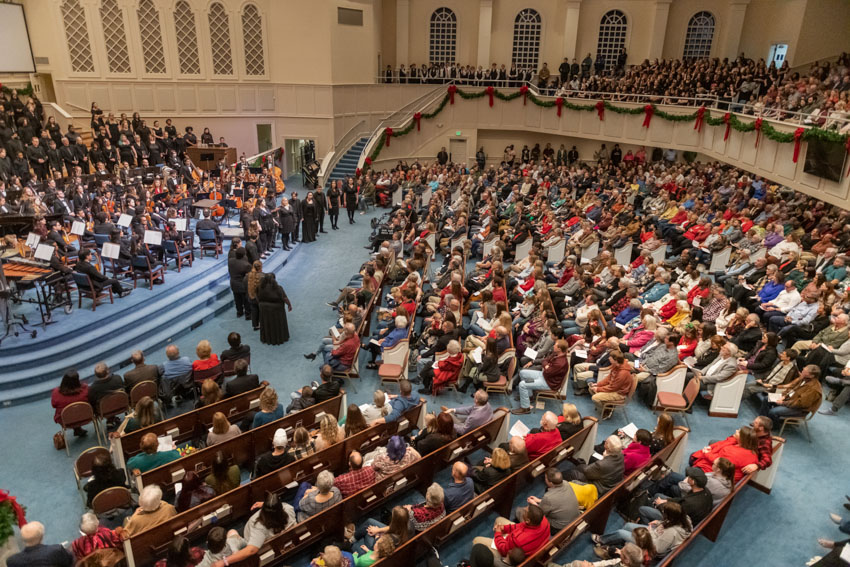 The University of Southern Mississippi (USM) School of Music will present the Holiday Choral Spectacular featuring the choirs of Southern Miss Choral Activities, the Southern Miss Symphony Orchestra, and several area choir programs in two joyous evenings of music Nov. 28 and Nov. 30 at 7:30 p.m. at Main Street Baptist Church in Hattiesburg. General admission tickets are $20.
The Holiday Choral Spectacular is a yearly community celebration of the holiday season through choir and orchestra featuring several ensembles within Southern Miss Choral Activities, including the Southern Chorale and Southern Miss Concert Choir. Area schools joining the concert for Christmas carols are Columbia Middle School, East Marion High School, and Columbia Middle School.
"Audiences will hear recognizable holiday classics like 'I'll be Home for Christmas,' 'Let There Be Peace on Earth,' and 'Joy to the World,'" said Director of Choral Activities Dr. Gregory Fuller. "It's a great opportunity for all the artists of the Hattiesburg area to spread some holiday cheer to everyone."
This year's programming will also feature Southern Miss faculty pianist Dr. Michael Bunchman on Beethoven's "Choral Fantasy."
Under the direction of Dr. Michael Miles, the Southern Miss Symphony Orchestra will perform "Russian Christmas Music" by Alfred Reed and the holiday favorite, "Sleigh Ride" by Leroy Anderson.
Concert attendees can also look forward to standard holiday carols with the opportunity to participate in the celebration toward the end of the performance through combined carol singing - audience and performers together. Purchase tickets today.