Lankford Completes Summer Internship with Airbus
Mon, 08/28/2023 - 03:41pm | By: David Tisdale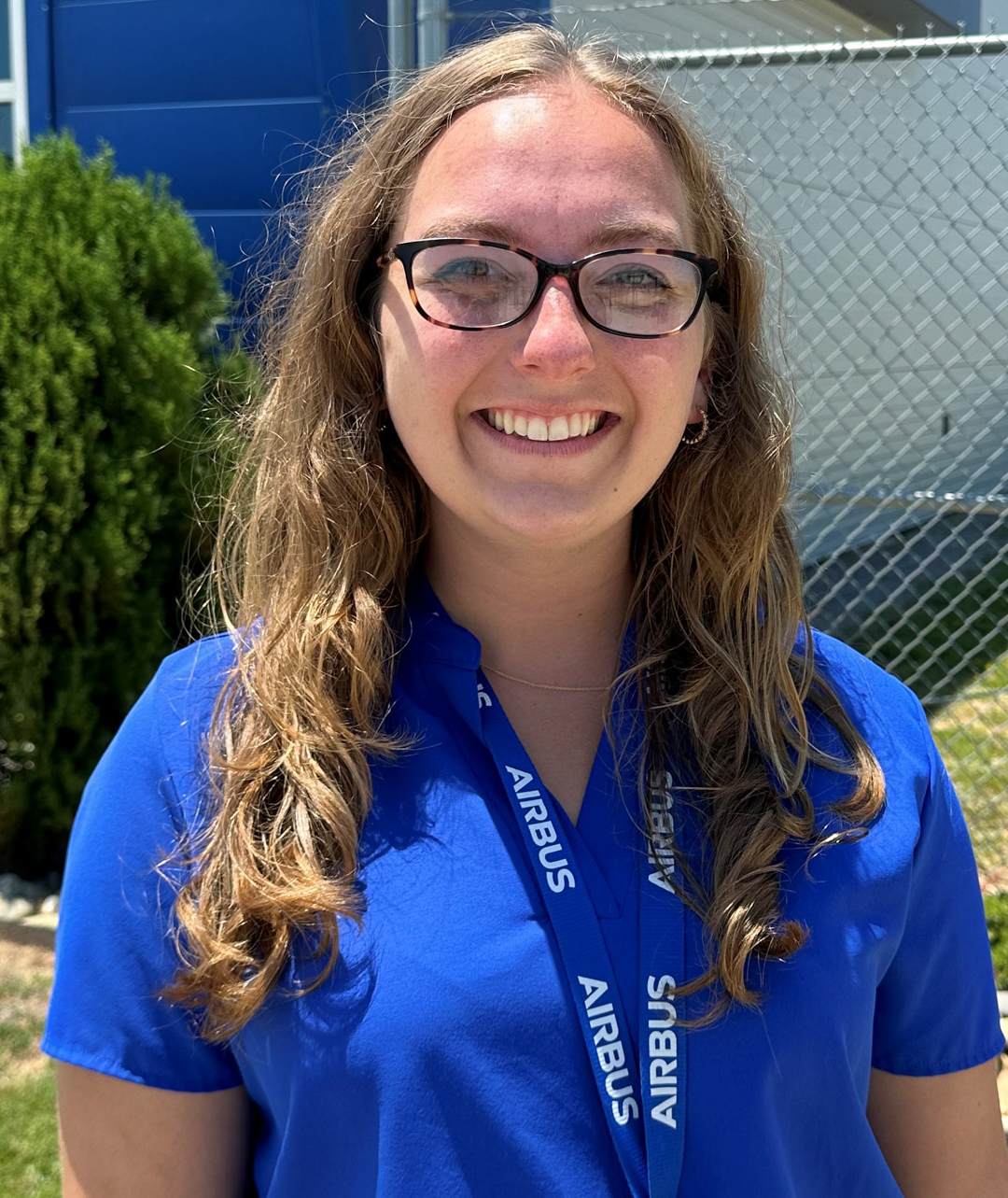 University of Southern Mississippi (USM) graduate student Ashley Lankford gained valuable experience in corporate public relations through a summer internship with Airbus, a global pioneer in the aerospace industry that operates in the commercial aircraft, helicopters, defense, and space sectors.
A native of Satsuma, Alabama, Lankford graduated with a bachelor's degree in communication studies from USM's School of Media and Communication in the summer of 2022. Since then, she has pursued graduate studies at the university and will finish in May 2024 with a master's degree in communications.
An Airbus recruiter emailed her in January asking if she would be interested in interning with Airbus at its Mobile, Alabama Manufacturing Site (MMS) over the summer. As a native of Mobile County, Lankford knows firsthand how impactful the company has been to her community, and immediately applied.
Airbus is a leader in designing, manufacturing, and delivering aerospace products, services, and solutions to customers worldwide. It employs approximately 134,000 people and is the largest aeronautics and space company in Europe, and a global leader in the aviation industry.
"I wanted to see how a global, for-profit organization was run," Lankford explained. "I've been exposed to several non-profits, and USM has allowed me to have insight into the communications realm of higher education. I know that I want to pursue a career that is fast-paced, and the Mobile Manufacturing Site (MMS) is one of the fastest growing Airbus sites worldwide. This quick growth and constant development interested me a great deal and led to me applying.
"The opportunity to work with Airbus allowed me the chance to utilize the skills I have been taught at USM and expand my knowledge base with hands-on training in a global market."
Lankford interned in the Airbus communications department from May 23 until Aug. 4, one of 14 interns chosen to be a part of its first official summer internship cohort. There, she was tasked with developing a strategic communications plan for the EHS (Environment, Health, and Safety) Department specifically relating to sustainability. She was also charged with creating and enhancing ISO 14001 communications, as well as Environmental Regulatory communications on site.
"The work I was able to do this summer will be used on site for a number of years to come, which was so exciting," Lankford said.
Lankford said the biggest takeaway from her experience at Airbus was learning that it takes a team of people actively working together to achieve a goal to be successful.
"Global companies and even the Mobile Manufacturing Site are far too large for one person to tackle alone, so this summer I learned a great deal about teamwork in a professional setting," she continued. "I also learned a lot about seeking out information that you may not know immediately. As an intern, it can be intimidating to ask questions at times, but this summer I saw first-hand how beneficial questions can be."
Lankford also benefited from being exposed to so many people "who truly had my best interest at heart and wanted my project to succeed."
"Most everyone I met at Airbus was beyond willing to give me greater insight into their job or offer me advice on how to make my final product better," she said. "I was thankful for that, and was even more thankful for Ryan Hopkins in EHS, who helped me daily understand the complex world of environment regulations and environmental communications. Through this internship I was able to see how numerous positions across departments impact a final goal."
Interning at Airbus also helped Lankford more clearly map out her interests and career goals. "Ultimately, I would like to be the chief communications officer or chief executive officer of a company. This summer allowed me to gain a greater insight into what that role may look like and exposed me to the importance of an effective communication department."
Lankford encourages college students at every level to take advantage of internship opportunities, even if not required for graduation.
"There's nothing like having real world experience in the field you are interested in, and internships give students the opportunity to become involved with an organization and learn so much," she explained. "Most places want to see their interns grow in their knowledge of the company, but also in their understanding of the field they are working in. That's invaluable as one completes their degree and pushes forward to their next goal in life."