Students in USM's Student Media Center Honored at Broadcasting Awards
Thu, 04/27/2023 - 09:47am | By: Ashley Lankford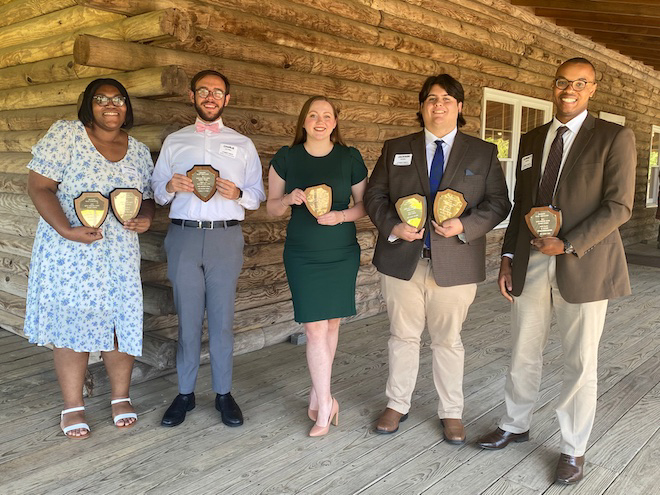 Several student journalists for the Southern Miss Media Center (SM2), housed in The University of Southern Mississippi's (USM) School of Media and Communication, were honored at the Mississippi Association of Broadcasters (MAB) annual Excellence in Broadcasting awards banquet in Jackson earlier this month.
"As I always tell our students, awards are nice but that's not why we do what we do: Our Student Media Center is the loudspeaker for the student voice. Our student journalists represent the very best of USM and these many awards across media platforms are recognition of their hard work to show what it means to create, inform and inspire our campus audience," said Dr. Edgar Simpson, director of the School of Media and Communication.
In total, SM2 students won a combined of 15 awards at the MAB Awards Ceremony, including the Student Printz, the weekly newspaper of SM2, who won first place for Best Series or Investigative Package and for the category of Best Editorials. At the event, SM2 also won the award for Best Website and the Best Use of Social Media.
One student, Cordaveon Carter, stated that the "growth is just incredible" when referring to his program and the experience of creating content with SM2. He states, "Some of the segments I worked on started off as a side project that really caught on with our audience. To be able to go to MAB Day to get an award and be recognized among all the best journalists and anchors in the state is an incredible accomplishment."
Austin Lindsey reminisced about the previous year winning awards at the banquet. He states, "It was our second-year winning awards here at the banquet for the MAB. So, of course, it's always good to see local newscasters and connect with them. I always look forward to engaging in conversations and asking for their input on different topics." Lindsey adds, "Being able to build off of our past success just shows that we are a group of award-winning journalists, and we are a part of one of the most talented programs here in the state of Mississippi."
Individual and group award winners from the MAB Awards Ceremony are as follows:
Jackson Howell
First Place, Best Sports News Story
First place, Best Sports Feature Story
Charlie Luttrell
First place, Best Sports Photo
Second place, Best Advertisement
Third place, Best Sports Feature Story
Sarah Kofman
First place, Best Use of Video
Abigail Troth
Second place, Best Use of Video
Garret Grove
Third place, Best Feature Story
Third place, Best Series or Investigative Package
Sean Smith
Second place, Best Sports Photo
Third place, Best General News Photo
The Student Printz
First place, Best Series or Investigative Package
Best Editorials
Southern Miss Student Media Center
Best Website - SM2media.com
Best Use of Social Media