USM, U.S. Army Engineer Research and Development Center Sign 5-year Education Partnership Agreement
Fri, 09/01/2023 - 03:32pm | By: Van Arnold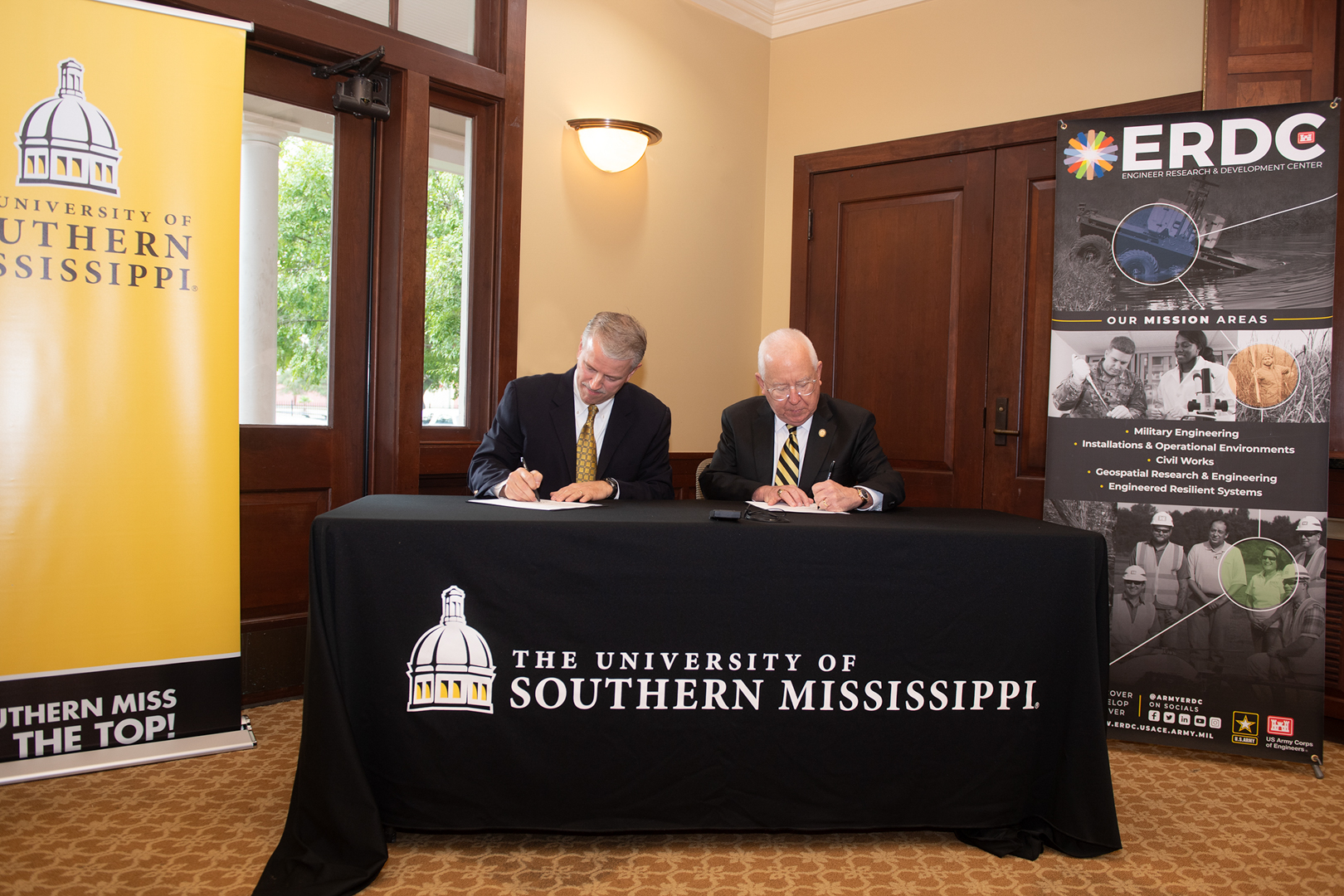 An education partnership agreement between The University of Southern Mississippi (USM) and the U.S. Army Engineer Research and Development Center (ERDC) creates a transformative pathway for scientific collaboration between two of the state's research leaders.
USM President Joseph S. Paul and ERDC Director Dr. David W. Pittman were on hand to sign the official Memorandum of Understanding (MOU) during a special ceremony held Friday, Sept. 1 on the Hattiesburg campus. The agreement establishes the basis for mutual understanding and cooperation between USM and the ERDC in the implementation of a Partnership in Education program.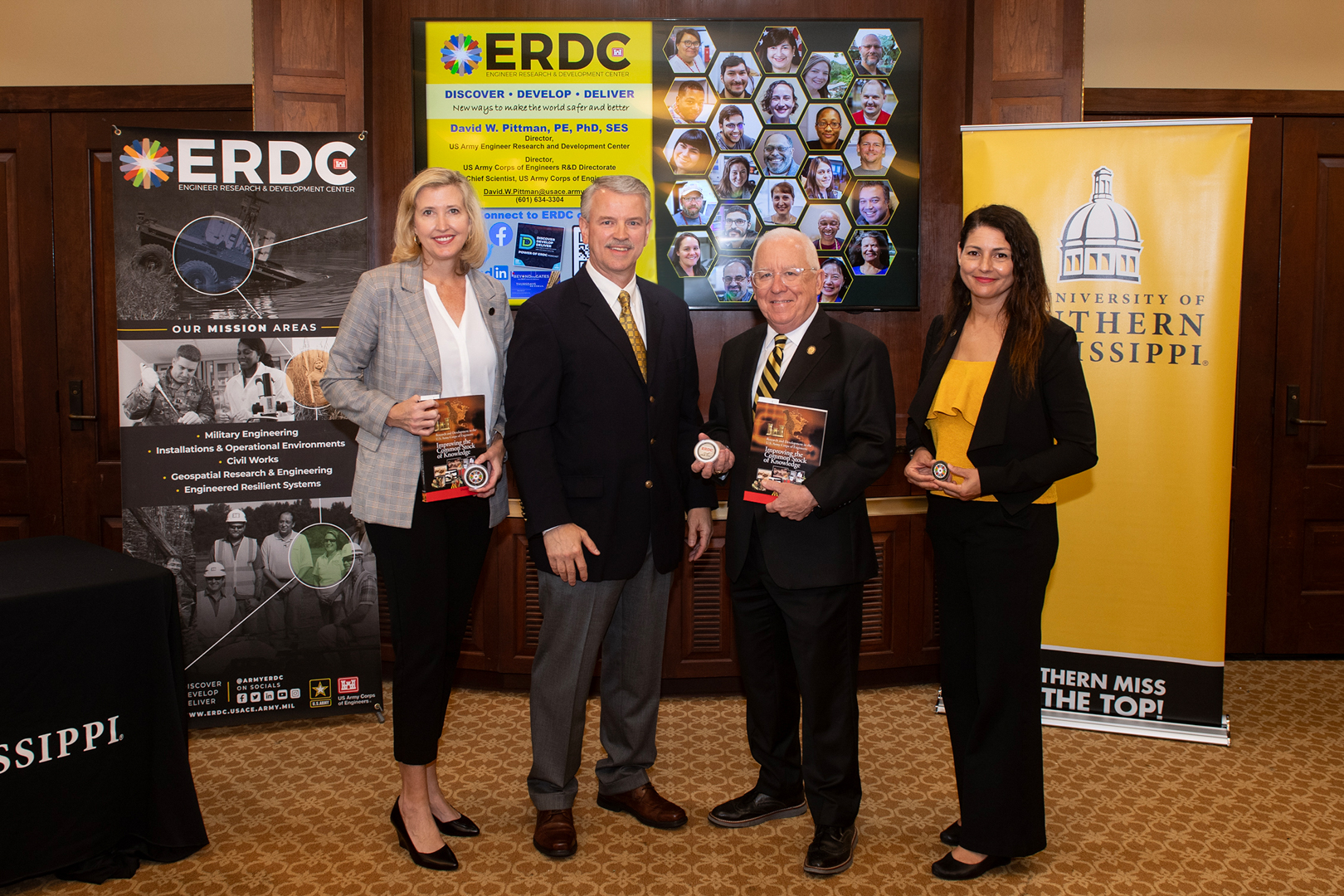 This signing expands an initial agreement between USM and ERDC in 2018. The supportive relationship is established in recognition of the importance of science and technology education to the future political and economic well-being of the nation as well as the importance of the USM to the business, industrial and government institutions in this region.
"Today's five-year agreement allows us to further expand truly synergistic opportunities through our partnership, including enhancing our cooperative educational collaborations where we are leveraging our faculty expertise and increasing access and engagement for our students, both undergraduate and graduate scholars," said Paul.
He added: "This agreement focuses on some of our greatest institutional strengths in Science, Technology, Engineering and Mathematics, including our programs in polymer science & engineering, ocean science engineering, computer science and engineering, chemistry, environmental studies and more."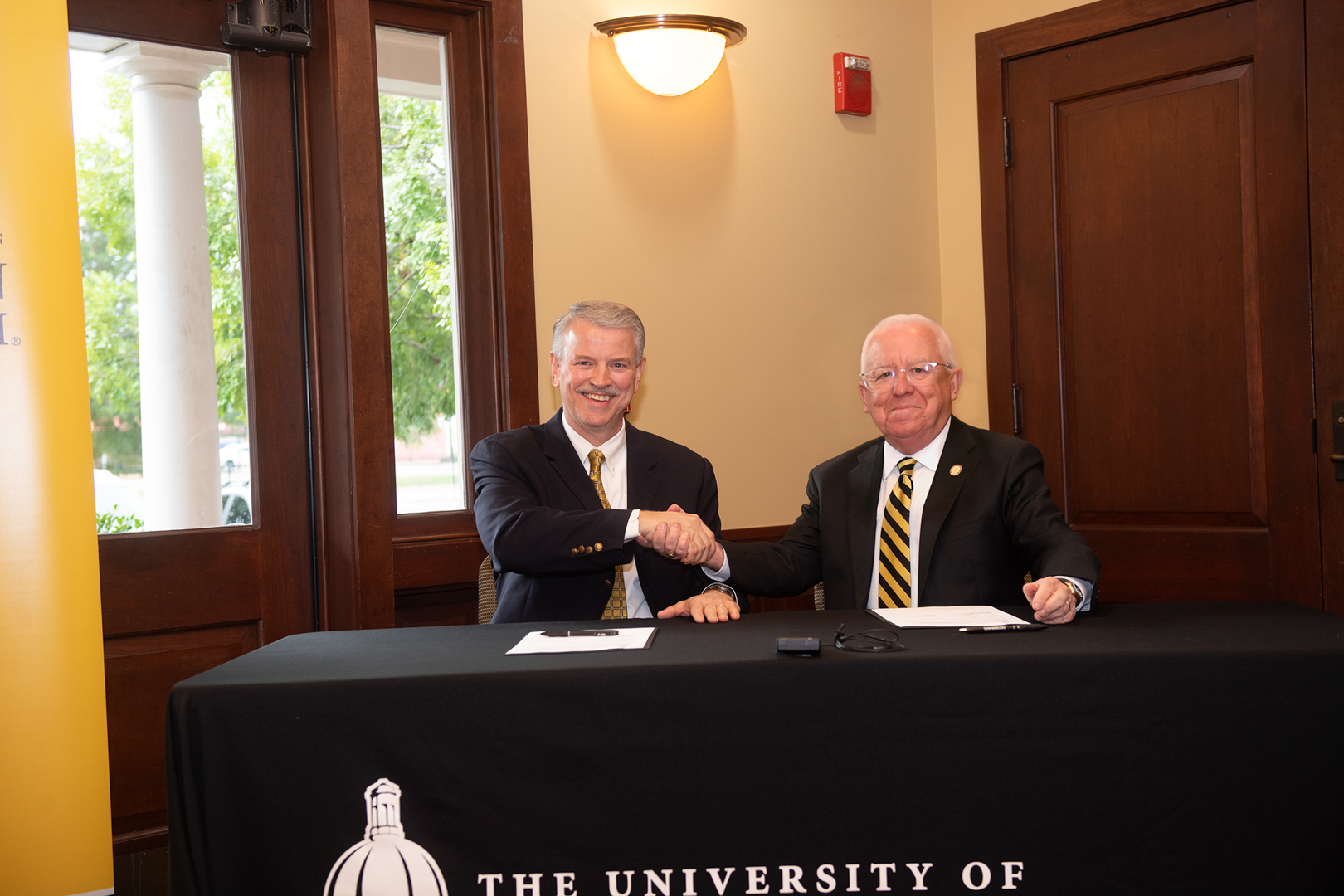 Established in 1998, the U.S. Army Engineer Research and Development Center is one of the premier engineering and scientific research organizations in the world. As the research organization of the U.S. Army Corps of Engineers, ERDC conducts research and development in support of the soldier, military installations, and civil works projects (water resources, environmental missions, etc.) as well as for other federal agencies, state and municipal authorities, and with U.S. industry through innovative work agreements.
ERDC Director Dr. David Pittman pointed out that the center employs approximately 80 USM graduates. Seventy have been hired in the past four years.
"That's the third largest number of alumni we have at ERDC," said Pittman. "We have $30 million in collaborative research and development funding with USM and that's number four of all the universities we're working with in the United States. You're building the right kind of person that we need – engineers, scientists, administrative personnel."
Added Pittman: "I'm so proud to be here today representing the ERDC team, the Army Corps of Engineers, 30,000 people strong, with a worldwide mission. We're going to do some wonderful things together."
The purpose of this partnership is to encourage and enhance study in the scientific disciplines of Science, Technology, Engineering and Mathematics (STEM), including, but not limited to the following:
Polymer Science and Engineering,
Computer Sciences,
Geology and Geophysics,
Ocean Science and Engineering,
Chemistry and Environmental Sciences,
"At Southern Miss we are deeply committed to being distinctive and adding value through our academic and research offerings, and creating graduates who are ready for life," said Paul. "This partnership allows us to do just that, and we are deeply grateful."