USM School of Ocean Science and Engineering Sets New USM Record for Glider Mission
Mon, 11/20/2023 - 11:12am | By: Gabriela Shinskie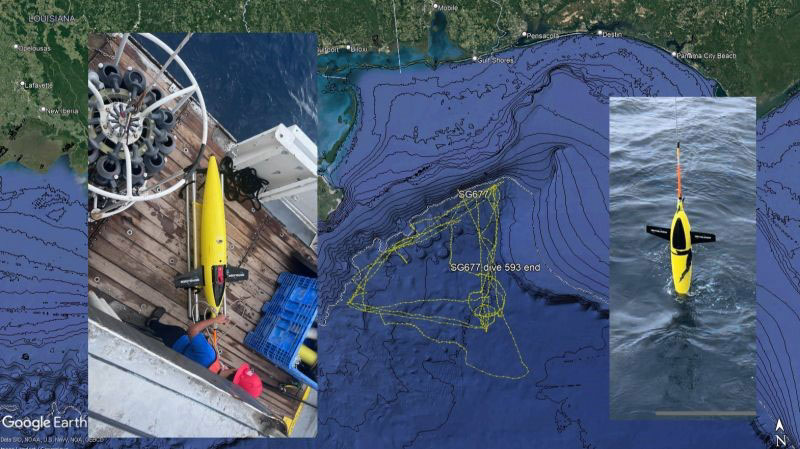 The University of Southern Mississippi (USM) School of Ocean Science and Engineering (SOSE) set an USM record with their recent glider mission in the Gulf of Mexico, which was deployed for 165 days, diving 775 times to 1,000 meters, traveling about 1525 miles at about 200 miles offshore from Gulfport, MS.
Kevin Martin, Affiliate Senior Instrumentation Specialist and Ocean Observing Manager of the SOSE, has been conducting glider missions with USM since 2012 and is ecstatic about the new record for USM's glider fleet.
"We try to operate during hurricane season," Martin said. "We usually don't get them out [in the water] until about August. The longest mission I had before this was 120 days."
The glider started its mission in May 2023 with a goal to last a majority of hurricane season out in the open ocean. For 165 days, the glider recorded and sent data back to Martin and the Global Telecommunication System (GTS) for use in the ocean models that are used in the process of producing hurricane forecasts by the National Hurricane Center of the National Oceanic and Atmospheric Administration (NOAA).
The glider uses buoyancy to navigate through the water, and Martin programs command data to tell the glider where to go and what to do, then commanding the glider to dive underwater to collect more data used for research. Once it reaches the surface, the data is sent to Martin, and then USM students analyze the findings; Martin can even control the glider from his cell phone thanks to new technologies.
Ocean currents play a major role in the glider's mission. Because gliders are slow-moving vehicles, currents affect its movement, and depending on the currents' impacts and location, Martin can command where to move the glider for optimal data collection.
"You learn the currents," said Martin. "The glider will call in about every six hours. At 1000-meter dive, it goes down, then comes back up to the surface. I'll look at where it was before and where it's going, and potentially what it could do next."
USM has been involved in glider research and missions since 2012, initially with government and industry partners. The project is part of Dr. Stephan Howden's Ocean Observing Lab at USM. The National Oceanic and Atmospheric Administration (NOAA) helped start a larger glider initiative that includes missions in the Gulf of Mexico, the Caribbean Sea, the South-Atlantic Bight and Mid-Atlantic Bight in 2018. The focus was to observe hurricane-prone areas, water temperatures, for storm intensity forecasting.
Glider operators use the uncrewed systems to analyze ocean health content to better observe ocean data for hurricane intensification models. With time, parts to assemble gliders have become expensive, but Martin's goal is to analyze data year-round and observe on winter storms in addition to hurricanes.
"The goal would be year-round operations with our glider fleet expanding," said Martin.
The 2023 mission was funded by the Gulf of Mexico Ocean Observing System. Learn more about USM's School of Ocean Science and Engineering research and programs.