USM Sport Management Students to Compete at NCSSC
Tue, 11/14/2023 - 01:05pm | By: Van Arnold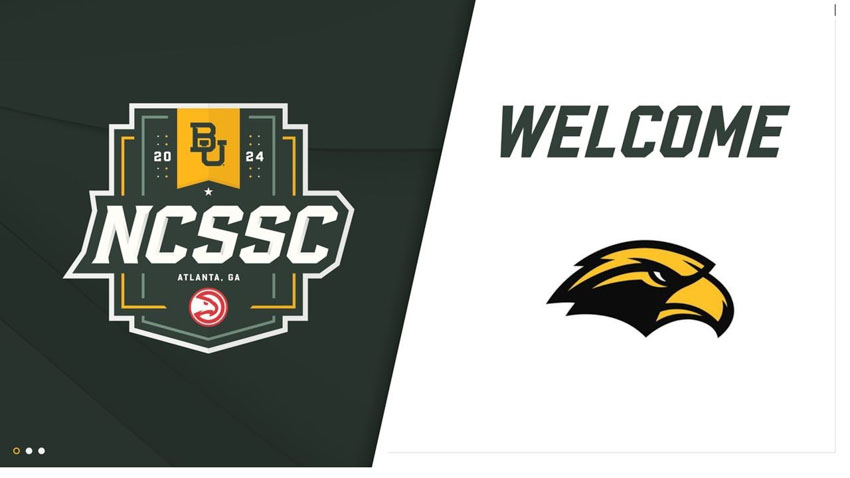 Three University of Southern Mississippi (USM) Sport Management students are competing in the National Collegiate Sports Sales Championship (NCSSC) this week in an online Virtual Round competition.
The NCSSC is an opportunity to showcase sports sales skills in a competitive format and includes a national record number of participants with 55 universities and 240 students.
USM students Drazen Moratzka, Madison Moucheron, and Glennie Viverette were selected for the NCSSC competition. During the fall semester, they have been involved with sports sales training with NCSSC and Southern Miss Sport Management alumni.
"I am privileged and honored to represent the University of Southern Mississippi in the NCSSC program," said Moratzka. "The training we have done up to this point has helped me develop my skills as a sales rep and professional. I am excited to see where we rank amongst some of the best sports sales programs in the country."
NCSSC is coordinated by Baylor University and aligned with the NBA's Atlanta Hawks and State Farm Arena. The students will compete virtually in sports sales competitions with the opportunity to compete and advance to the national conference in the spring in Atlanta.
This is the third consecutive year that Southern Miss Sport Management has competed in NCSSC, and training has been led by Dr. Chris Croft, Assistant Professor of Sport Management, and Mr. Kevin Buckley, Professor of Practice, both in the College of Business and Economic Development and School of Marketing.
Moratzka (graduate student from Cheyenne, WY), Moucheron (undergraduate student from Purvis, MS), and Viverette (graduate student from Moss Point, MS) are all Sport Management majors. They were selected for the NCSSC program in early September and have been training weekly on sports ticket sales.
NCSSC with the Atlanta Hawks provides some training but additional training sessions were coordinated with recent Southern Miss Sport Management alumni. This has included Ryan Theriot (current NCS4 graduate assistant, and NCSSC participant last year), Rachel Bronson (Tickets For Less Manager in Omaha Office (Sport Management 2020 Masters alumna), Jerica Galloway, Memphis Grizzlies Account Executive, Ticket Sales (NCSSC 2022 alumni & Sport Management 2022 alumna), and Jacorey Brown, New Orleans Pelicans Inside Sales Consultant (Sport Management 2023 alumni).
Croft stated, "This is our third year to compete with NCSSC and we have been fortunate to have recent Sport Management alumni in the sports ticket sales industry to give back and assist our students in training. This has also been a great networking opportunity for our students as they enter the sports business industry."
Hundreds of students from schools around the country participate in the National Collegiate Sports Sales Championship to make the jump from college to the pros. The NCSSC is an opportunity to showcase sports sales skills in a competitive format. Recruiters (typically inside sales managers) serve as buyers in a role-play competition.
Students pitch a product to the buyer. The applicable background information on the product is available in the Study Guide distributed to students in advance. A judge scores their performance based on a rubric in the Study Guide. Students advance in the bracket and are able to gain visibility from recruiters.
Since the purpose of the competition is for students to land jobs, there is time throughout the event to interview and interact with recruiters. Professional organizations from the NFL, NBA, MLB, NHL, and others are represented at buyers and attend the national conference.
To learn more about the Sport Management program at USM, call 601.266.4627.
To learn more about NCSSC, visit these websites:
BaylorS3E (Center for Sales Strategy in Sports & Entertainment