USM Professor Leads Research Team's Presentation at STEM Event in Washington, D.C.
Wed, 03/01/2023 - 01:57pm | By: Van Arnold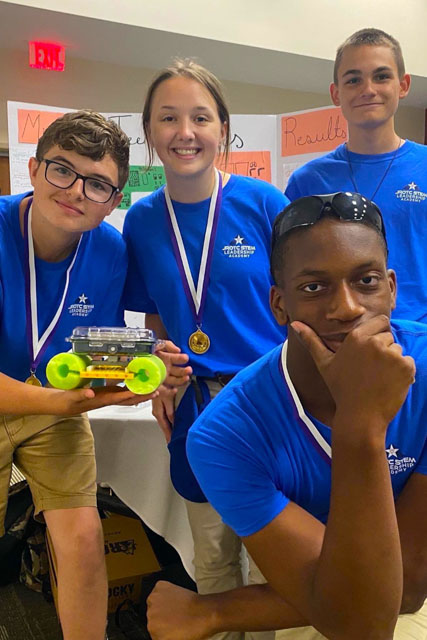 Dr. Julie Cwikla, Director of the Center for STEM Education at The University of Southern Mississippi (USM), and her colleagues were invited to share a transformative JROTC STEM Leadership program as part of the inaugural Department of Defense STEM Technical Exchange held Feb. 23-24 in Washington, D.C.
The STEM Technical Exchange brought together experts from STEM education and workforce development to share innovative practices for inspiring the next generation of STEM leaders.
The event's theme was: "STEM Workforce Model Scales Across the U.S." Distinguished guests included Heidi Shyu, Under Secretary of Defense for Research and Engineering.
The team shared early results replicating the JROTC STEM Leadership Academy to 10 test sites across the nation. The program was initially funded by the National Science Foundation in the Mobile County Public School System (MCPSS) for 2018-2022. A five-year, $6M DoD STEM National Defense Education Program (NDEP) award in November 2021 expands the program nationally.
"We were honored to be part of the inaugural DoD STEM Exchange in Washington D.C. sharing our progress with distinguished DoD guests and other STEM educators working in this field amplifying our collective impact," said Cwikla.
The project began more than 10 years ago when a 30-minute meeting ended after three hours with a vision that would modernize JROTC summer programming. Cwikla and LTC Robert F. Barrow, Director of Army Instruction for MCPSS, created a program to help JROTC cadets from 16 high schools better understand local jobs in STEM. Cadets would spend a week solving challenging STEM problems in the classroom and then see STEM careers in action.
This program has allowed the MCPSS to expand the JROTC STEM Leadership Academy as a hybrid Junior Cadet Leadership Challenge (JCLC) – impacting more than 5,000 cadets, 350 cadre, and 275 STEM teachers. STEM activities during the Academies focus on three main industries – maritime, advanced manufacturing, and aviation.
USM's Center for STEM Education is leading the research and evaluation activities guiding the replication and effectiveness of the JROTC program as it grows across the country.
The project's research team led by Cwikla includes retired USM Professor Dr. Richard Mohn, David Reider of Education Design in Boston, and Maggie Dannreuther, research associate in the High Performance and Computing Collaborative at Mississippi State University.
To learn more about the Center for STEM Education at USM, call 601.266.4739 or visit: https://www.usm.edu/stem-education/index.php