Commencement and Graduation Information
Congratulations, students! Through your hard work and academic success, you have reached graduation.
In order to prepare for graduation and your commencement ceremony, we have provided helpful information to assist the completion of this process. Be sure to follow and complete all applicable tasks on the Pre-Graduation page.
As a reminder, the Registrar's Office will communicate Commencement information through your @usm.edu email account. Students wishing to participate in the Commencement ceremony should check their @usm.edu email account regularly for pertinent Commencement/graduation information.
We are proud of your accomplishments and are excited to celebrate them with you!
Countdown to Graduation #SMTTT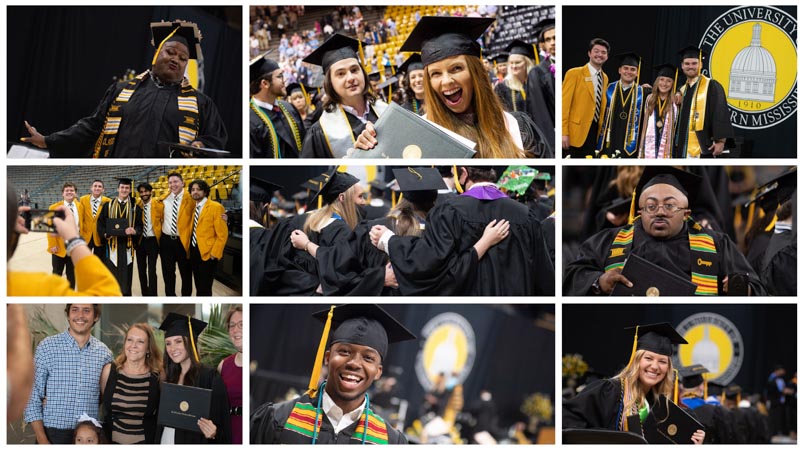 Spring 2023 Commencement Schedule
Thursday, May 11, 2023
Bernard Reed Green Coliseum, Hattiesburg, MS | 6:00 p.m.
All Doctoral, Specialists, and Master's Students

Friday, May 12, 2023
Bernard Reed Green Coliseum, Hattiesburg, MS | 9:00 a.m.
Undergraduate Students | College of Business & Economic Development
and the College of Education & Human Sciences

Friday, May 12, 2023
Bernard Reed Green Coliseum, Hattiesburg, MS | 2:00 p.m.
Undergraduate Students | College of Arts & Sciences and the
College of Nursing & Health Professions
Saturday, May 13, 2023
MS Coast Coliseum, Biloxi, MS | 3:00 p.m.
All Coast-based undergraduate and graduate students