Prospective Cadets
Getting Started
As a member of Air Force ROTC, you'll enjoy college life, while also enjoying the cadet life and tight-knit community that will encourage you in your journey!
Whether you're in high school, college or an enlisted Airman, here's how to join our USM Airforce ROTC Detachment 432.

High School Students
High school students are encouraged to apply for the High School Scholarship Program (HSSP). The HSSP program is competitive and offers a wide range of scholarships for those pursuing their bachelor's degree! Please note that cadets do not need to be on scholarship to be part of Air Force ROTC. The Scholarship Application Window will open July 1 through December 31.


College Students
If you're interested in enrolling in the Air Force ROTC program and you are already in College, you can start by talking to our Detachment to determine the best course of action for your degree plan. There are no prerequisites for signing up for this program and Air Force ROTC pays for your course books.
If you are attending USM, William Carey University or Pearl River Community College, sign up for AOS 100 classes: AOS 101 in the Fall and AOS 103 in the Spring. Remember to sign up for Leadership Laboratory as well. All classes are held in McLemore Hall on USM Hattiesburg campus.
Current cadets may compete for in-college scholarships at the Detachment Commander's discretion. Scholarship competitors will be chosen based on academic, physical and military performance.
If you are a sophomore or you have three years of college left, you have two options:
You can sign up for the sophomore class; or you can be enrolled in the freshman and sophomore level class concurrently. The first option means you will have to attend Field Training (an encampment designed to evaluate military leadership and discipline, determine your potential for entry into the professional officer corps, and stratify you among your peers) the following summer for a 13-day encampment. Enroll in the AOS 200

classes: AOS 201 in the Fall and AOS 203 in the Spring, with the attached

Leadership Laboratory

.

You can concurrently enroll in both the AOS 100 and AOS 200 courses, and you will be able to attend the 13-day Field Training encampment the following summer. Bear in mind that you would have to take two 1-hour Air Force ROTC classes each week (only one Leadership Laboratory though). If you would like to concurrently enroll, take AOS 101 and AOS 201 in the Fall and AOS 101 and AOS 203 in the Spring, with one Leadership Laboratory each semester.
If you have two or fewer years remaining to earn your college degree or you are attending one of our cross-towns (William Carey University or Pearl River Community College) and you are interested in Air Force ROTC, please contact the Recruiting Officer.




Enlisted Airman
If you are an enlisted Airman, the Airman Scholarship & Commissioning Program offers active-duty enlisted personnel the opportunity to earn a commission that helps pay for your education, including:
Airman Scholarship & Commissioning Program (ASCP)
Scholarships For Outstanding Airmen To ROTC

Frequently Asked Questions
Air Force Reserve Officer Training Corps (ROTC) educates and trains students to become Air Force officers while completing a traditional college degree. Air Force ROTC cadets participate in ROTC classes, leadership lab, physical training, and cadet organizations .Upon successful completion of the ROTC program and graduation from college, cadets commission as Second Lieutenants in the United States Air Force with a guaranteed salary, to include housing and subsistence allowance, and comprehensive medical and dental benefits.


Officers are trained to lead and supervise enlisted personnel. Rank, pay and career opportunities for officers are commensurate with their elevated level of responsibility. To be considered as an officer, you must, at a minimum, have a bachelor's degree.
There are many scholarship opportunities for both high school and current college students entering the program. Students seeking technical degrees such as electrical engineering, health care degrees such as nursing, or foreign language degrees will be very competitive for scholarships. Requirements and availability are subject to change, so please contact us for the most up-to-date information. Additionally, please visit afrotc.com for comprehensive requirements and to view the application process.
General qualifications for Air Force ROTC:
Be a United States Citizen
Be a full-time student
Be physically qualified
Be of good moral character
Be in good academic standing (GPA above 2.0)
Have at least three academic years remaining
Air Force ROTC Commission Path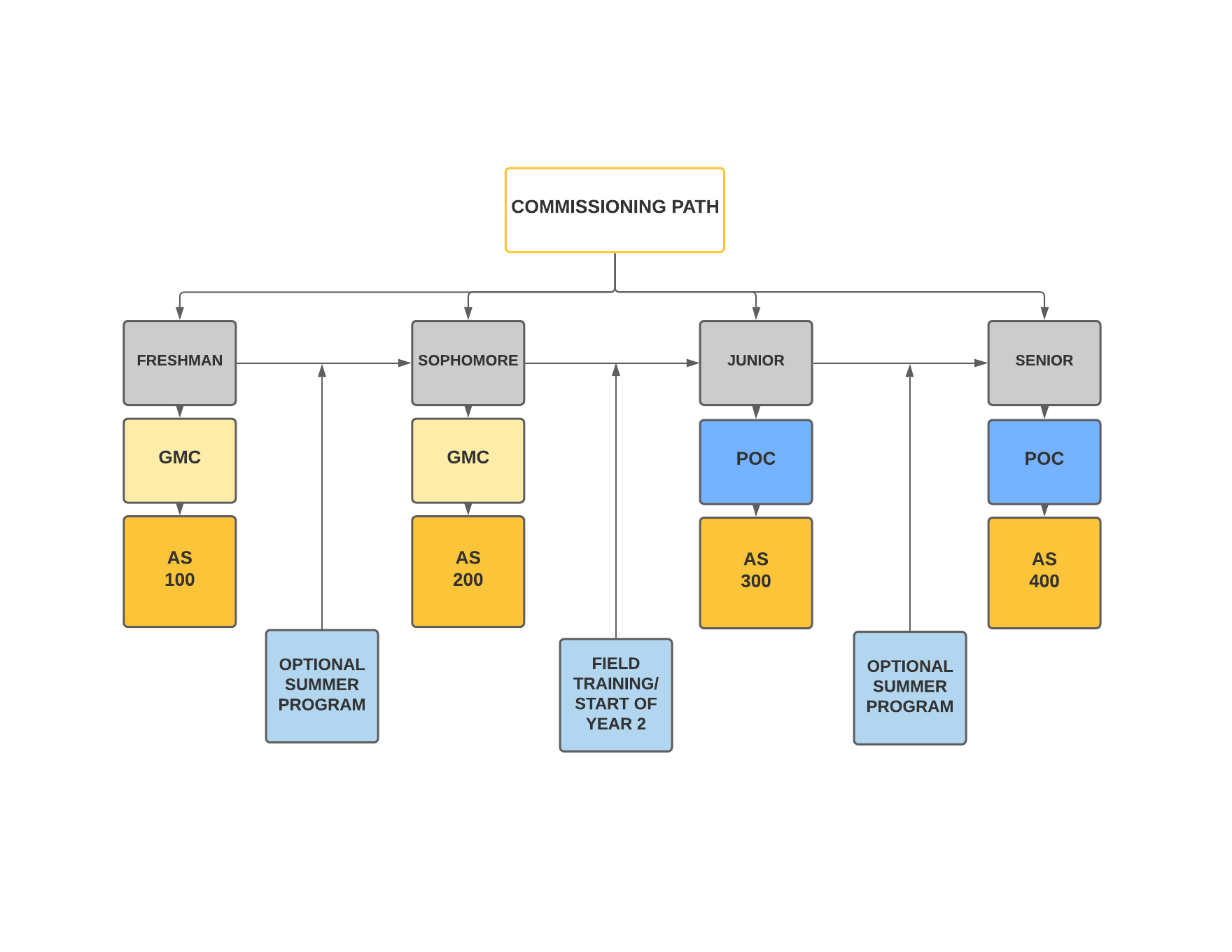 Yes, Detachment 432 has cross-town agreements with William Carey University (WCU) and Pearl River Community College (PRCC). That means as long as you are a full-time student at WCU or PRCC, you can enroll in Air Force ROTC at The University of Southern Mississippi.