Partners for the Arts Events
Every year, Partners for the Arts aims to fund projects that enhance the arts, promote arts education, and support access to regional, national, and international artists.
This past year, we were able to provide once-in-a-lifetime educational opportunities thanks to your financial support. Some of the benefits of the events Partners supports are that they extend far beyond our campus. Just about all are open to the public, many of them are free and include residency activities, as well as collaborative opportunities with other areas or community organizations—bringing communities together.
Here's a look back at the projects and events Partners for the Arts was able to underwrite for 2019-20.
Media and Entertainment Arts
Local Jazz and Blues Musicians took the Stage at the Annual Southern Miss Jazz and Blues Festival
Faculty Sponsor〡Dr. Casey Funderburk
Awarded〡$2,500
The festival features jazz and blues musicians, local artists and craftsmen, food vendors, and activities for the entire family. It is designed to provide campus visitors an opportunity to experience the soulful sounds of local musicians while also offering local high school jazz bands the opportunity to perform in a festival setting. Guests experienced the inaugural Jazz and Blues Art Exhibit, participated in the children's village, enjoyed cuisine from food vendors, and engaged with artisans and craftsmen.
Net proceeds from the Jazz and Blues Festival support scholarships for USM Gulf Park campus students.
The Festival featured the best musical line-up in festival history.
Jamell Richardson & High Def Soul
The Stooges Brass Band
High School Jazz Bands, and more!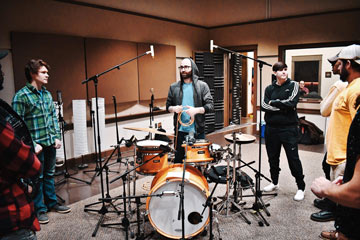 Faculty Sponsor〡Dr. Jonathan Pluskota
Awarded〡$1,500
International sound engineer, José Diogo Neves, hosts a master class and workshops at USM on recording jazz and cultural music. Students from the Media and Entertainment Arts and Jazz programs took part in recording, mixing, and producing songs using Neves' engineering techniques and talent.
Bringing an international, award-winning sound engineer to our University demonstrates our commitment to the students and enhancing their education. The arts are global, and Partners helps us bring talent for the benefit of the community and the students alike.

Dr. Jonathan Pluskota, assistant professor in the Media and Entertainment Arts program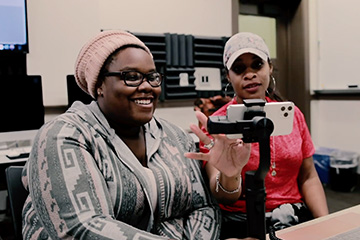 Faculty Sponsor〡Dr. Jonathan Pluskota
Awarded〡$1,900
"Arts on the Air" went live every Thursday at Cook Union via WUSM 88.5. Listeners learned more about upcoming events through live interviews with featured artists. Students also experienced live sneak peeks and performances at the Union. The series supports arts programming and ensures that the arts remain a fundamental part of the USM student experience.
The Visiting Writer Series: Jamel Brinkley, Stanford University's 2018-20 Wallace Stegner Fellow in Fiction
Faculty Sponsor〡Dr. Olivia Clare
Awarded〡$2,500
As part of its Visiting Writers Series, the Center for Writers at Southern Miss welcomed fiction writer Jamel Brinkley. Prior to the reading, Brinkley held a Q & A session with our graduate students, who were assigned the book in a graduate fiction workshop.
Brinkley is the author of A Lucky Man: Stories (Graywolf Press), a finalist for the National Book Award in Fiction, the John Leonard Prize, and the Story Prize, and winner of the Ernest J. Gaines Award for Literary Excellence. A graduate of the Iowa Writers' Workshop, he was also the 2016-17 Carol Houck Smith Fiction Fellow at the Wisconsin Institute for Creative Writing. He is currently a 2018-20 Wallace Stegner Fellow in Fiction at Stanford University.
Jamel Brinkley's collection of short stories, A Lucky Man, was one of the most important fiction debuts of 2018. These nine stories address themes of race and gender in profound ways.
In October, award-winning fiction writer Jamel Brinkley visited campus to give a reading and meet with students. The room was packed. Brinkley gave a stirring reading from his story collection, A Lucky Man, and his Q&A that followed was quite insightful. It's an invaluable experience for our undergraduate and graduate students to see and talk one-on-one with our inspiring visiting authors. The Visiting Writer Series is an essential part of our writing community at USM.

Dr. Olivia Clare, assistant professor of English
Students and Teachers from Across the Region Gather for Choral Conference with Renowned Guest Clinicians
Faculty Sponsor 〡Dr. Greg Fuller
Awarded〡$600
The 16th Annual Southern Invitational Choral Conference introduced high schools and community colleges from all over the Southeast to the benefits of our campus and the entire community of Southern Miss.
The conference provides students the opportunity to take part in intense rehearsals and high-quality performances, while meeting fellow musicians, including master classes, continuing education sessions, a mass choir presentation, and choral scholarship auditions.
The conference featured renowned guest clinicians:
Rollo Dilworth〡Vice dean, professor of choral music education, and chair of the Department of Music 〡Education and Therapy, Temple University's Center for the Performing and Cinematic Arts

Amon Eady〡Director of choral activities, Central Michigan University

Dr. André J.Thomas 〡 Conductor, Composer, Author, Professor

Our conference success rate is evidenced by the fact that more than 60% of our undergraduates, who are currently singing in our program, attended this conference during their high school or community college years.

Dr. Greg Fuller, director of Choral Activities
USM Symphony Orchestra's Centennial Season
Faculty Sponsor〡Dr. Michael Miles
Awarded 〡$3,750
The opening night concert of the Centennial Season of the USM Symphony Orchestra presented the dramatic music from Russia. "From Russia, With Love!" featured South African triple Grammy-nominated concert pianist, Petronel Malan, as guest artist.
Some of the iconic Russian works for the evening's programming included, Tchaikovsky's "Romeo and Juliet Fantasy Overture" and Shostakovich's "Festive Overture." Other pieces included Gliere's "Russian Sailors' Dance" and Rachmaninoff's "Rhapsody on a Theme by Paganini." Malan also conducted master classes and private lessons for our piano students as part of here visit.
Throughout this epic season, the Symphony brought blockbuster classical and popular music, selections from the operatic and musical theatre stages, exciting guest artists including conductor Apo Hsu, and performances by many of our USM alumni and friends that patrons have enjoyed watching perform over the past generation.
The USM Symphony Orchestra played with power and passion on opening night. The audience enjoyed the performance of the music of Russian composers and the beautiful and majestic work of South African piano soloist, Petronel Malan. Every concert of the season provided exhilarating musical experiences to commemorate the 100th Anniversary of a true gem.

Dr. Michael Miles, director of Orchestral Activities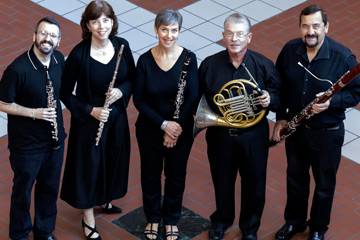 Faculty Sponsor〡Dr. Alexander Russakovsky
Awarded〡$2,000
The Connoisseur's Chamber Music Series is committed to bringing the very best in national and international artists. The 2019-2020 seasons included performances by The Oklahoma Woodwind Quintet; Symbiosis Duo, tuba and euphonium; and Lapis Trio. Additionally, each of the ensembles provided an educational outreach program to students in Hattiesburg and its surrounding communities.
Meet the Artists for the 2019-2020 Series
The series kicked-off with the University of Oklahoma faculty woodwind quintet, who has been delighting audiences since 1975. They have concertized internationally including a successful debut in the Weill Recital Hall at Carnegie Hall in 1985, and have received critical acclaim for their performances at the Classical Music Festival in Eisenstadt, Austria and the International Double Reed Society Convention in Manchester, England.
The series continued with a tuba/euphonium quartet, the Symbiosis Duo. The duo was formed professionally by Dr. Stacy Baker and with Dr. Gail Robertson to increase awareness of the tuba/euphonium duo as a performance medium and to promote and disseminate new works for this unique combination of instruments.
Due to the pandemic the series was cut short and culminated with a performance of the Lapis Trio, an acoustic group featuring the compositions of jazz guitarist Casey Nielsen. Nielsen's music draws on his study of the classical guitar and modern jazz. This trio project began as a compositional device that became the frame for the album project. Joining him is percussionist Tim Mulvenna, who has traveled extensively with jazz, Irish and Middle Eastern ensembles. Complimenting and completing the trio is bassist Dan Thatcher's whose soft tone, compositional sensibility and versatility keep him very active as a bassist on the Chicago jazz scene. Their collaborative efforts became the Lapis Trio.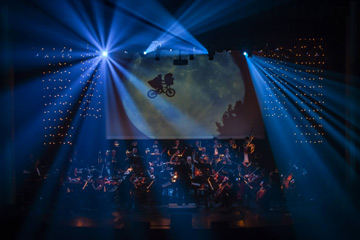 Faculty Sponsor〡Dr. Mike Lopinto
Awarded〡$2,500
FestivalSouth® 2019 celebrated 10 years with a spectacular line-up filled with nearly 70 events for two weeks of fun for every age. Presented by the Hattiesburg Concert Association (HCA), FestivalSouth is Mississippi's only multi-week, multi-genre festival that showcases the area's rich creative economy. Featuring many USM faculty, staff, students, and alumni, there sure was something for everyone.
This season included several teaser events leading up to the official opening, including the FestivalSouth World Championship Golf Classic and Best of the Pine Belt Pub Crawl, and a sneak peek of Broadway's Sister Act, featuring the Hub City Player's. The FestivalFinale, presented by Forrest General, welcomed back one of the most acclaimed performers to the Saenger, Broadway legend, Lind Eder, along with the FestivalOrchestra in a triumphant evening of song.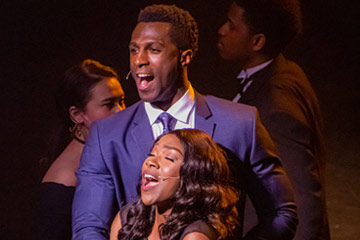 Faculty Sponsor〡Dr. Michael Miles
Awarded 〡$1,250
The Southern Musical Theater and Opera Company presented Showbiz Centennial, A Century of Show Tunes. In this montage the audience only got to enjoy the dress rehearsal, due to COVID-19, which featured music from the past century of Broadway musicals.
Joining the cast of students in the Southern Musical Theater and Opera Company was alum Ezekiel Andrews, who has a career on and off Broadway. The fast-paced, exhilarating, and moving Showbiz model developed by Drs. Mike Lopinto and Michael Miles brought students and alumni together to sing and dance their way through a century of show tunes.
Faculty Sponsor〡Dr. Hsiaopei Lee
Awarded〡$600
The 2019 Viola Festival, in collaboration with Gulf Coast Viola Society, presented a centennial celebration of the Berkshire Festival Competition featuring a number of viola master classes, lectures and concerts.
The Festival provides educational and outreach programs for local schools and pre-college students.
The Festival featured master classes with Jacob Adams, assistant professor of Viola University of Alabama; Andrew Braddock, instructor of Viola Western Kentucky University; Nancy Buck, associate professor of viola Arizona State University; and David M. Bynog, longtime editor journal of the American Viola Society; and Hsiaopei Lee, professor of viola at USM.
The 2019 Viola Festival hosted a centennial celebration of the Berkshire Festival Competition. In addition to various master classes, concerts, and education sessions, it featured two insightful lectures which discussed the three major viola compositions from 1919, which remain a staple in viola literature.

Dr. Hsiaopei Lee, professor of viola
Faculty Sponsor〡Dr. Danilo Mezzadri
Awarded〡$600
50+ flutists gathered at the School of Music to celebrate the 2020 Southern Flute Festival. The seventh edition of this festival featured USM alumni, Dr. Jesus Castro, and Ms. Callie Green Brewer.
Besides a master class by Dr. Castro, participants learned how to build a successful teaching studio with Ms. Brewer and how to develop their entrepreneurial skills with Dr. Miller. The final concert featured all guest artists along with Dr. Mezzadri and the Southern Flute Festival Flute Choir, directed by Katerina Bachevska.
Some of the most rewarding musical performances I've done are the times I get to perform with my teacher and friend, Danilo Mezzadri.

Callie Green Brewer, Director of CGB, Music and Coastal Flute Choir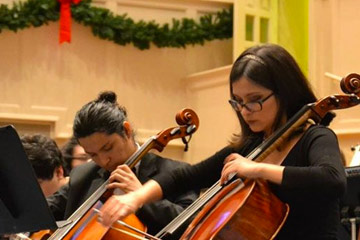 Faculty Sponsor〡Dr. Greg Fuller
Awarded 〡$600
The sounds of the season reverberated throughout the sanctuary with the Holiday Choral Spectacular, as the USM Symphony Orchestra was joined by the Hattiesburg Choral Union, which represents all the major choral ensembles from the University at Main Street Baptist Church for a majestic evening of music.
This event is a cherished family tradition, as it spreads the holiday cheer with classics like "It's the Most Wonderful Time" and "Hark! The Herald Angels Sing."
School of Performing and Visual Arts
School of Performing and Visual Arts: Revelry 2020
Faculty Sponsor 〡Stacy Reischman Fletcher
Awarded〡$2,000
USM School of Performing and Visual Arts presented a multi-arts project that boasts over 50 events—featuring special programming of artistic and creative activities, including master classes, workshops, guest and visiting artists, family-friendly events, and formal productions.
Revelry revealed the behind-the-scenes in the classrooms, studios, and rehearsals of USM through open observation times and tours. This multi-arts week has been an opportunity for the programs in the School of Performing and Visual Arts, including Art and Design, Dance, and Theatre to collaborate and build community within the School and throughout Hattiesburg.
Revelry 2020 exceeded our expectations in terms of participation. We were able to strengthen links to the community and foster the interdisciplinary creative spirit in the School of Performing and Visual Arts.

Stacy Reischman Fletcher, director of the School of Performing and Visual Arts
USM Art and Design's Biennial Juried Painting Exhibition Featured Works by Artists from Across the Country
Faculty Sponsor 〡Mark Rigsby
Awarded〡$1,250
The Southern Miss Gallery of Art and Design opened its 2019 National Juried Painting Exhibition, juried by Philadelphia painter Bill Scott. The exhibition featured works by 46 artists, selected from a total of 454 entries from across the country. The biennial juried show included a wide range of work from figurative paintings, to studio still-lifes and landscapes, as well as abstract and non-objective works of art.

Meet this year's award recipients:
1st Place 〡"At the Train Station" by Spence Townsend
"I tell stories through my art. Painting, drawing, screen printing, animation, and musical composition, serve as different vernaculars for conveying these narratives."
2nd Place 〡"In a Glasshouse" by Hannah Wegner
"My paintings involve a visual play where skeletal contour marks hover across graphic, modern shapes creating a bold drawing structure."
3rd Place 〡"Painting in a Painting" by Whitson Ramsey
"In my work, the process of creating also serves as the subject. The act of painting is more interesting to me than finishing a painting. I leave each piece in some state of progress so that one would be left with the wonder of what the piece could become."
The 2019 National Juried Painting exhibition was one of our blockbuster events of the year. This biennial exhibition celebrates the vitality and breadth of practice within contemporary painting across the country, and honors the rich history and success of the Painting and Drawing program at Southern Miss.

Mark Rigsby, associate professor of Art and Design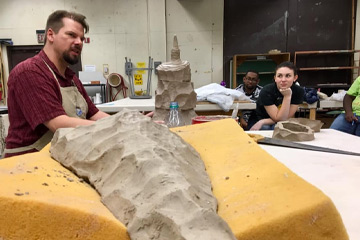 Faculty Sponsor〡Allen Chen
Awarded〡$1,500
For the Fine Arts Visiting Artist Lecture and Workshop Professor of the University of New Mexico Gallop, John Zimmerman conducted a three-day lecture and workshop, including programming for students and the general public.
Professor Zimmerman gave an educational demonstration of large scale hand-building methods and surface treatment techniques used to make his ceramics sculptures. The students had the chance to learn through participation and assistance in the workshop. The completed sculpture was fired in the wood firing hosted in the fall.
Partners has been a generous supporter of our annual artist lecture series, which gives students and the local community the opportunity to be exposed to artists and educators from all over the country.

Allen Chen, assistant professor of Art and Design
The National Dance Artist Series Brings Renowned Instructor of Countertechnique, Rosanna Tavarez
Faculty Sponsor〡Stacy Reischman Fletcher
Awarded〡$1,500
The National Dance Artist Series connects our community with choreographers from around the nation. This year, the guest artist and Countertechnique instructor, Rosanna Tavarez, represents cutting edge choreography, dance techniques, and professional connections. In this three-day residency, Tavarez taught master classes, shared her professional work in performances and artist talks. The most important component of the residency was that Tavarez created a new choreography with 12 dance students, which will be performed in the Fall Repertory Dance Company concert, as well as in the 2020 Dance Gala.
What are the benefits of experiencing Countertechnique as a dancer? According to Tavarez, "With Countertechnique, the learning never stops! You are continually finding new dimensions in your dancing that excite you and motivate you to play your edge and move towards greater freedom, space and creativity."
This residency was expansive and included more than master classes. Tavarez created a new choreography for USM dance majors that we are able to share with our audiences throughout the year. Opportunities like these are critical for students not only as dancers, but as the future professionals in the field. They have been exposed to a working artist and to the realities of the field.

Stacy Reischman Fletcher, director of the School of Performing and Visual Arts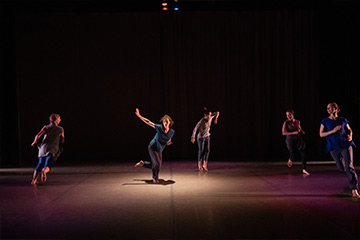 Faculty Sponsor〡Kelly Lester
Awarded〡$1,250.00
Hub Dance Collective (HDC) brings a broad perspective on dance to their work and strives to create the highest quality contemporary dances.
The HDC series included a performance during FestivalSouth, and an expanded performance in September showcasing collaborations with regional dance artists. Since its founding in 2012, Hub Dance Collective produces regular dance concerts, and has presented work at dance festivals across the country. Each year HDC reveals the creative process to the audience by presenting two concerts showcasing the dances' evolution during rehearsal periods. HDC is a contemporary dance collective formed by dance faculty, including Kelly Ferris Lester, Stacy Reischman Fletcher, Brianna Jahn, Lauren Soutullo Smith, Candice Salyers, and Julie Hammond.
HDC aims to celebrate collaborative works with the company members, audience members, and with the community. The performances of "Connect" and "Re-Connect" highlighted this collaboration through a pre-show event featuring community members dancing with HDC members, and through the collaborative works by HDC company members in the concert. HDC appreciates the support of PFTA as it helps make possible our sharing of dance artistry with the USM and Hattiesburg community.

Kelly Lester, professor of dance
USM Theatre presents Tony Award-winning Musical Comedy and Classic Guys and Dolls
Faculty Sponsor〡Louis Rackoff
Awarded〡$2,500
One of the most romantic musicals of all time, "Guys and Dolls" (music and lyrics by Frank Loesser, book by Abe Burrows and Jo Swerling) brought characters from the famous Damon Runyon stories to the Martha Tatum stage.
Directed by Louis Rackoff, "Guys and Dolls," this musical featured iconic musical numbers such as "Luck Be a Lady" and "Sit Down, You're Rockin' the Boat." As a musical theatre production, the funds provided by Partners supported the musicians required to make this production a reality.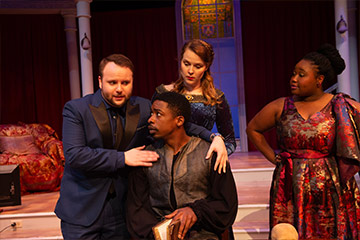 Faculty Sponsor〡Stacy Reischman Fletcher
Awarded〡$1,800
The Southern Arena Theatre geared up for its 43rd season at Southern Miss with two events based on Shakespearean plays: I Hate Hamlet and Speak the Speech!
SAT featured Paul Rudnick's comedy "I Hate Hamlet." In addition, a new venture was added to SAT, with two nights of open readings of scenes from Hamlet and other great Shakespeare plays, at "Speak the Speech."
SAT's tradition of providing excellent entertainment for summer theatre is long standing and always provides thrilling experiences in the theatre.
The funding for events that were impacted due to COVID-19 will roll-over to 20-21.