Center for Faculty Development
Fall 2023 Educator's Retreat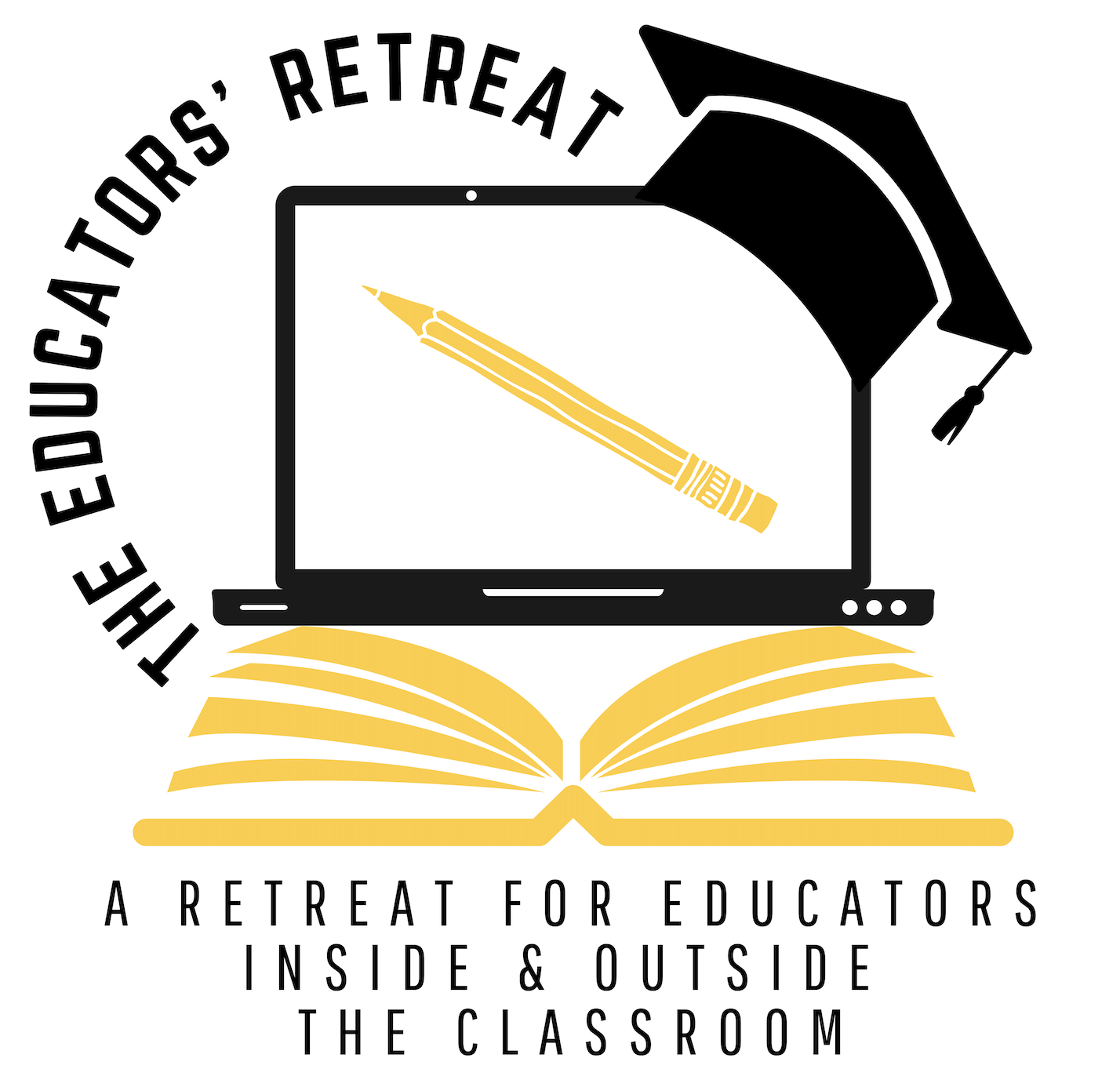 The Fall Educators' Retreat: Tools, Techniques, and Trends in an AI-Enhanced Higher Education is a half-day mini-conference hosted on Thursday, October 12, 2023, during Fall Break, that brings together faculty, administrators, and staff to discuss strategies for effectively implementing generative artificial intelligence (AI) technologies at Southern Miss. The goal of the event is to help educators at all levels harness the power of generative AI to enhance student learning, research productivity, and job performance.
Grant Writing Workshop Series


In collaboration with the School of Humanities, the CFD will be hosting a grant writing workshop series open to faculty, graduate students, and staff this academic year. Across several monthly two-hour sessions, participants will gain more information on finding grants, creating a plan and timeline for applications, reviewers' perspectives, and how grants across multiple disciplines function.
Attendees will also get opportunities to foster collaborations with other participants and time to work on an application with support from the group. Sessions will be held on Friday mornings from 9 a.m.- 11 a.m.
First Year Foundations: Programing for New Faculty

The First-Year Foundations Program (FYF) expands the training and conversations that start at New Faculty Orientation. This series aims to support new faculty in their teaching, research, and overall success as a new member of our Southern Miss community.
23 - 24 Graduate Mentorship Training and Workshop Series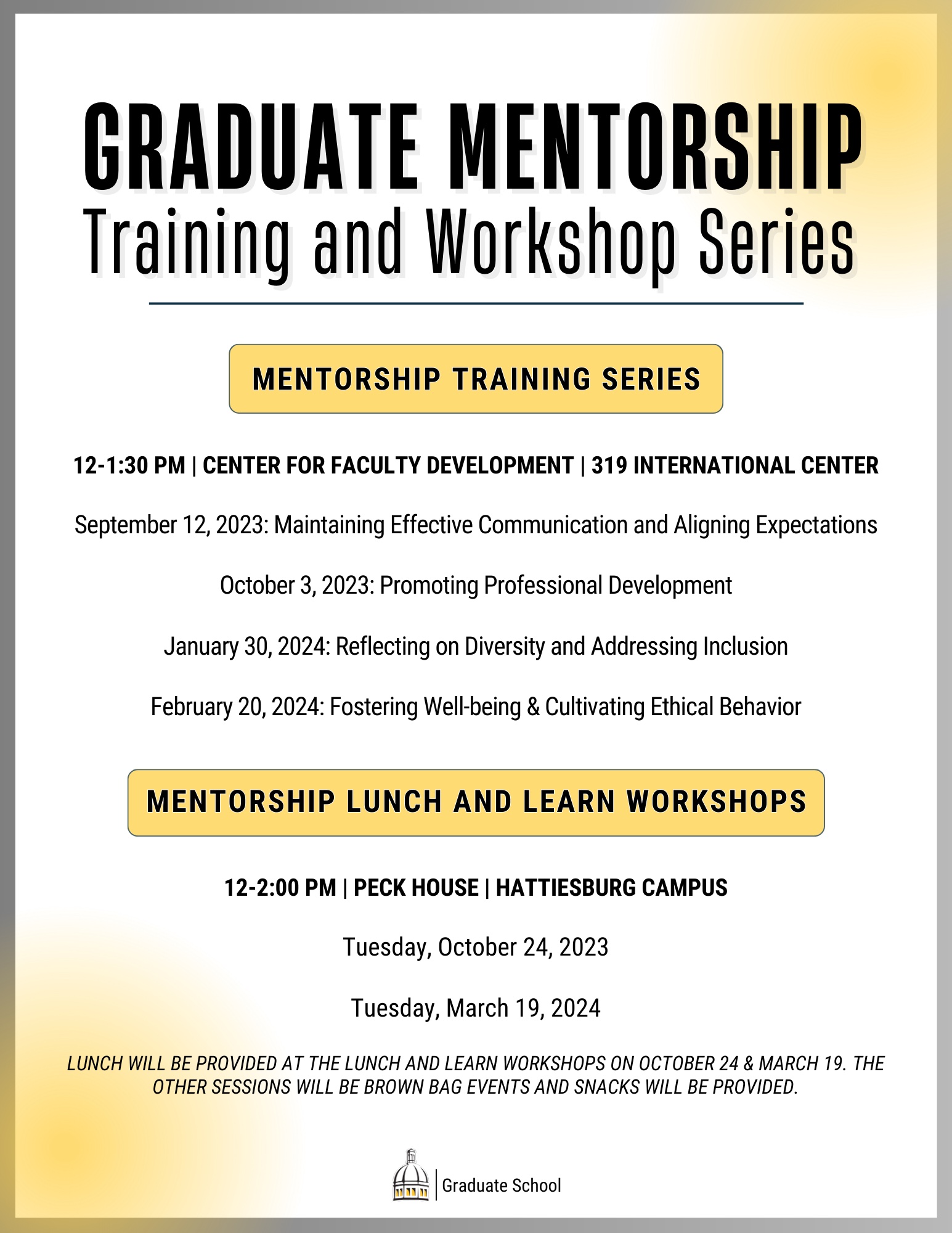 Click to register for individual sessions by date
First-Year Retention Rates Higher for Students of ACUE Faculty at Southern Miss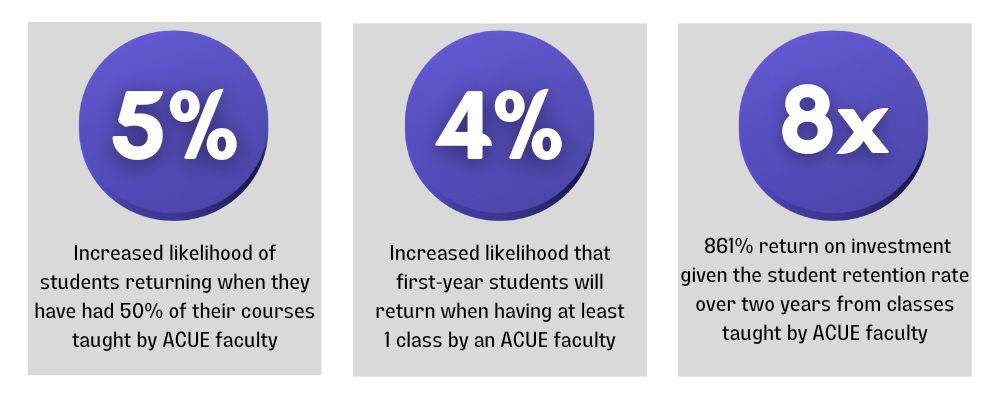 At The University of Southern Mississippi (USM), faculty began taking ACUE microcredential courses in Fall 2016. Given the phase-in of USM faculty who take ACUE courses over time, some students may take courses taught by ACUE faculty while others may not. This analysis focuses on two cohorts of first year students at USM in academic years 2017–18 and 2018–19. Over these years, first-year students took courses taught by 62 ACUE faculty and 775 non-ACUE faculty. The analysis finds evidence that first-year students who took at least one course taught by an ACUE faculty had a higher likelihood of returning to USM in the subsequent academic years.
Click for full brief and key findings
Consultations and Observations
1 in 4
Southern Miss faculty have earned the ACUE Distinguished Teaching Scholar designation.
2019
The inaugural year for the Faculty Leadership Institute inspired by Vision 2020.
★
The success of new faculty is prioritized through Orientation and First Year Foundation programming.