Commencement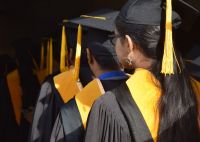 Beginning Spring 2019, candidates for a graduate degree (Doctoral, Specialist, and Master's) will be celebrated in their own commencement ceremony. This ceremony will take place Thursday, May 9 at 6:00 p.m. in Reed Green Coliseum.
Candidates for specialist and master's degrees should reserve a seat for participation in commencement using the online form during their final semester of their graduate career. For the Spring 2019 ceremony, all graduate candidates should make their seating request between January 24 and March 31, 2019. Any seating reservation made between April 1 and April 18, 2019 will be assessed a $100 late seating charge. Seating requests after April 18, 2019 will not be honored and those students will not be allowed to participate in the Spring 2018 Commencement Ceremony.
Doctoral candidates are required to attend commencement unless excused by the Dean of the Graduate School. Doctoral candidates should complete the commencement form by the deadline on the Graduate School website. The form can be found here.
Prior to commencement, the Documents Specialist will send additional information to doctoral candidates regarding line-up procedures. All other graduate candidates will be contacted by the Registrar's Office.

Additional information about commencement can be found at the commencement webpage.