Viola Studio
The Southern Miss Viola Studio consists of a large number of talented students from different countries at both undergraduate and graduate levels. We create an environment where students value individuals' talents and help each other with recital, audition and jury preparations. This is the place where you can develop the necessary skills to express freely through the viola, to achieve excellence within yourselves, and to value the process as much as the outcome. In addition, you will enjoy the happiness of music-making, develop critical thinking and hearing, feel confident in your ability to learn, and discover personal rewards of studying music.
Upcoming Event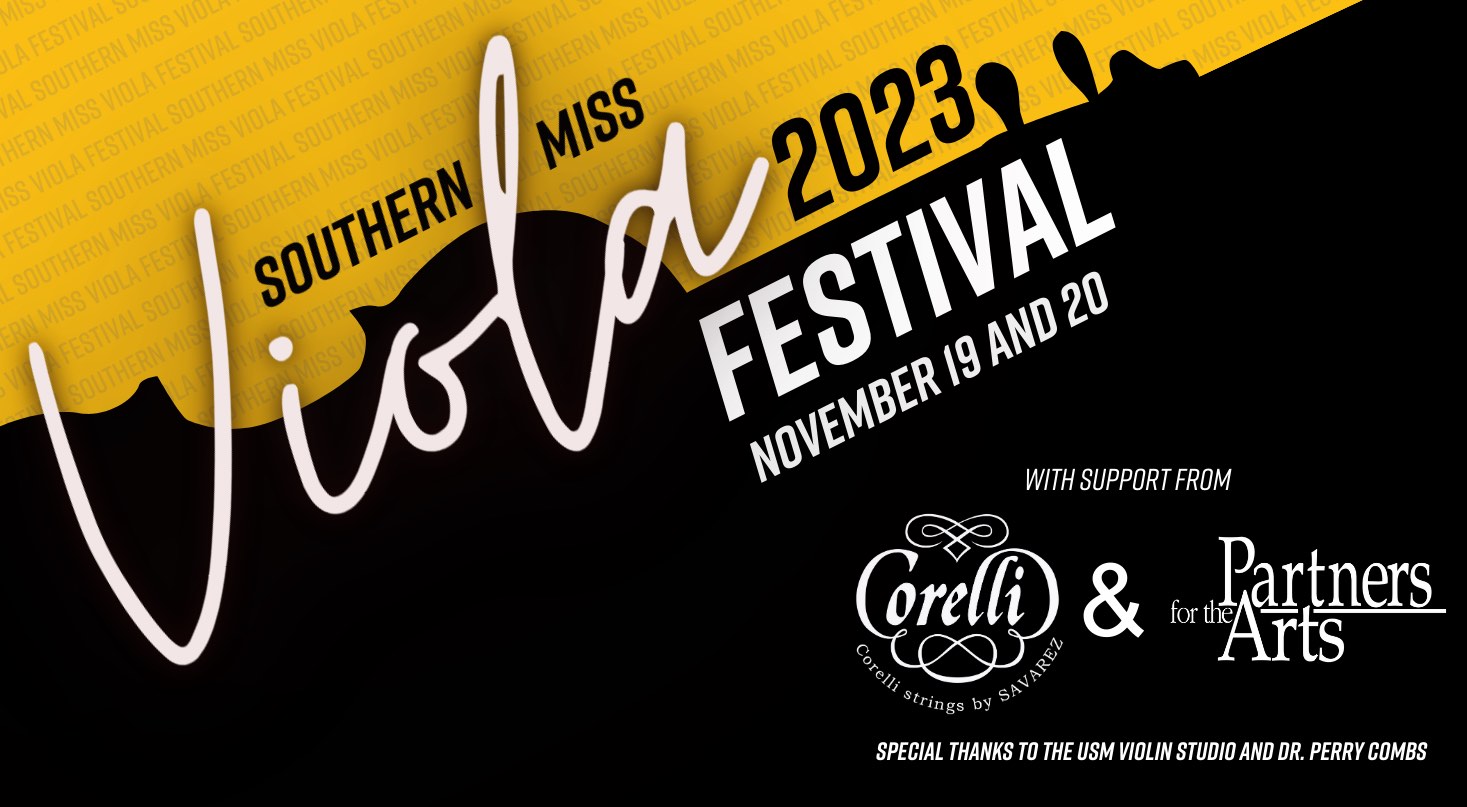 Viola Festival 2023
November 19 and 20
Southern Miss Viola Studio invites you to participate the 2023 Viola Festival. Violists of all ages and levels are welcome to join us for a viola concert, master class, and lectures during this annual event.
This event is made possible by the generous support from the School of Music, Corelli, and Partners for the Arts.
Ensembles
USM Symphony Orchestra: Violists with scholarship offered are required to participate in the USM Symphony Orchestra. The ensemble has hosted a number of world-renowned soloists in recent years including violinist Joshua Bell, flutist Sir James Galway, tenor Placido Domingo, violinist Nadja Salermo-Sonnenberg, tenor, and soprano Renée Fleming.

Chamber Music: Chamber music is a vital part of life for the string players at Southern Miss.

All violists are encouraged to audition for various orchestras in the area, including the Gulf Coast Symphony, Meridian Symphony Orchestra, Mississippi Symphony Orchestra, Mobile Symphony, Pensacola Symphony Orchestra, and Louisiana Philharmonic Orchestra. Students who are selected are paid for their services and gain an invaluable experience as members of a professional orchestra.

Viola Festival: Every other year, the viola studio hosts viola festival along with the Gulf Coast Viola Society at the University of Southern Mississippi campus. The past two viola festivals had brought together over seventy participants from Louisiana, Alabama, Georgia, Texas, Florida and Mississippi, ranging in age from ten to seventy. Violists enjoyed various recitals, lectures, ensemble music reading and playing and master classes during the festival.
Master Classes
Every semester, we will invite violists to offer master classes to the viola studio. During the past few years, we have had many guests at Southern Miss:
Prof. Roberto Diaz from Curtis Institute
Dr. Catharine Carroll from the University of Cincinnati, College-Conservatory of Music
Prof. Karen Ritscher from Oberlin Conservatory
Prof. Kirsten Docter from Cavani String Quartet
Dr. Pamela Ryan from Florida State University
Recent Performances
International Viola Congress (2018, 2012, 2010)
International Double Reed Society Conference (2018)
American Viola Society Festival (2016 & 2018)
Music by Women Festival (2017 & 2018)
Annual solo recital tours both nationally and internationally
Suzuki Strings Program
Students with certified Suzuki teacher training have the opportunity to teach through the Southern Miss Suzuki Strings Program.
The Suzuki Strings program at Southern Miss. started in 1996 as part of a doctoral project from violinist and educator Penny Kwiatkowski. Dr. Kwiatkowski is a native from Canada who holds a MA in Suzuki pedagogy, and a master and PhD in music education. Dr. Kwiatkowski was a devoted believer in the Suzuki philosophy and therefore decided that as part of her doctoral project and dissertation, she would start the Suzuki program in Hattiesburg MS with the help of Professor Stephen Redfield.
From its earlier beginnings, the program has been deeply engaged to motivate children to enjoy music, and also to reach out the community by offering concerts in nursing homes, churches and public as well as private schools. In addition, the program organizes visits to schools around Hattiesburg and nearby areas to offer children a wonderful musical experience. If you wish to have the Suzuki Strings Program of Southern Miss to visit your school and engage your students, please contact us.
At Southern Miss, children age 3 and older are taught to enjoy music through learning to play the violin, viola, or cello. The Suzuki Method is based on several truths about children and music:
All children have talent
Talent is not inborn, but developed in the environment
Any child can learn to play an instrument
This program offers excellent instruction, aiding the development of both musical and social skills:
Love and understanding of music
Basic concepts of musicianship: singing, listening and sensitivity
Self-discipline
Boosted memory
Enhanced ability to focus
Sense of self-esteem
In our Suzuki program, students take two lessons a week: one private lesson and one lesson in a group comprised of musicians of similar age and ability. Parents play an active role in the Suzuki method. By attending lessons and working with the teachers, parents are instructed on how to help their children practice at home. Learning takes place in an environment of co-operation between teacher, parent and child. Children progress much faster with the parent as home teacher. Parents develop stronger bonds with the child, shared joy of accomplishment, and a sense of having made an irreplaceable contribution to the child's development