Former Harrah's Executive Tolosa Receives Boardman Alumnus of Year Award
Wed, 11/03/2010 - 10:57am | By: Van Arnold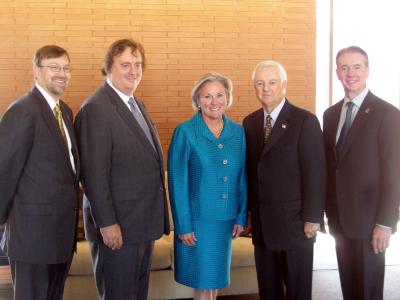 Former Harrah's Entertainment executive J. Carlos Tolosa received the Boardman Distinguished Alumnus of the Year Award presented by the College of Business at The University of Southern Mississippi. Pictured during a reception in Tolosa's honor are, left to right: Dr. Lance Nail, dean of the College of Business; Gary Loveman, CEO/President, Harrah's Entertainment; Southern Miss President Martha Saunders; Tolosa and Chuck Atwood, former Harrah's executive. (Photo by Van Arnold)
Longtime Harrah's Entertainment executive J. Carlos Tolosa could only shake his head in disbelief while gazing upon his likeness displayed on the giant scoreboard at M.M. Roberts Stadium.
"My grandkids noticed it first," said Tolosa, who was in town to accept the Boardman Distinguished Alumnus of the Year Award from The University of Southern Mississippi College of Business. "That's really amazing. You know, I used to play soccer on that very field many years ago."
Tolosa, 60, spent 40 years with Harrah's in a variety of roles ultimately retiring in January of 2010 as president of the Eastern Division. He was honored as the Boardman Distinguished Alumnus of the Year during a formal luncheon on Oct. 29 in the South End Zone Touchdown Club at Roberts Stadium.
"I can think of no better person to receive an honor of this kind than Carlos Tolosa," said Gary Loveman, CEO/President of Harrah's Entertainment Inc., who attended the luncheon. "I have worked with Carlos since 1994 and I can tell you that he is a very competitive, driven man who has a tremendous ability to inspire others."
Harrah's Entertainment has more than 80,000 employees with 54 casinos located on five different continents. Tolosa oversaw operations for one-third of the empire.
Tolosa's rise to prominence within the entertainment industry epitomizes the "American Dream." A native of Chile, Tolosa could not speak a word of English when he first visited the United States as a teenager in the late 1960s. In 1969 he came to study English at the Latin American Institute (later changed to the English Language Institute) at Southern Miss and ultimately earned his bachelor's of arts degree in 1973.
"Carlos Tolosa represents everything that's great about this country and the role our university plays in educating young people," said Dr. Lance Nail, dean of the College of Business at Southern Miss. "His story should serve as an inspiration for students everywhere who have a dream of bettering themselves and their lives."
Tolosa began his professional career in 1971 and held various management positions with Holiday Inns Inc., a former parent company of Harrah's Entertainment. In 1993 he rose to the position of Chief Operating Officer and senior vice president of operations for Embassy Suites Hotels, a division of Promus Hotels, also a former parent company of Harrah's.
On Thursday, Oct. 28 Tolosa spoke to residents of the Southern Miss Business Honors House on the Hattiesburg campus. What advice did he offer?
"I told them that above everything else you must have integrity," he said. "Without that, you cannot possibly succeed as a leader. And it is also very important to give credit to your employees when things are going well. Make sure you let them know how much you appreciate and value their work."
To learn more about the College of Business at Southern Miss call 601.266.4569 or visit https://www.usm.edu/business.