USM Art and Design's Virtual Annual Juried Student Show Underway
Wed, 03/24/2021 - 11:08am | By: Ivonne Kawas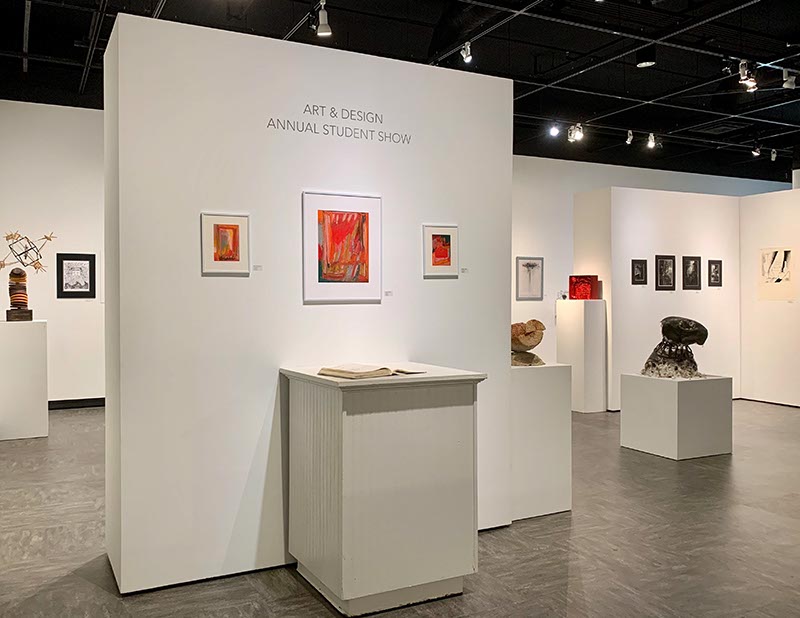 Artworks by students in the Art and Design program, housed in the School of Performing and Visual Arts at The University of Southern Mississippi (USM), are on exhibit in its virtual 2021 Annual Juried Student Show, from March 23 through April 4. An awards ceremony will be held March 25 at 6 p.m.
The Exhibition was juried by Tommie Rodgers, registrar for the Lauren Rogers Museum of Art in Laurel, Miss.; Devin Bonner, graphic designer for EW Bullock Associates in Pensacola, Fla.; and James Davis, sculptor and studio technician at the University of West Georgia in Carrollton, Ga., who selected the top works of art being recognized on March 25 at the awards ceremony.
Rodgers, USM alumna and juror, BFA '90, commended students for the incredible work produced and described the submissions as being full of life and energy, as expected from a seasoned program.
"I've juried numerous exhibitions and I'm always happy to see the work produced by USM's finest young artists," said Rodgers. "The exhibit this year may look and feel a little different, but I'm glad to see students giving their best efforts."
Rodgers stated that she was intrigued to see how students in the visual arts would adjust to unprecedented times.
"It was apparent that students stayed the course, as they embraced new and creative ways to hone their craft," said Rodgers.
The show features more than 250 works of art that were selected from the entries from studio courses in art foundations, drawing, painting, printmaking, digital photography, ceramics, sculpture, and several categories in graphic design.
"This greatly anticipated annual event is presented each spring and gives art students the opportunity to exhibit their creative achievements in visual arts produced over the past year and compete for awards in various categories," said Mark Rigsby, associate professor and director of the Gallery of Art and Design.
"We are looking forward to recognizing this year's student show award winners, who will be featured in a virtual walk-through gallery, to be posted online following the awards reception," he added.
This year's virtual exhibition and awards ceremony can be viewed at artdesign.usm.edu/events/2021-annual-juried-student-show/.
Photo Gallery