Bush Honored for Advancing Diversity at USM
Mon, 02/22/2021 - 10:31am | By: David Tisdale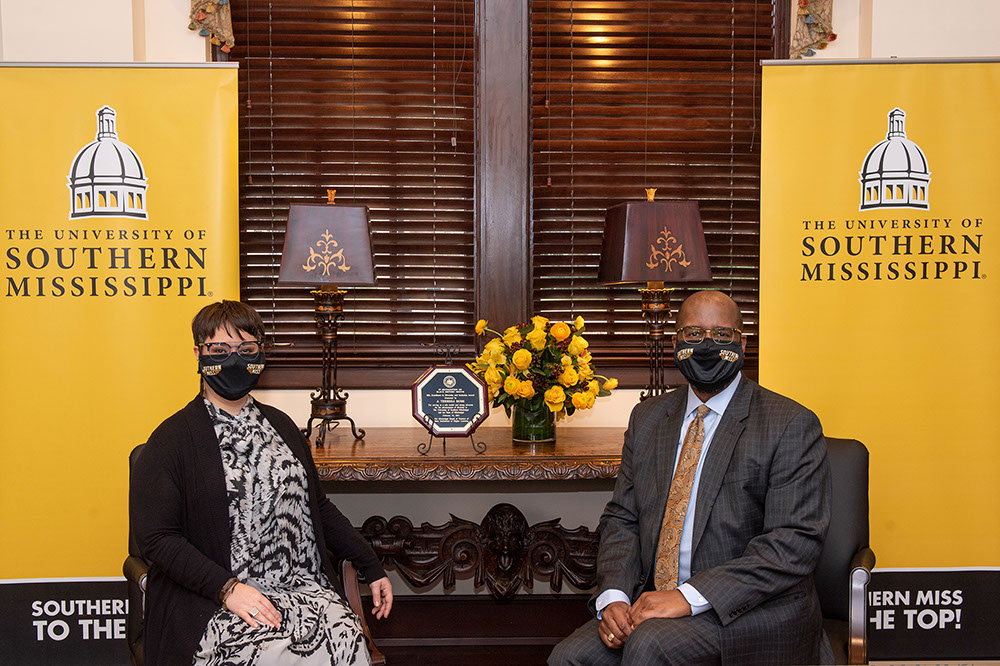 J. Theresa Bush, a University of Southern Mississippi (USM) Theatre program faculty member, has been recognized by the State Institutions of Higher Learning (IHL) for her efforts to advance diversity at The University of Southern Mississippi. Bush was one of 10 nominees for the 2021 IHL Diversity Educator of the Year award, an annual recognition based on teaching, research, publication and community service that demonstrate commitment to the ideals of the award.
An assistant professor of costume design and technology, Bush joined the USM faculty in 2015. She has designed regionally for companies that include the Actors Guild of Lexington, the Warehouse Theatre, and Virginia Rep, and has created costumes for regional houses, including Repertory Theatre of St. Louis and Lexington Children's Theatre. She is an associate costume designer to Toni-Leslie James, a Tony Award & Drama Desk winner and head of costumes at Yale School of Drama, and has served as Dolly Parton's alteration specialist.
Bush has been recognized for her work by the Richmond Theatre Critics Circle with its Award for Excellence, and with the Kennedy Center American College Theatre Festival Faculty Excellence in Costume Design Award. She has served as costume shop manager for the Williamstown Theatre Festival 2012 season and in production work for the Broadway premiers of Far From Heaven and The Elephant Man. She is a member of United Scenic Artists Local 829.
"Professor Bush's record of research, teaching, and service demonstrates a true commitment to diversity and inclusion not only at USM, but also within other organizations and communities with which she has interacted," said Rodney D. Bennett, president of The University of Southern Mississippi.
"I'm deeply honored to receive this recognition from the IHL, and thankful for the support of President Bennett and my colleagues," Bush said. "My thanks go especially to Professor Stephen Judd for his guidance and Director Stacy Reischman-Fletcher for her sustained support. It's a great privilege to unify my life's vocation to my career at USM and citizenship in Southern Mississippi."
Promoting equity, diversity, inclusion, and accessibility means "valuing human dignity, owning our power and wielding it on behalf of those less fortunate," Bush said.
"By honoring social justice advocacy, the IHL and USM acknowledge these truths, a great gift of solidarity," she continued. "In doing so, they center the issues we represent. I'm also deeply encouraged by the work of my peers in the School of Social Science and Global Studies' Diversity, Equity, and Inclusion Certificate Program; the Office of Inclusion and Multicultural Engagement; and USM Allies.
"We are moving Mississippi forward by stepping back into the most basic components of social activism: valuing the undervalued, dismantling systems of oppression, and resourcing change. With that in mind, I acknowledge my white privilege. I acknowledge I inhabit the ancestral land of the Choctaw people taken from them by the U.S. government in the Treaty of Dancing Rabbit Creek in 1831, and I acknowledge I am neuroatypical and require accommodations in my work."
Bush's research includes theatre for social justice, for which she says the spectrum is broad and the need great. That effort includes Theatrical Intimacy Education (T.I.E.) for Costume Designers and Technicians, a new field of study that emerged from the Me Too Movement and
that promotes best practices in agency and consent. She uses T.I.E. training in the classroom to promote safe and healthy learning environments, and to educate students about their own agency and ability to give and revoke consent. She created a graduate-level theatrical design course that takes students through Anti-Racist Theatre (A.R.T.) training with participation in conversations with guest speakers from the industry, contemporary critical content, and a portfolio project from George C. Wolfe's The Colored Museum.
"Theatre is uniquely suited to give voice to people whose identities intersect at oppression," she said. "We are transforming theatre work by introducing tenets that value basic human dignity above productivity. This has been a major year for advocacy, and USM students are on the front line."
Bush is also a training facilitator for USM ALLIES, which certifies people to host safe spaces for the LGBTQIA+ campus community, and is a faculty advisor for PRISM, USM Theatre's LGBTQIA+ student group. She is a member of the National Alliance on Mental Illness and co-chair of the 2020 NAMI Pinebelt Walk-a-thon planning committee, and recently advocated for mental health at Crisis Intervention Training for Mississippi police and corrections officers. Bush advocates for accessibility by promoting color-conscious storytelling through costume design and providing African American hair and makeup training for the stage to USM students of color and allied designers.
With support from the USM School of Performing and Visual Arts, Bush regularly hosts USM Theatre alumna Jerrilyn Lannier, whose work on Bridging the Gap: a look at African American Hair and Makeup for the Stage, is transformative for both BIPOC theatre students and allied makeup designers who want to serve them equitably. This year, Bush is hosting USM Theatre alumna Lauren E. Turner to provide anti-racist theatre content and connections to advocacy in the arts for BIPOC students. Turner is the cofounder of No Dream Deferred NOLA, a theatre company that promotes intersectional artists in New Orleans.
The School of Visual and Performing Arts is housed in the College of Arts and Sciences. For information about the School and its programs, visit https://www.usm.edu/performing-visual-arts/index.php.