Cwikla Named 2021-2023 Bennett Distinguished Professor of Math Education
Tue, 08/31/2021 - 08:31am | By: Ivonne Kawas
Dr. Julie Cwikla, professor of Mathematics Education in The University of Southern Mississippi's College of Arts and Sciences, has been named 2021-23 T.W. Bennett Distinguished Professor of Mathematics Education. She also serves as Director of the Center for Science and Mathematics Education and Director of Creativity & Innovation in STEM, in the Office of the Vice President for Research.
The two-year Bennett Distinguished Professorship recognizes an established scholar and faculty member in the sciences from a Ph.D. granting unit in the College. It is made possible thanks to the T.W. Bennett Endowment, established at the USM Foundation by Mr. and Mrs. T.W. Bennett, Sr. in honor of their son and his love for the sciences. He was declared missing in action on December 22, 1972, while serving in the United States Air Force.
The endowment provides support to the Bennett Professor's research activities and also sponsors the Biennial Bennett Symposium. This research conference showcases topics from the Bennett Professor's discipline, and the Bennett Professor delivers the keynote talk.
"It is an incredible honor to be named a Bennett Distinguished Professor and to join outstanding USM faculty scholars who have had the prestige of holding this professorship," said Dr. Cwikla. "With the generous and touching support of the Bennett family, I will be able to extend some of my current research and develop a new program. I'm also looking forward to the symposium to highlight STEM education research here at the university and connecting with colleagues worldwide."
Investigating the ways humans develop quantitative and scientific understanding is the broad mission that drives Cwikla's research. In addition to the symposium, the Bennett Professorship funds will support two research projects.
For the project, "Can Kindergartener's Do Fractions?," Dr. Cwikla will continue her research, funded by both the National Science Foundation and the W.K. Kellogg Foundation, examining ways children ages 4-6 solve fraction tasks and concepts.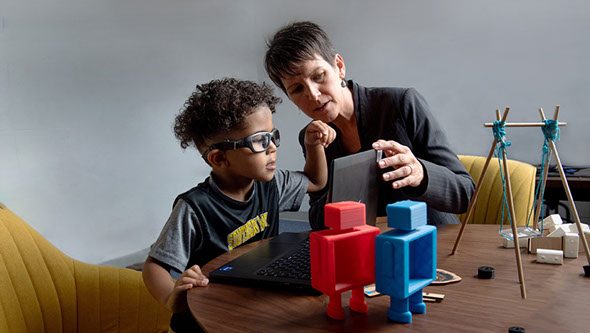 "Results from our initial research are compelling, demonstrating young learners' ability to respond correctly to fraction questions and challenges in the context of story-based word problems," said Dr. Cwikla. "However, more investigation is warranted."
Dr. Cwikla explains that as schools and educators shift more learning to technology-based tools, her team wants to examine the impact on students' demonstrated understanding and comprehension.
"The students are presented with an interactive e-story or cartoon. Over the course of the four-minute story there are six mathematical challenges the children are asked to assist the characters to solve," said Dr. Cwikla. "We observe the students' problem-solving strategies and use of a variety of tools, solving the math challenge."
The second project "A River Runs Through Us," seeks to develop community-based climate action programs through a partnership between USM's Center for Science and Mathematics Education, the Marine Education Center, the Pascagoula River Audubon Center, and the Walter Anderson Museum of Art.
Dr. Cwikla says they plan to develop innovative ways to teach the public about our diverse waterways, soil, and air all impacting our human health and the health of our ecosystem using place-based science programs and intergenerational community action projects.
Dr. Chris Winstead, Dean of the College of Arts and Sciences commended Dr. Cwikla on the distinguished honor and for her scholarly efforts.
"The Bennett Distinguished Professorship was established as a tribute to Buddy Bennett's love of science and in recognition of his service and dedication to his country," said Dr. Winstead. "This year we are proud to bestow this honor on Dr. Cwikla, who exemplifies excellence in research. Her passion for improving STEM education has yielded an extensive track record of pioneering work in science and mathematics education. No one is more deeply committed to improving our understanding of the teaching and learning of science and mathematics."
Previous Bennett Distinguished Professor recipients include: Dr. Sarah Morgan (Polymer Science and Engineering), Dr. Alan Shiller (School of Ocean Science and Engineering, Dr. Mohamed Elasri (Biological Sciences), Dr. Robson Storey (Polymers and High Performance Materials), Dr. Vernon Asper (Marine Science), Dr. Sabine Heinhorst (Chemistry & Biochemistry), Dr. Roger Hester (Polymers and High Performance Materials), Dr. Stephen Ross (Biological Sciences), Dr. Gordon Cannon (Chemistry & Biochemistry), Dr. Charles McCormick (Polymers and High Performance Materials), Dr. Frank Moore (Biological Sciences), and Dr. Anselm Griffin III (Polymers and High Performance Materials; Chemistry & Biochemistry).
Learn more about Dr. Cwikla's work in STEM Education and the Center for Science and Mathematics Education.