USM Holds Graduation Ceremony for 2021 Uncrewed Maritime Systems Class
Fri, 04/16/2021 - 16:49pm | By: Van Arnold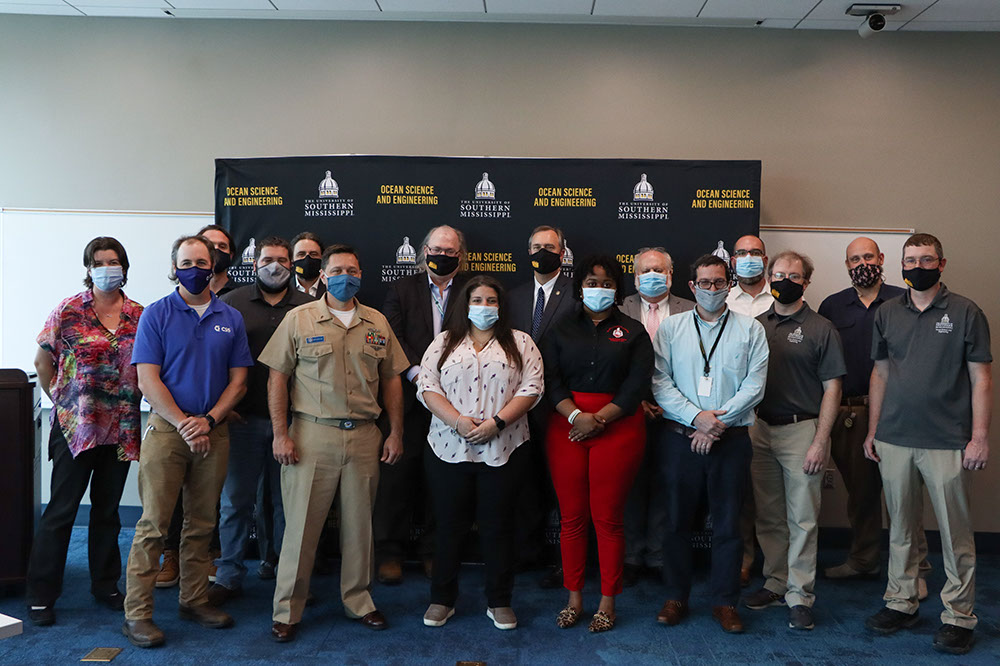 The University of Southern Mississippi (USM) School of Ocean Science and Engineering (SOSE) honored graduates of its unique Uncrewed Maritime Systems (UMS) certification program during a special ceremony held Friday, April 16 at the University's Marine Research Center in Gulfport, Miss.
The 2021 graduating class includes 11 students who earned certification in the nation's only academic course in uncrewed marine vehicle operations. Since its debut in 2017, the program has produced 89 graduates.
USM continues to play a leading role in education and research for the nation's maritime industry and "Blue Economy." Moreover, the University remains an enduring partner institution in national defense. The UMS program serves as a primary catalyst to the University's and Mississippi's prominence in the burgeoning "Blue Economy."
"We extend our congratulations to the latest graduates from USM's intensive UMS Certificate Program," said Dr. Jerry Wiggert, SOSE Associate Director and UMS Coordinator. "These students are joining a rapidly growing community in the field of oceanographic study that contributes to basic understanding, ocean forecast modeling and national defense."
Through the UMS Certificate program, students learn foundational material in oceanography and ocean engineering principles related to uncrewed undersea and surface vehicles (UUVs and USVs), such as powered vehicles and gliders. The four courses totaling 10 credits are compressed into five weeks of instruction and are intended to provide sufficient background to safely operate these vehicles in challenging marine environments.
During the UMS course each student obtains a kit containing parts from which they build an educational glider. Building this glider helps them to understand electronics and soldering, as well as ballasting dynamics. At the end of the course the students race the gliders in the tank at the Marine Research Center (MRC). The person who has adjusted the programing and ballasting to be most efficient, usually wins.
"The skills these graduates have acquired will position them for rewarding and successful careers within academia, at federal agencies, or working in the expanding Blue Economy industries along the Gulf Coast and worldwide," said Dr. Wiggert.
To learn more about the School of Ocean Science and Engineering at USM, call 228.214.9010 or visit: https://www.usm.edu/ocean-science-engineering/index.php