Southern Arena Theatre Returns with Outdoor Performance for All Ages
Mon, 05/24/2021 - 14:44pm | By: Ivonne Kawas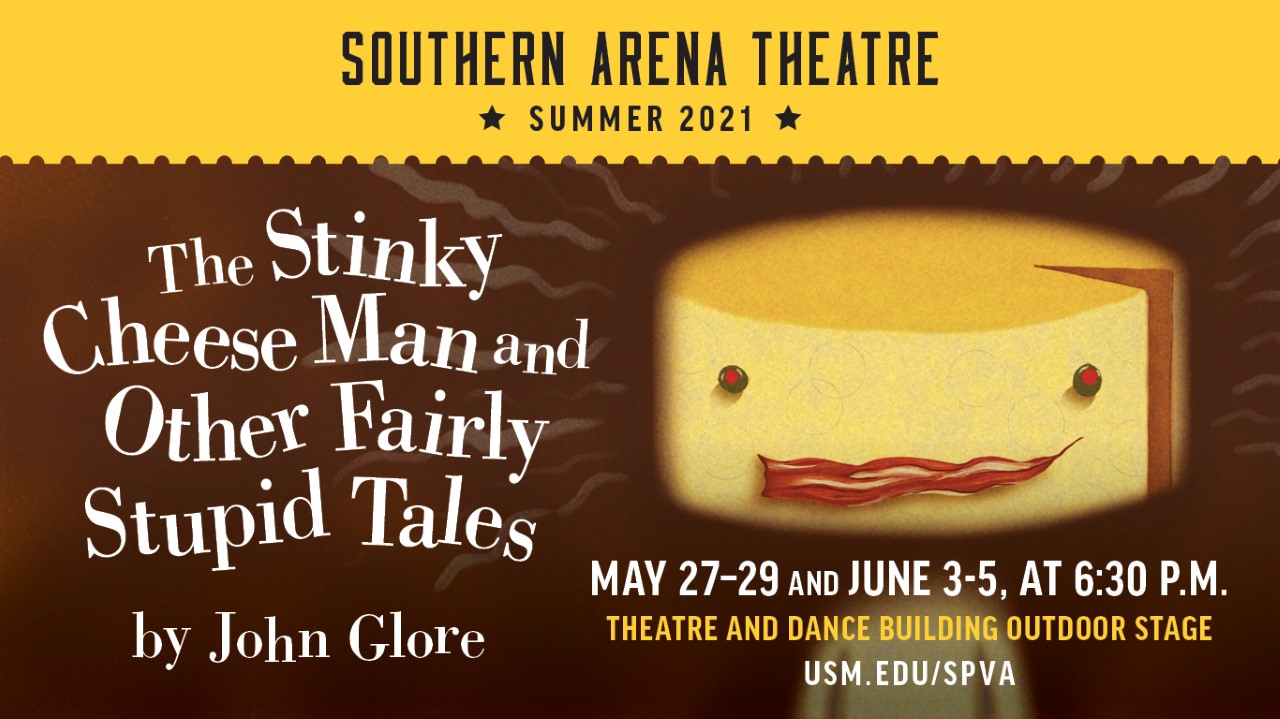 Southern Arena Theatre (SAT) is set to return for its 44th season at The University of Southern Mississippi (USM) with a family-friendly outdoor performance of John Glore's The Stinky Cheese Man and Other Fairly Stupid Tales.
This production will be performed on the new outdoor stage behind the Theatre and Dance building on May 27-29 and June 3-5 at 6:30 p.m. Ticket prices for the show are $10; tickets for faculty, staff, students, seniors and military are $8. Patrons are encouraged to bring blankets or lawn chairs to sit on.
"After being unable to perform last summer, we are ecstatic to be bringing back Southern Arena Theatre with a show for all ages," said Dr. David Coley, producer and assistant professor of theatre. "It promises to be a unique and memorable experience for all who come experience our outdoors space."
Adapted from the beloved children's book by Jon Scieszka and Lane Smith, this hilarious show presents a series of wacky alternate versions of some of the most beloved fairy tales. Stories such as The Princess and the Bowling Ball, Cinderumpelstiltskin, and Little Red Running Shorts, among others, are sure to delight.
Carter Lishen, a junior double majoring in theatre and journalism from Long Beach, Miss., will be narrating the show as Jack, from Jack and the Beanstalk. Lishen shares his experience, as he has been preparing to take on this challenging role.
"As the narrator, I've been challenged with keeping my energy up throughout the show," said Lishen. "From voice and acting to movement classes, I can confidently say the faculty in our program have provided me with all the tools I need to perform this role. More specifically, my voice professor and director for this show, Robin Aronson, provided me with the techniques to carry my voice a long way."
When asked what his favorite part of preparing for this show was, Lishen responds: "Overall, the rehearsal process has been so fulfilling. I've loved having the agency to make big bold choices for my character, that I know kids are going to think are hilarious and love."
SAT has been a Hub City summer theatre staple, as it is dedicated to entertaining the greater Hattiesburg community by featuring shows with a broad appeal.
Wesley Hanson, scene shop supervisor said, "Presenting a family-friendly production is a terrific reminder of where our passion began, as this type of show is where many of us began with our own theatrical experiences. We can't wait to share it with the community."
Support for SAT comes in part by the College of Arts and Sciences, Partners for the Arts, local corporations, and from individual donors.
Only fifty tickets will be available per performance. For ticket information, visit usm.edu/spva.