2022 Mississippi's Aspirations in Computing Award Winners
Wed, 05/04/2022 - 04:41pm | By: Ivonne Kawas
Pictured left to right: Kristi Jernigan (Educator), Kristin Jernigan, Willie Jones (Guest Speaker), Micah Hill, Jillian LaRosa, and Jenna Kasselman
The University of Southern Mississippi's (USM) School of Computing Sciences and Computer Engineering and the National Center for Women and Information (NCWIT) - Mississippi Affiliate, recognized an Outstanding Computing State Educator and 9th-12th grade students at the Aspirations in Computing (AiC) Award Luncheon held at the Hattiesburg campus this month.
As part of an effort to encourage a diverse range of students to choose careers in technology, the awards recognize those who self-identify as women, genderqueer, or non-binary for their computing-related achievements and interests. The Educator Award identifies exemplary formal and informal educators who play a pivotal role in encouraging these students.
The event consisted of a luncheon and celebration of the accomplishments of the awardees who have demonstrated outstanding aptitude and aspirations in technology and computing. The category recipients included: 12 Winners, 2 Honorable Mentions, and a Rising Star.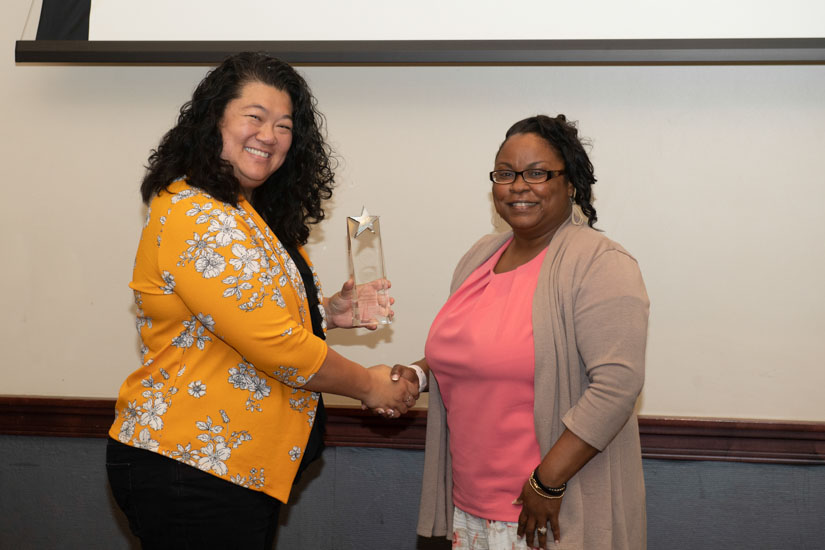 Mississippi's AiC 2022 Educator Award Winner, Kristi Jernigan from Winston-Louisville Career & Technology Center, was honored for playing a role in encouraging students to explore their interest in computing and cybersecurity.
"USM is honored to partner with the National Center for Women and Information Technology to recognize these rising stars in Mississippi. Kudos to our state educator winner, Mrs. Jernigan, for all of her work to bring computing and cybersecurity learning to her school district," said Dr. Sarah Lee, Director of the School of Computing Sciences and Computer Engineering. "Teachers are so important to the future of our state and we appreciate the work they do to inspire the next generation of technical talent."
Jernigan, as a technology discovery and STEM instructor at Louisville High School, taught the Project Lead the Way (PLTW)-Intro to Engineering course for 9th and 10th grade students. She has mentored students who have received recognition for the national congressional app challenge where They applied their computing and technology skills to create a unique app. She is also the advisor for Technology Student Association (TSA). As the TSA advisor, her students compete on the district, state, and national level in several events such as Music Production, Technology Bowl, and Fashion Design. Her students have placed and won several scholarships as TSA members.
Jernigan has hosted computer programming, robotics, and cybersecurity summer camps for the Louisville Municipal School District targeting K-5th grade students. She also helps with the 4-H robotics team for Winston County.
"These educators' support goes a long way in motivating students to apply their creativity and unique perspectives as they learn computational skills. Students are often more likely to pursue computing education when they are encouraged by their educators and other adult influencers," said NCWIT CEO and Co-founder Lucy Sanders.
A respected leader in the transportation industry, Willie Jones, served as the keynote speaker for the award celebration. Jones is the President and CEO of Dependable Source Corp., a Center for Community and Workforce Development that was founded in 2014 to deliver workforce solutions to the transportation industry.
The recipients for the 2022 NCWIT-Mississippi AiC Awards are:
Micah Hill | Laurel High School
Hometown: Laurel, Miss.
Dania Zein | Northwest Rankin High School
Hometown: Brandon, Miss.
Danielle Ryans | Mississippi School for Math and Science
Hometown: Rose Hill, Miss.
April Guo-Yue | Starkville High School
Hometown: Starkville, Miss.
Amanda Zhou | Mississippi School for Math and Science
Hometown: Memphis, Tenn.
Jenna Kasselman | Enterprise High School
Hometown: Enterprise, Miss.
Charity Doster | Louisville High School
Hometown: Louisville, Miss.
Jillian LaRosa | Long Beach Senior High School
Hometown: Long Beach, Miss.
Kristin Jernigan | Louisville High School
Hometown: Louisville, Miss.
Monique Reed | Pearblossom Academy
Hometown: Mechanicsville, Md.
Sophia Hines | Mississippi School for Math and Science
Hometown: Meridian, Miss.
Rachel Guynes | Greenville High
Hometown: Greenville, Miss.
Honorable Mentions
Katelyn Coleman | Clinton High School
Hometown: Clinton, Miss.
Amiah White | Laurel High School
Hometown: Laurel, Miss.
Rising Star
Ariya White-Graham | Forest High School
Hometown: Forest, Miss.
---
About NCWIT Aspirations in Computing
NCWIT is the farthest-reaching network of change leaders focused on advancing innovation by correcting underrepresentation in computing. NCWIT convenes, equips, and unites nearly 1,500 change leader organizations nationwide to increase the influential and meaningful participation of girls and women — at the intersections of race/ethnicity, class, age, gender identity, sexual orientation, disability status, and other historically marginalized identities — in the field of computing, particularly in terms of innovation and development. Find out more at ncwit.org.