A Diamond Affair: USM Partners for the Arts Announces Gala in Celebration of its 25th Anniversary
Tue, 08/02/2022 - 09:51am | By: Ivonne Kawas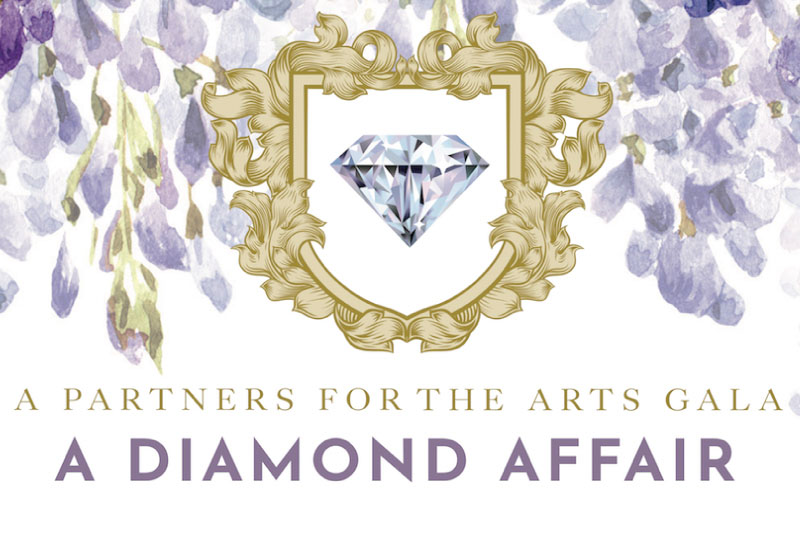 The creative team that brought you the "Atlantis," "Shangri-La," and "Casablanca" galas will present a Partners for the Arts Gala — A Diamond Affair — in celebration of its 25th Anniversary on Sept. 15, 2022 at 7 p.m. at The Venue in downtown Hattiesburg.
Since its inception in 1997, Partners for the Arts, a community alliance between the Pine Belt Region and the arts programs at The University of Southern Mississippi, has raised more than $1.7 million through donations to provide students with access to world-class artists and educational experiences.
"Over the last 25 years, Partners for the Arts members and donors have had a transformative impact on the arts at Southern Miss," said Dr. Chris Winstead, Dean of the College of Arts and Sciences. "Partners plays a key role in developing our next generation of artists, as the funds raised go directly to supporting student and faculty projects. The upcoming gala will no doubt be the event of the year, but it will also be a lively and engaging way to support new artists and take the arts at Southern Miss to the next level."
Step into 1813 London as a guest and attend the most coveted and sophisticated ball of the season. The Queen herself invites you to her Diamond Affair, which will thrill the senses. Enjoy music, dancing, interactive performances and more. Revel in the spectacle, while savoring delicious cocktails and hors d'oeuvres.
"Hattiesburg is a hub for the arts in South Mississippi because of the unparalleled arts programs at USM," said Amy Hinton, Chair of the Gala and Partners for the Arts. "A Diamond Affair will showcase student musicians, dancers, writers, and visual artists in an event like no other in the Pine Belt."
As seen on the Society Paper, Lady Wisteria shared the most sensational news: "The social season is upon us. I am delighted to announce that the Queen herself has planned a gala as you have never seen before. Everyone is aflutter, wondering whom she will choose as her favorite at this Diamond Affair. Stay tuned as she reveals who the competing debutantes and viscounts are. Who will be the chosen one at the most coveted ball?"
Gala Committees include:
Event Chairs: Amy Hinton and Kate Smith;
Events Hosts: Chris Winstead, Amy Hinton, Joe Bost and Den Baum;
Event Designer: Mike Lopinto;
Event Decor: Nancy Leader and Kelly James-Penot;
Arts leaders of The University of Southern Mississippi;
Sponsors: Lincoln Road Package Store, Southern Oaks House and Gardens, Stokes Distributing, Stagetec, Blooms Company, and Taylor Rental.
Be there to see it with your own eyes! Current and new members of Partners for the Arts received advance access to pre-sale tickets. Sales are now open to the public. The Queen expects to sell out for this very special celebration.
If you have any questions, please call Kate Smith at 601.266.5095 or visit usm.edu/pfta-diamond-affair.