Academic Achievements Could Propel USM Graduate Student to Citizenship
Mon, 03/07/2022 - 04:57pm | By: David Tisdale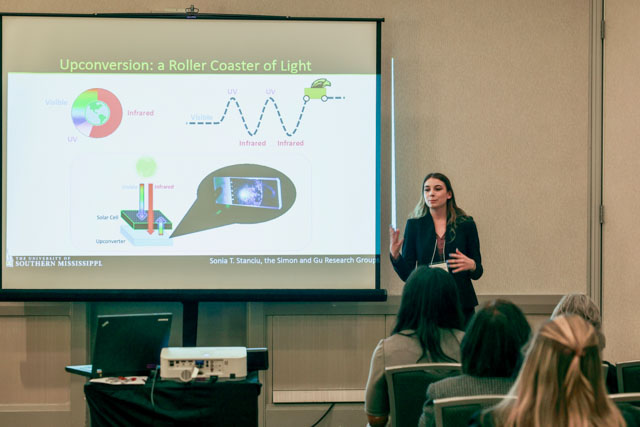 USM doctoral student Sonia Stanciu presents for the Three-Minute Thesis competition at the Conference of Southern Graduate Schools in February.
Sonia Stanciu hopes three minutes of her time help make her dream of becoming an American citizen reality.
Stanciu, a doctoral candidate in The University of Southern Mississippi (USM) School of Polymer Science and Engineering, used her monetary prize from winning the USM Graduate School's 3MT® (Three-Minute Thesis) 2021 competition to pay fees associated with applying for U.S. citizenship.
A third-year graduate student in the USM School of Polymer Science and Engineering, Stanciu works in the research labs of Dr. Yoan Simon and Dr. Xiaodan Gu (The Simon and Gu Research Groups), where her research focuses on photophysics and materials engineering, which involves the fabrication of polymer materials capable of harvesting energy from light, or "photon upconversion." This process involves the combining of energy from the particles of light known as photons, with the goal of creating even more energetic light.
Stanciu employed her research for the 3MT® competition last year in her presentation titled "Upconversion – A Roller Coaster of Light" to conceptualize the journey upconversion leads us along the many different energies of light, visible and invisible, that exist in the universe.
The 3MT® Competition is an annual communication skills development event and among the most important professional skills-development activities the USM Graduate School hosts. It requires participating students to present the significance of their research in a manner that can be understood by a general audience within three minutes, compelling them to deeply consider the value and broader impacts of their work. The 3MT® grand champion earns a $1,000 prize, as well as $250 as winner of their competition category.
"The reason increasing the energy of light is so valuable lies in the future of solar energy harvesting," Stanciu explained. "For every second the sun shines light onto Earth, we could fulfil the entire world's energy demands for over two hours, but our current solar technologies operate nowhere near efficiently enough to utilize the broad spectrum of light we receive from our sun every day. If we could tailor light to whatever energy we want, it would be much easier to use for individualized purposes."
Stanciu had not previously participated in the 3MT® competition before last year, and says she loved the experience. "I didn't realize how challenging it was going to be to condense months of hard work and many experimental failures into just three minutes," she said. "But the reality is that when it comes to publicizing our research, few will ever see all those ups and downs. 3MT® was the perfect opportunity to thin out some of the weeds in my research to really figure out just what was most valuable about my project's contribution to its field."
The opportunity to engage in that same competition at the next level recently availed itself for Stanciu at the 3MT competition, held recently during the Conference of Southern Graduate Schools (CSGS) in Raleigh, North Carolina. There, Stanciu shined again, finishing as one of the competition's top finalists.
"Getting to travel to Raleigh and compete among other regional 3MT® champions was one of my most memorable experiences in graduate school to date," Stanciu said. "Every single individual in that competition was so dedicated to their craft, and willing to try to prove to a huge room of strangers what their research meant to the world. I was so honored to make it to the final round of presentations, as there wasn't a single participant who wasn't deserving."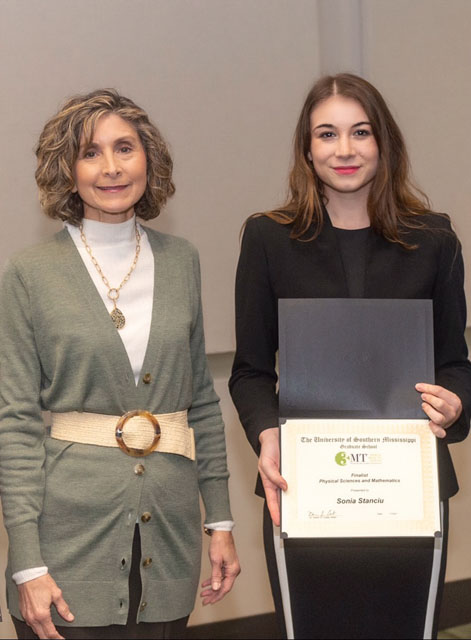 "It was a joy to get to know Sonia a little better when we attended CSGS together last month," said USM Associate Provost and Dean of the USM Graduate School, Dr. Karen Coats. "She took full advantage of all the conference had to offer for graduate students in attendance, including networking and professional development, and her performance in the 3MT® competition was simply flawless. Sonia was very successful in distilling her research down to the most important concepts and then explaining it to a very broad audience.
"I wasn't at all surprised when she made it to the finals competition. We can all be proud of how well she represented Southern Miss."
A native of Halifax, Nova Scotia, Stanciu moved with her parents to the United States in 2003, settling in Indianapolis, Indiana. She grew up in a multicultural home, with her father being a native of Romania who moved to Canada in the early 1990s, and her mother, who is Scottish-Canadian. She attended school at nearby Hanover College, where she initially majored in anthropology, influenced by her curiosity about the diverse cultures of the world.
But after becoming concerned about the impact climate change is having on developing nations around the world, she decided to change her major to chemistry to explore what research she could engage in that could help alleviate those negative impacts on the planet.
Stanciu's first contact with USM was through its Research Experience for Undergraduates (REU), funded by the National Science Foundation) before deciding to pursue her graduate degree at the Hattiesburg campus. "It was through the REU I fell in love with polymer science and transitioned from studying antibiotic resistance and chemistry to the field of engineering," she explained.
She points to her participation in the Mississippi-EPSCoR-funded Center for Emergent Molecular Optoelectronics (CEMOs) as being among the most meaningful experiences she has had since coming to USM, where Stanciu gets to spend every day working with development of technology of the future through manufacturing unique polymers with electronic properties.
Stanciu plans to work in the clean energy sector after graduation, either in the private sector or with a government agency that focuses on device engineering and solar energy. "We only have approximately 50 years remaining to utilize the worlds petroleum reserves, and the sun is arguably the most renewable source of energy we have access to every single day," she said.
Stanciu takes inspiration from her father, who moved to Nova Scotia, Canada after the Romanian revolution in 1989. He spoke almost no English when he first moved to Halifax and knew no one outside of Romania, she said. Despite having a master's degree in physical chemistry, he faced difficulties finding employment in his field, so he worked at a variety of odd jobs while doing research for the local university.
After learning English and doing any research job he could in Canada, Stanciu's father was finally offered a position as a scientist for a private American company. The company sponsored visas for Stanciu and her parents, and after five years of living in Indiana the family was able to apply for permanent residency in the United States. Stanciu then began saving money to apply for her American citizenship when she started getting a stipend as a graduate assistant at USM.
"He's my biggest hero," she said of her dad. "He never got the opportunity to finish his Ph.D., so he was really excited when I was accepted into this (USM) program."
As soon as Stanciu won the 3MT® competition at USM and received her prize, she sat down with her father and filled out her citizenship application paperwork. She was recently notified that her application is now pending review.
"The process can take anywhere from a few months to a couple years, so I'm trying my best to be patient," she said. "I've always been very involved in extracurriculars (Greek Life, volunteering, etc.) so I'm excited to finally be able to vote in an election.
"Becoming a citizen also means I'll have the ability to apply for internships or careers in governmental agencies like the Department of Energy, which does a lot of work toward sustainable energy harvesting. Regardless, if I get any positions like those, this country has been my home for many years, so I'll just be happy to make it official."
For more information about the USM Graduate School's 3MT® competition, visit Three-Minute Thesis Details | Graduate School | The University of Southern Mississippi (usm.edu); for information about the USM School of Polymer Science and Engineering, visit School of Polymer Science and Engineering | The University of Southern Mississippi (usm.edu).