USM Student Selected as a 2022 IBM zSystems Student Ambassador
Thu, 04/28/2022 - 09:51am | By: Ivonne Kawas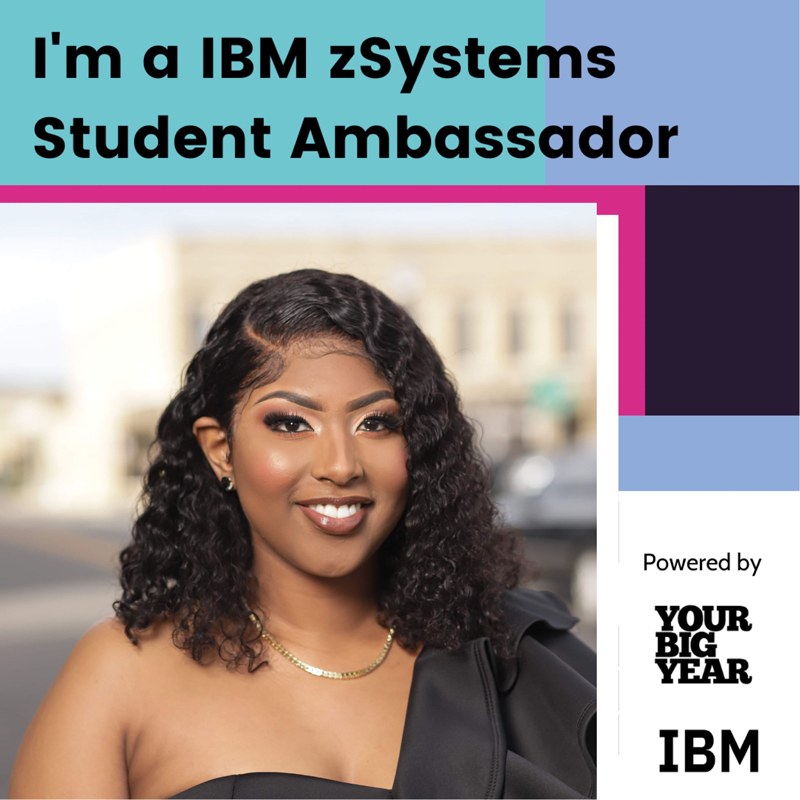 Imagine learning about the mainframe technology that powers everything, including ATM cards, credit cards, airline reservations, hotel reservations, retail shopping and more?
A student in the School of Computing Sciences and Computer Engineering at The University of Southern Mississippi (USM) will get this opportunity, as she has been selected as a 2022 IBM zSystems Student Ambassador, which is powered by IBM Z and facilitated by Your Big Year.
As she prepares for a successful career in enterprise computing, Alkendria (Desiree) McNair, Information Technology major and native of Collins, Miss., will participate in a leadership program to upskill technical knowledge, network with industry leaders, and collaborate with peers worldwide this summer.
"Desiree consistently demonstrates leadership qualities that will serve her well in a computing career pathway. As an IBM zSystems Student Ambassador, she will have a great opportunity to expand her network as she builds relationships with professionals from throughout the country and further develop her leadership skills," said Dr. Sarah Lee, Director of the School of Computing Sciences and Computer Engineering.
McNair will get to learn about the mainframe technology that powers the world's biggest businesses through her participation in three learning sprints.
"This is an amazing opportunity, as I will get a chance to network with students from all over the world. Most importantly, I will learn about IBM Mainframes and this will complement what I'm learning at USM," said McNair.
"I took a chance on applying for this program not expecting to get chosen. As advice for other students, IBM is mostly looking for driven individuals with a willingness to learn, so as long as you have an open-mind and you're interested in learning there's nothing you can't accomplish."
"I heard about this professional development opportunity through Dr. Lee and Ms. Soundra Newson, the Academic Advisement Coordinator for our school. I'm thankful, as I wouldn't be an Ambassador if it wasn't for them. They pushed me, supported me, and made this outstanding opportunity available to me."
As McNair culminates the program, she can earn technical certification and digital badges to enhance her profile with the pre-requisite skills that can make her a great candidate for working at companies who hire for IBM Z skills.
"I'm looking forward to the privilege to help others on campus gain access to this community," she said.
Visit Your Big Year to apply to the program or learn more about the School of Computing Sciences and Computer Engineering at USM.