Alumni Spotlight: Jaylen Hackett's Path from USM to Harvard Kennedy School to MIT
Fri, 08/12/2022 - 09:32am | By: Ivonne Kawas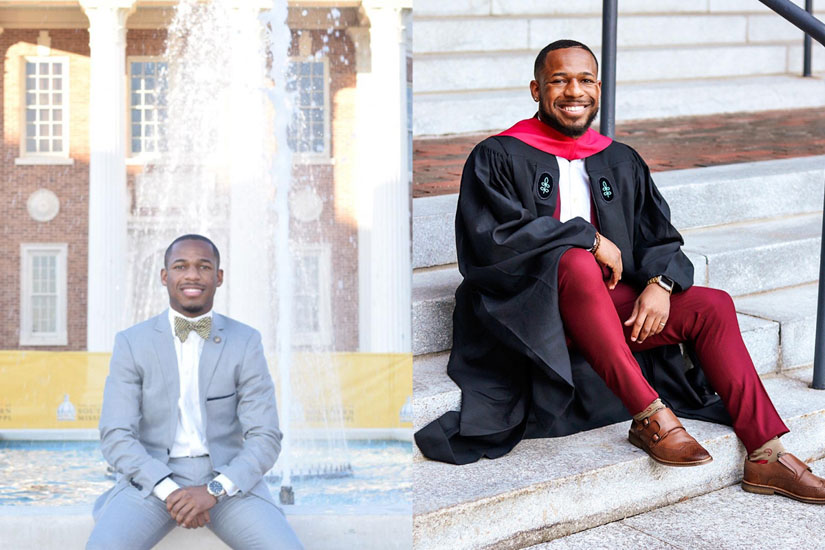 For the past eight years, University of Southern Mississippi (USM) alumnus and Mobile, Ala., native Jaylen Hackett has lived by the motto, "Be the change you want to see in the world." The 2017 graduate has worked with K-12 and higher education institutions; government on the federal and local levels; and nonprofits and foundations to create strategies that address issues of equity and implement initiatives that close the opportunity gap for those living in poverty.
Hackett's journey traces back to his time at USM. He pursued his Bachelor's in Economics and Political Science at USM, went on to obtain a Master's in Public Policy at Harvard Kennedy School of Government, and is now an incoming MBA candidate at MIT Sloan School of Management.
Growing up, Hackett's mother was an educator, who for the most part served students from impoverished households. The stories she shared of students experiencing food and housing insecurity and the host of other issues that come with the trauma of poverty truly affected the way Hackett looks at this world today.
Since then, Hackett's purpose has been around creating opportunities for others to be able to succeed despite those barriers.
Finding his Purpose at USM
Dr. Edward Sayre was Hackett's advisor and professor of economics at USM. They met when Hackett was still a high school senior and a prospective student. To this day, Dr. Sayre feels privileged to be able to serve as his mentor.
"I was always impressed with Mr. Hackett as he exhibited grit — a rare combination of skills, passion and perseverance," said Dr. Sayre. "He not only was a hard-working student who wanted to make good grades, but he was also interested in making a difference. He sought out opportunities to learn new skills and acquire new credentials from interning with the Congressional Black Caucus Foundation to Princeton's Public Policy and International Affairs summer program."
During his sophomore year at USM, Hackett recalls he wanted to find a way to work on Capitol Hill and applied to intern at the Congressional Black Caucus Foundation. Though it was an incredible learning experience, he felt he could be making more of an impact; therefore, the next summer he sought to stray away from politics and go more towards policy.
"I had the opportunity to tackle pressing policy issues at Princeton University through the Public Policy International Affairs Program Junior Summer Institute," said Hackett. "This experience gave me a much better understanding of how we can use policy to change the country for the better."
Hackett was always in pursuit of his passions in and outside the classroom. Dr. Sayre notes that he was able to turn his Economics Capstone project into a bigger project for his Honors thesis.
"This project looked at the student retention rates of African American men at predominantly white institutions (PWIs) versus historically black colleges and universities (HBCUs)," said Dr. Sayre. "His understanding of empirical methods and framing of research questions were excellent, but it was his curiosity, passion for the subject, and drive that made the project truly remarkable."
Becoming a Leader at Harvard
Following his education at Southern Miss, Hackett went to teach 7th grade math as a Teach for America corps member in Charlotte, N.C. Two years later, he started his journey at Harvard Kennedy School of Government, where he pursued his Master's in Public Policy.
"Being from the South and having been in the South my whole life, it was definitely a transition coming to Harvard," said Hackett. "I was in a place where I felt there was really no one like me. It was once I realized the beauty in that is when I really was able to excel. The Southern hospitality I showed and never being shy about my passions for supporting upward economic mobility for those living in poverty were well received by my classmates."
During the start of the COVID-19 pandemic, Hackett took a year off to aid in relief and recovery efforts for those impacted the most.
"I took a year off after my first year to support COVID-19 relief and recovery efforts for those who it impacted the most," said Hackett. "When I came back, I did not know many students, but decided to serve as an orientation leader for incoming students. By connecting with many students during my first few weeks, many saw me as a leader, and I ended up representing them as student government president."
Through his time at Harvard, Hackett took targeted courses and looked for resources that would allow him to reach his goals and pursuits around this idea of closing the opportunity gap for those living in poverty.
"The different work I've been able to be a part of; case studies and models I have been able to understand; and the people and entities I have been connected to during my time at Harvard has allowed me to be of influence in the space," said Hackett. "I hope to continue working on national initiatives that impact local communities."
Some of Hackett's initiatives have been working with nonprofits and foundations, including the Mobile County Public School System (MCPSS), Jersey City Housing Authority, New Profit, City of Trenton, NJ, and Robin Hood Foundation, the largest poverty fighting organization in New York City, to see how they can fund and support organizations and people to make an impact.
Hackett has also been able to work on nationwide initiatives like the Wilson Institute by Harlem Children's Zone to spread cradle to career models across the nation and with the Obama Foundation in assessing and strategizing the My Brother's Keeper initiative to support boys and young men of color.
Pursuing an MBA to Invest in Others
In pursuit of an opportunity that would allow him to not only give, but to invest in others, Hackett decided that the next step in his career was to pursue an MBA at MIT Sloan School of Management.
"I have had the opportunity to think about how to build proper workforce development systems in communities; how to balance affordable and high-quality childcare in communities; how to best build systems of college and career readiness and time spent outside of school for communities; and many other projects," said Hackett.
"All of those being in the nonprofit sector, I wanted to find an opportunity that allows me to not just give, but to invest in others," he added. "Pursuing an MBA will allow me to expand my horizon from philanthropic work to venture capital and impact investing. I will be able to find solutions for economic empowerment through growing the business of others, especially in the early stages."
As a gateway into this type of work, this summer, Hackett began working with the Black Economic Alliance Foundation and supporting their projects such as the Center for Black Entrepreneurship (CBE) and Black Entrepreneurs Fund. The CBE is the first-ever academic center at Spelman and Morehouse, two of the highest ranking historically Black colleges and universities in the U.S., to produce, train, and support Black entrepreneurial talent.
Serving as an Inspiration
Hackett credits his success to the support and guidance he received back while at Southern Miss. He is determined to serve as an inspiration for prospective and current students by sharing his story.
Through words of wisdom, he hopes to encourage others to unleash their potential: "Find what you are passionate about. Find the things that would make you want to get out of the bed every morning and do. Find pathways to do that in a way that can sustain the life you want to live. Use resources like LinkedIn to see what that looks like. Talk to mentors that can inspire you and excite you about what your future can be. Most importantly, surround yourself with the right people, with those that bring the best out of you."
Learn more about the School of Social Science and Global Studies.