USM School of Music Presents Trombone Day
Thu, 02/16/2023 - 08:56am | By: Mike Lopinto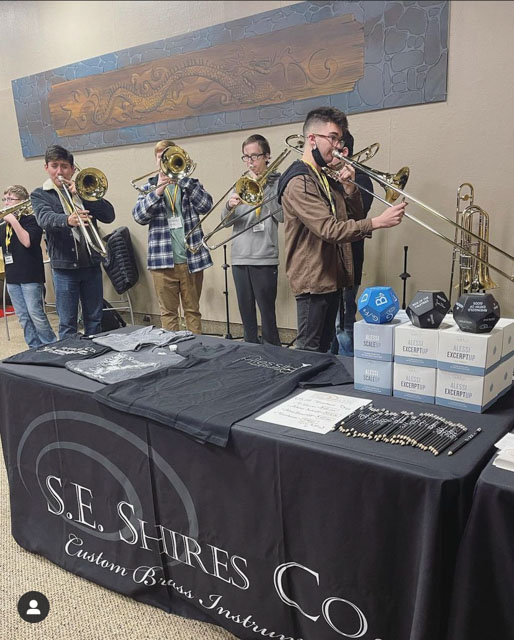 The University of Southern Mississippi (USM) Trombone Studio, in partnership with the Karen Cubides Agency, will host its annual Trombone Day, Saturday, March 4, 2023 on the Hattiesburg campus.
This all-day event includes a variety of lectures, masterclass, exhibits held by top trombone experts and performers. The day's festivities will end with a finale concert at 7:30 p.m. in Bennett Auditorium featuring the Southern Miss Trombone Choir with special guests Colin Williams, associate principal trombone of the New York Philharmonic; internationally renowned jazz superstar, Marshall Gilkes; and Kevin Day, assistant professor of composition at Wilfrid Laurier University and composer-in-residence for the festival.
Open to students, teachers, and trombone enthusiasts alike, registration is available at www.frettedslide.com/tromboneday. Individual and group rates available. CEU credits are available to music educators attending the event.
"I am so grateful to have support from Partners for the Arts and our wonderful vendors like SE Shires Trombones, Greg Black Mouthpieces, Giddings Mouthpieces, and Cinematic Solos, to bring such an incredible lineup of guest artists/teachers to Hattiesburg," said Dr. Ben McIlwain, Southern Miss trombone professor and event organizer. "From jazz to classical, and from careers in music to composing music, there will be a little bit for everyone."
Colin Williams has served as the associate principal trombonist of the New York Philharmonic for the past nine years. Prior to this position, he served as the principal trombonist for the Atlanta Symphony Orchestra for 12 seasons and the San Antonio Symphony for three seasons. Williams is an advocate for musician's wellness, using his personal experiences with injury to shape his unique approach to teaching and playing the trombone.
Marshall Gilkes is a world-renowned jazz musician and composer that has defied genres through seven albums and released works. As faculty of the New England Conservatory of Music, he has developed his own unique style and approach to music that has placed him in a league of his own. Gilkes is a long-time member of the Maria Schnieder Orchestra and lead trombonist of Vanguard Jazz Orchestra and was a finalist in the 2003 Thelonious Monk Institute International Trombone Competition.
Kevin Day is an American composer unlike any other. His works masterfully combine elements of jazz, minimalism, Latin, and contemporary classical themes. He serves as the vice president of the Millenium Composers Initiative, is currently assistant professor of composition at Wilfrid Laurier University in Waterloo, Ontario, Canada. Day has composed over 200 written works and was awarded the BMI Student Composer Award and has been a three-time finalist for the ASCAP Morton Gould Young Composer Award. He is currently pursuing his DMA in Composition from the University of Miami Frost School of Music.
"The Southern Miss community is fortunate to have this incredible event on an annual basis," said Dr. Colin McKenzie, director of the School of Music. "This year, with added elements of jazz and composition as well as CEU credits for teachers, there is even more reason for area educators and students to participate."
For questions and more information, please contact Dr. McIlwain at ben.mcilwainFREEMississippi.