Introducing New USM Student Clubs: Google Developer and Robotics/Intelligent Machines
Tue, 10/31/2023 - 04:02pm | By: Ivonne Kawas
New student clubs at The University of Southern Mississippi's (USM) School of Computing Sciences and Computer Engineering (CSCE) aim to ignite the talents of the next generation of innovators and prepare students for today's dynamic tech industry: Google Developer Student Club and Robotics and Intelligent Machines.
Google Developer Student Club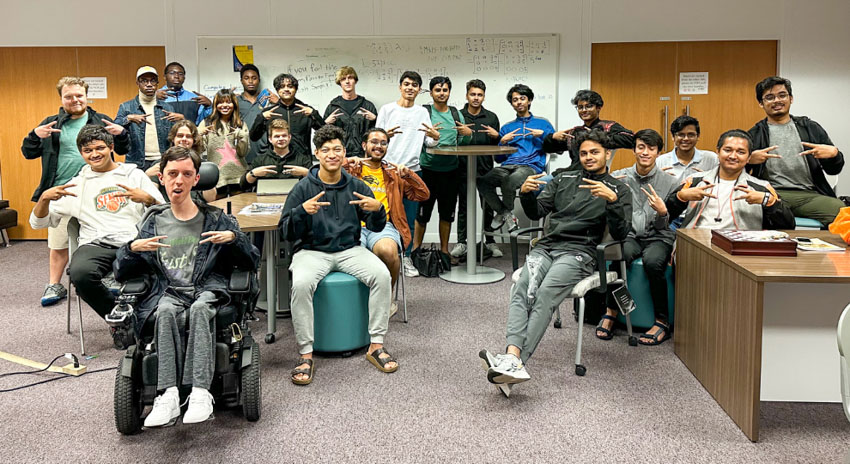 The first university chapter of its kind in Mississippi, USM's Google Developer Student Club (GDSC) was established to provide a platform for students to learn, grow, and innovate together. Whether you're a coding maestro, a design enthusiast, or simply curious about the latest tech trends, the club's activities are tailored to bridge the gap between different academic backgrounds and tech-driven ambitions.
Yaju Shrestha, who is majoring in computer science and applied economics, is serving as the GDSC club lead. He shares that the idea to start the club originated from a casual conversation among his friends, as they all have a common aspiration: pursuing careers in either software development or machine learning.
"My introduction to GDSC came through LinkedIn, where I learned about another university chapter working on projects to bridge the gap between academia and industry," said Shrestha.
"Intrigued, my friends and I decided to establish a club with a dedicated focus on these emerging fields."
"Our vision was to create a space where students could explore and learn beyond the classroom. We understood that a club simulating the real-world coding environment would empower students to broaden their horizons," Shrestha added.
Shrestha later applied to lead a GDSC chapter at USM, with Dr. Nick Rahimi serving as the club's faculty advisor.
"After navigating through various application processes and interview rounds, we finally received the green light to officially launch our chapter," said Shrestha.
In the upcoming academic year, the club will offer a myriad of activities and events, including regular tech talks and workshops on a variety of Google technologies; hackathons and hackathon preparation workshops; industry speaker events with Google engineers and other tech professionals; mentorship programs to connect students with experienced developers; and social events to build community and network with other students.
"Students will have the opportunity to collaborate with industry professionals, attend conferences, and engage in real-world applications of Google technologies," said Dr. Rahimi, assistant professor in the CSCE. "For example, students can apply to attend Google-sponsored conferences, such as I/O and DevFest. They can also participate in USM hackathons and other events, where they will have the opportunity to work on real-world projects using Google technologies."
Shrestha highlights that the club's activities will focus on skill development, so students can excel in the fast-paced tech industry.
"By creating an ecosystem where members acquire versatile skills, club members will be able to excel in the dynamic technological landscape. Ultimately, our vision is to inspire a new generation of fearless thinkers and creators who will shape the technological future, benefiting both students and the broader USM community," he said.
How to Join?
Students interested in joining the GDSC can initiate the process by contacting the club lead, Yaju Shrestha, via email.
The Google Developer Club is open to all students, regardless of their academic background or experience level. It is a student-led organization, and members are encouraged to take ownership of the club and its activities. The club is committed to creating a diverse and inclusive community where everyone feels welcome and supported.
Robotics and Intelligent Machines Club
USM's Robotics and Intelligent Machines Student Club aims to broaden the participation in technology applications around robotics and machines among the campus community.
Muhammad Sabih Ul Hussnain, who is majoring in computer science, is serving as the president of the Robotics Club. He shares that the inspiration behind starting the club was the desire to be a part of a community that focuses on programming and electronics.
"I've always been interested in robotics. My interest stems back to 8th grade, when I started making small projects like a quadruped robot and other stuff. When I got to USM, I realized there wasn't a robotics club and there were a lot of students interested in joining a STEM club with a focus on programming and electronics," he said.
Hussnain attended the club's inaugural meeting for this semester, where it became official, and he was chosen to serve as the president, with Dr. Jose Martinez Cruz serving as the club's faculty advisor.
"When students join the club, they have access to several robots for learning experiences," said Dr. Martinez, assistant teaching professor in CSCE. "Most of the robots that the club has, are small factor forms of industrial applications, so it will be easy for students to later engage in work environments were robotics applications are part of the routine."
In the upcoming academic year, the club will offer different activities and events, including testing of different robotic assemblies for ground and underwater applications; participating in robotic competitions as volunteers, judges, or participants; and attending lectures with experts in the robotics field to learn about its applications in the industry.
Hussnain highlights that he is looking forward to facilitating future partnerships with other groups on campus.
How to Join?
Students interested in joining the club, can initiate the process by emailing USM Robotics Team.
Students from all backgrounds and any major are welcome to join. The only requirement is to have an interest in contributing to the development of technology. Current president is Muhammad Sabih Ul Hussnain and vice president is Nathan Anderson.