Students Compete in Marine Robotics Event at Regional SeaPerch Challenge
Thu, 03/23/2023 - 11:30am | By: Gabriela Shinskie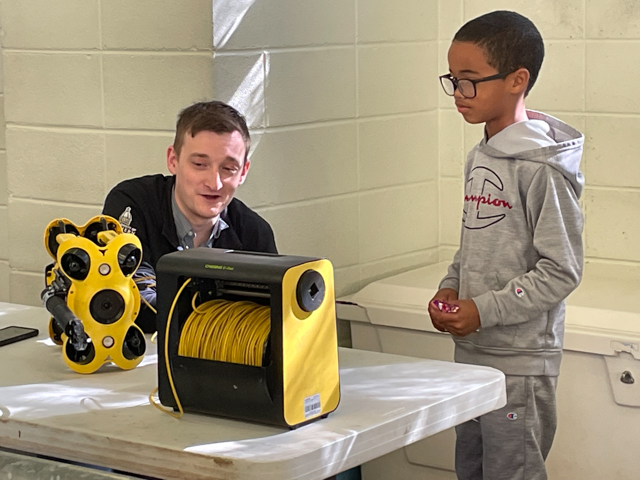 The University of Southern Mississippi's (USM) Marine Education Center hosted the Regional SeaPerch Challenge on Saturday, March 18 at the Biloxi Pool Natatorium, with support from volunteers, School for Science Ocean and Engineering, and the Roger F. Wicker Center for Ocean Enterprise.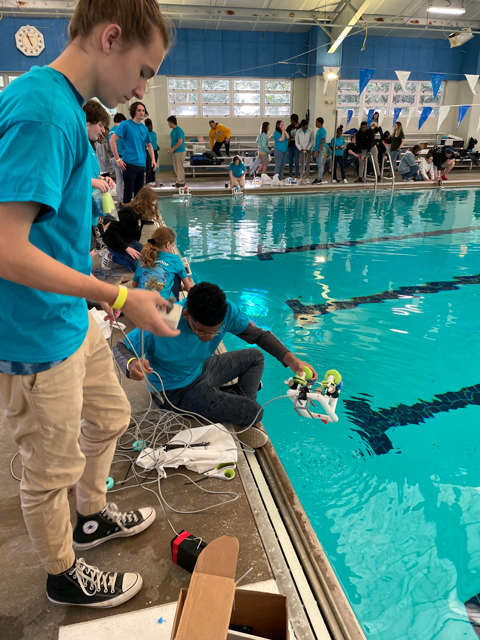 Approximately 100 middle and high school students participated in the state-of-the-art underwater program. These students built underwater Remotely Operated Vehicle (ROV) and competed in team video, obstacle course and mission course to compete for the opportunity to participate in the international challenge.
The following teams will go on to represent the Gulf Coast at the International SeaPerch Challenge hosted in May at the University of Maryland: Team Viper from Lake Castle Slidell Private School, Treasure Dredge from Covington High School, and D.R.I.P. from Moss Point Career & Technical Education Center. Additionally, the Atlantic Warriors from the Oak Grove Robotics Team won a limited qualifying spot through the RoboNation "Wild Card" application process.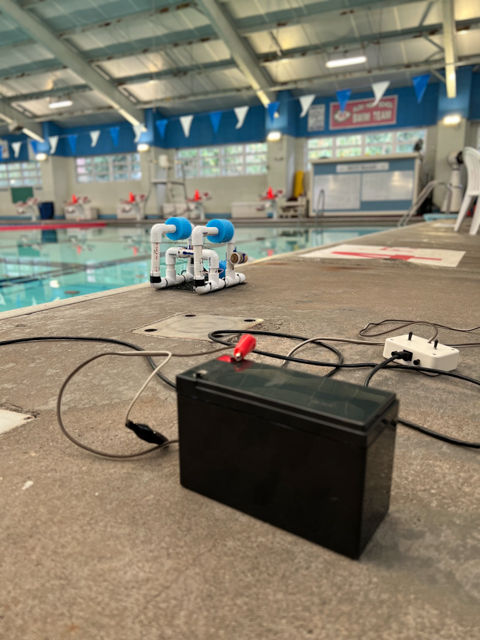 Teams designed ROV's for simulated exploration tasks such as seafloor mapping, sediment sampling, and relocation of marine life.
"From seafloor mapping to shipwreck exploration, to discovery of other ocean worlds, the opportunities that exist in ocean exploration and maritime technology are endless!" said Kara Davis, Project Manager, Marine Education Center, Gulf Coast Research Laboratory. "The SeaPerch community is a critical piece of this puzzle and serves to spark student curiosity, promote engineering concepts and problem-solving skills, and foster cross-disciplinary teamwork on real-life ocean exploration scenarios centered around designing, building, and operating underwater robots."
This year's theme was Ocean Exploration in conjunction with NOAA Ocean Exploration and the Ocean Exploration Cooperative Institute (OECI).
The SeaPerch Program gave students resources with STEM, robotics and constructing ROVs. It educated students in engineering, design and ocean engineering skills. "SeaPerch's combination of engineering and ocean science concepts will set these students up for success in the Mississippi Gulf Coast's expanding Blue Economy." said Meagan Gary, Project Specialist, Marine Education Center, Gulf Coast Research Laboratory.
"Maritime professionals across all sectors depend on emerging robotics and innovative technologies to fill gaps in our basic understanding of how we interact with and impact the ocean and how the ocean impacts us. SeaPerch helps to inspire, empower, and retain young talent willing and capable of adapting to, connecting with, and excelling in this evolving ocean ecosystem." said Davis.
Gulf Coast researchers conduct real-life scenarios every day to foster safe ocean life, sustainability and adapt to an ever-changing marine environment.
The Marine Education Center works across The University of Southern Mississippi's Coastal Operations to engage members of diverse communities in ocean sciences, promoting Blue Economy careers and fostering involvement through formal and informal education programs that provide participants with a better understanding of the ocean ecosystem, marine resources, and the Gulf of Mexico. Learn more about the Marine Education Center at their website or call 228-818-8095.