History
The graphic below highlights the individuals who served as senior student affairs officers and deans of students for the university since the 1950s. The timeline and biographies below reflects the information available in the University's archives.* Unfortunately, this means that information was not available for all those listed.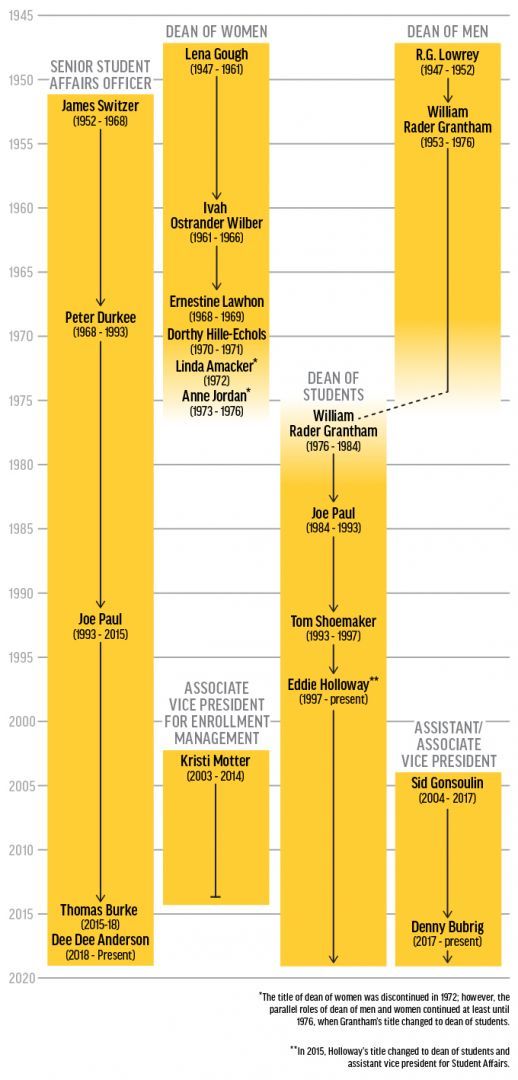 Senior Student Affairs Officers - Biographies
Dr. Dee Dee Anderson - Vice President for Student Affairs - April 2018 to present
In the Spring of 2018, the University selected Dr. Dee Dee Anderson to lead the Division of Student Affairs at Southern Miss. Prior to this appointment, Dr. Anderson served as the Interim Vice Chancellor of Student Affairs at the University of Tennessee at Chattanooga where she provided leadership, vision and strategic direction for the Division of Student Affairs. She has previously held positions as Associate Vice Chancellor of Student Affairs and Dean of Students. Her broad experiences and over 20-year career are complemented by leadership positions in various professional associations and community service. She is an active member of the National Association of Student Personnel Administrators and currently serves on the Associate Vice President Steering Committee. In 2017, Dr. Anderson was awarded the Women in Higher Education Tennessee Women of Achievement Award. In her free time, she enjoys spending time with her husband, Chris and her daughter, Katelin. Dr. Anderson holds a doctorate degree in Education Leadership, a Masters of Arts in Industrial and Organizational Psychology, a Masters of Arts in Elementary Education and a Bachelor of Arts in Elementary Education.
Dr. Thomas Burke - Vice President for Student Affairs and Vice Provost - 2015 to 2018
Dr. Tom Burke came to the University in 2013 as Executive Assistant to the President for Administration. He began serving as the Interim Vice President for Student Affairs in July 2015 and was later named Vice President for Student Affairs and Vice Provost in September 2016. Prior to USM, Dr. Burke served as Interim Vice President for Student Affairs and Associate Vice President for Student Affairs at the University of Georgia. He has also served as Dean of Student Life at Middle Tennessee State University, and Director of the Union and Student Activities and Associate Director of Student Life at the University of Alabama. Dr. Burke earned his PhD and M.S. from The Florida State University and his B.A. from the University of North Carolina at Asheville. He retired during Summer 2018 and looks forward to many ocean cruises with his wife Dianne.
Dr. Joe Paul - Vice President for Student Affairs - 1993 to 2015
Dr. Joe Paul served Southern Miss for nearly four decades. He was promoted to Dean of Student Affairs early in his career (1984-1993) and then to Vice President for Student Affairs (1993-2015). Throughout these years of service, Dr. Paul's mantra of "Leave it better than you found it" permeated the Southern Miss culture and especially the students. Many students regarded him as the heart of USM, having tended to their needs and concerns before as well as after their graduation. He served not only as a student affairs practitioner but as a mentor. Paul received many awards for his involvement in educational leadership throughout his career in student affairs at the university as well as through student affairs organizations. His accomplishments and contributions to Southern Miss are many and include highlights such as helping to establish the Luckyday Citizenship Scholar Program and over $100 million in student-focused facilities. Currently, Dr. Paul assists the University's External Division by raising funds for the Joe Paul Student Leaders Scholarship Endowment fund.
Dr. Peter Durkee - Senior Student Affairs Officer - 1968 to 1993
Dr. Peter Durkee served in student affairs administration for over twenty-five years at USM, most notably as Dean of Student Affairs (1968-1976) and vice president of student affairs (1976-1993). He was instrumental in the creation of various services including adding recreation to a component of student services, expanding student health services, enhancing career services, and improving services for students with disabilities. Dr. Durkee understood that students, regardless of background, are the first priority of student affairs work--a perspective clearly displayed in his credo, "Treat each person with dignity and respect and find a way to help if help was needed", and by actions that included strong support for student career-preparation and student wellness. A leader in his field, he also received various regional and national NASPA awards as well as the Robert L. Jones Award from Mississippi Chief Student Affairs Administration in 1992.
Dr. James Switzer - Dean of Student Affairs - 1953 to 1968
Dr. James Switzer began his role in student affairs administration in 1952 as the Director of Admissions. One year later, he was promoted and served as the senior student affairs officer and served in that role until 1968. Dr. Switzer continued to serve the institution as a professor and chair for the Department of Health Education where he earned the Distinguished Professor of the Year Award in 1975. After 34 years of service, he retired in 1980.
Dean of Students - Biographies
Dr. Eddie Holloway - Dean of students and Assistant Vice President for Student Affairs - 1997 to present
Dr. Eddie Holloway has served as Dean of Student since 1997 and as Assistant Vice President since 2015. A native and lifelong resident of Hattiesburg, Dr. Holloway received his degrees, including a doctorate in educational administration (1998) from Southern Miss. His commitment to civility and education are evident through his advocacy for the celebration of black history month at USM and at PRCC as well as through his work on the Mississippi Civil Rights Commission. Dr. Holloway exemplifies the University's Creed, which outlines campus civility and helps the goal that all students and their perspectives are valued and respected. Holloway has also served in several roles outside the University including as a mental health counselor and even a member of the Hattiesburg City Council (1985-1998).
Dr. Tom Shoemaker - Dean of Students - 1993 to 1997
Dr. Tom Shoemaker joined the Southern Miss team in 1992, bringing with him nearly 20 years of student affairs experience. Making a quick and solid impression, he became the Dean of Students and Director of Greek Life just one year later. Tragically, a vehicular accident took his life in 1997. Dr. Shoemaker valued student engagement and lived out that value through his commitment to community service and the development of student leaders. Students impacted by his presence will remember his willingness to ensure that every person's voice was heard and his door was always open--he valued all opinions and encourage students to pursue their dreams. Today, Shoemaker Square, located between The Hub and Danforth Chapel, honors his service to the University.
William Rader Grantham - Dean of Men - 1976 to 1984
Grantham, an alumnus of USM, worked at the University for 35 years. Roles in which he served the campus community include Dean of Men and Director of the Union. As an example of his commitment to and promotion of wellness and community engagement, Grantham also served the community as a referee for athletic events at the high school, community college, and university levels. Additionally, he was chosen as head referee and president of the SEC Referees Association. Grantham then moved to academic affairs, where he served as a professor in the School of Health, Physical Education, and Recreation. Indicative of Grantham's commitment to serving others, instead of flowers at his funeral, donations were made to Hope Haven's Children Services.
Assistant/Associate Vice Presidents for Student Affairs
Dr. Denny Bubrig - Assistant Vice President for Student Life - 2017 to present
Dr. Denny Bubrig joined the Southern Miss community in July 2017 as Assistant Vice President for Student Life. In this role, Denny works with and provides oversight for Campus Recreation, Union Operations and Conference Services, and the Office of Greek Life in addition to other divisional responsibilities. Denny has been a part of the higher education/student affairs profession for over 15 years having worked at such institutions as University of Alabama-Tuscaloosa, Bowling Green State University, Samford University, and the University of Texas-Austin. His roles have ranged from Student Organization Services to Greek Life, and from Parent Programs to Campus Major Events/Student Activities. An active member of the National Association of Student Personnel Administrators (NASPA), Denny serves on the Regional Board as Professional Programs Coordinator, and on the Centennial Celebration Education Committee. Denny has been active in the Scouting community as an adult volunteer and has served as alumni club chairman in two cities for his undergraduate institution. When he is not on campus or involved in the community, you may find Denny traveling, enjoying outdoor sports, training for his fourth marathon, or working with the PTO at his sons' schools. Denny is married to Kathryn and they have three sons, Collier, Ellis, and Flynn.
Sid Gonsoulin - Senior Associate Vice President for Student Affairs - 2004 to 2017
Mr. Gonsoulin came to Southern Miss with the charge of building and directing the University's new wellness facility to be named the Payne Center. In addition to successfully opening and directing Payne Center programs and operations, Mr. Gonsoulin also ascended through the ranks with the National Intramural-Recreational Sports Association and became president for NIRSA in 2004. For his work with NIRSA, the association honored Mr. Gonsoulin as its Honor Award recipient in 2008. In 2004 he was promoted to Associate VPSA and enhanced Southern Miss' facilities footprint by assisting with or directing many campus building projects including The Village, The Powerhouse, Century Park, Thad Cochran Center, parking garage fitness trail, the Joel Paul Student Theater, and Pride Field. He also chaired the University's 2007 master planning process and co-chaired the 2014 master planning process while serving as the chair of the Master Campus Facility Planning Committee. During his time as AVP, Sid served as Interim Director for Food Services, Recreational Sports, Residence Life, and The Union and Programs Department. In addition to his focus on facilities and operations, Mr. Gonsoulin served as the first chapter advisor for the Southern Miss Delta Tau Delta Chapter and continued in this role for all 32 years at the University. The national fraternity honored Mr. Gonsoulin with the highest Delt recognition given to a member. Finally, in 2017 Southern Miss presented Sid with the Jesse Morrison Staff Excellence Award.
Dr. Kristi Motter - Associate Vice President for Enrollment Services - 2003 to 2014
Dr. Kristi Motter began her Southern Miss leadership role as Director of Financial Aid in April 2003 and then added the responsibilities of an associate vice president for enrollment management in the latter part of spring 2003. One year later, enrollment management became her primary responsibility. After ten years in this position, Dr. Motter left the university and became the Vice President for Student Affairs for the University of Alabama in Huntsville.