Overview
Recycling Program Suspended Until Further Notice
While the University is operating at Orange response level, which limits operations and facility access, recycling services offered by the Office of Sustainability are suspended until further notice. Stockpiled items in community cans will be picked up beginning, Monday, March 30. The custodial services team will no longer pull individual blue cans. The public recycling bins on Fourth Street are also closed. We appreciate your support and understanding during this difficult time.
For questions, please email sustainability@usm.edu or call 601.266.4414.
Take Our EcoPromiseEcoEagle Bike Application
Our office may be small, but we make a HUGE impact.
Check out the links below to stay up to date on recycling results, upcoming events, programs and initiatives.
UPCOMING EVENTS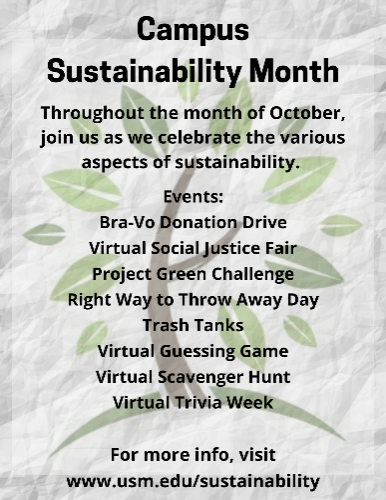 The Southern Miss Office of Sustainability offers a monthly newsletter to keep our campus community informed on environmental matters as well as upcoming programs and initiatives. To subscribe to our newsletter, please click the link below!
Subscribe to EcoEagle Newsletter
EcoEagle Bike Program: The Office of Sustainability offers free bikes to students to help cut down carbon emissions on campus. The program has been in operation since 2008, and offers over 60 bikes to the student population at Southern Miss. If you would like to apply for an EcoEagle bike, please click here.
Swap Table: Join us for Swap Table in Shoemaker Square the first Wednesday and Thursday of every month. From 11 pm to 2 pm, bring in your unwanted items and swap them for something that catches your eye!
Move Out Madness: Move Out Madness allows students who are leaving residence halls, sorority, and fraternity houses to donate unwanted food, clothing, school supplies, and other items in order to keep them out of the landfill. This past spring, students donated over 13,000 pounds of goods that will benefit Treasure Tails Thrift Shop, Eagles Nest Food Pantry, Swap Table, and our school supply give-away

ADOPT A SPOT: Looking to get involved on campus? The ADOPT A SPOT Program is the perfect choice for you. Individuals and organizations can help keep Southern Miss beautiful by adopting an area and pledging to keep it clean at least once per semester. Click here for more info: https://www.usm.edu/physical-plant/adopt-spot-program.