Overview
Recycling Program Suspended Until Further Notice
While the University is operating at Orange response level, which limits operations and facility access, recycling services offered by the Office of Sustainability are suspended until further notice. Stockpiled items in community cans will be picked up beginning, Monday, March 30. The custodial services team will no longer pull individual blue cans. The public recycling bins on Fourth Street are also closed. We appreciate your support and understanding during this difficult time.
For questions, please email sustainability@usm.edu or call 601.266.4414.
What's Recyclable on Campus?EcoEagle Bike Application
Our office may be small, but we make a HUGE impact.
Check out the links below to stay up to date on recycling results, upcoming events, programs and initiatives.
The 4th Annual Trashion Fashion Show is set to take place on Tuesday, April 21, at 6 p.m. Click here to register and for more information.
The Southern Miss Office of Sustainability offers a monthly newsletter to keep our campus community informed on environmental matters as well as upcoming programs and initiatives To subscribe to our newsletter, please click the link below!
Subscribe to EcoEagle Newsletter
The Southern Miss recycling program is universal, comprehensive, single-stream, and desk-side. The items collected from residence halls and academic facilities, as well as the recycling drop off, all help reduce the university's environmental impact.
Diversion from Landfill (Weight by Year)
2018 -- 552,409
2017 -- 573,131
2016 -- 578,944
2015 -- 553,257
2014 -- 451,254
2013 -- 385,016
2012 -- 393,194
2011 -- 339,460
2010 -- 315,280
RecycleMania 2020 is coming to the Southern Miss campus February 2nd – March 28th. RecycleMania is a national recycling competition that pits colleges and universities against each other for the title of top recycler. You can help Southern Miss in this competition simply by recycling all of your plastic, aluminum, tin, cardboard, and paper. Look for the blue recycling cans, which are in every building on campus and let us work together to take Southern Miss to the top!
The Office of Sustainability is organizing events throughout the competition to promote recycling, provide information, and share the fun of being sustainable:
Feb. 12th: Recycling Olympics. This is your chance to be an Olympic athlete! Join us from 11 a.m.-1 p.m. on Weathersby Lawn and participate in Olympic-style games with a recycling twist! Seymour will be there to take photos with you and to cheer you on. Winners of each game will be given a free Papa John's Pizza coupon, a ribbon, and a swag bag.
February 17th - 28th: Caught Green-Handed. If you are "caught" recycling or exhibiting other sustainable behaviors, we will award you a prize courtesy of Eagle Dining.
March 1st – 7th: Dorm Storm. This friendly competition encourages residence halls to compete with each other to see who can recycle the most. The winner gets to display a trophy and get bragging rights for a year.
March 9th – 13th: Mugshots. WANTED: Reusable Mugs. Our staff will be out on campus scouting for anyone using reusable mugs. Get your "mugshot" taken with our fun photo backdrop to be displayed on social media. Eagle Dining is now offering an unlimited drink plan. This plan includes an insulated drink mug and refills at any dining location with a fountain beverage machine every 15 minutes. Brewed coffee refills from Starbucks and Einstein Bros. Bagels included.
March 16th – 20th : Spring Cleaning. If you work on campus, now is the time to go through those old files. The Office of Sustainability's recycling staff will arrange special pickups of large amounts of material, which will help increase Southern Miss' standings in RecycleMania.
We ask that all recyclables be boxed or bagged for easy transport (bags and boxes available via the Office of Sustainability) and that you have everything ready at your scheduled time. Please do not include documents containing confidential information unless they are already shredded. If you are interested, please email Melissa.Covington@usm.edu. Be sure to save your space at least a week before because spots are limited.
March 25th: Weathersby Lawn 11am – 1pm. The Office of Sustainability will collect trash throughout the campus community to sort and separate recyclable materials from that of actual waste. This visual aid is aimed at educating faculty, staff, and students on how much recyclable materials are being thrown into the landfill.
Swap Table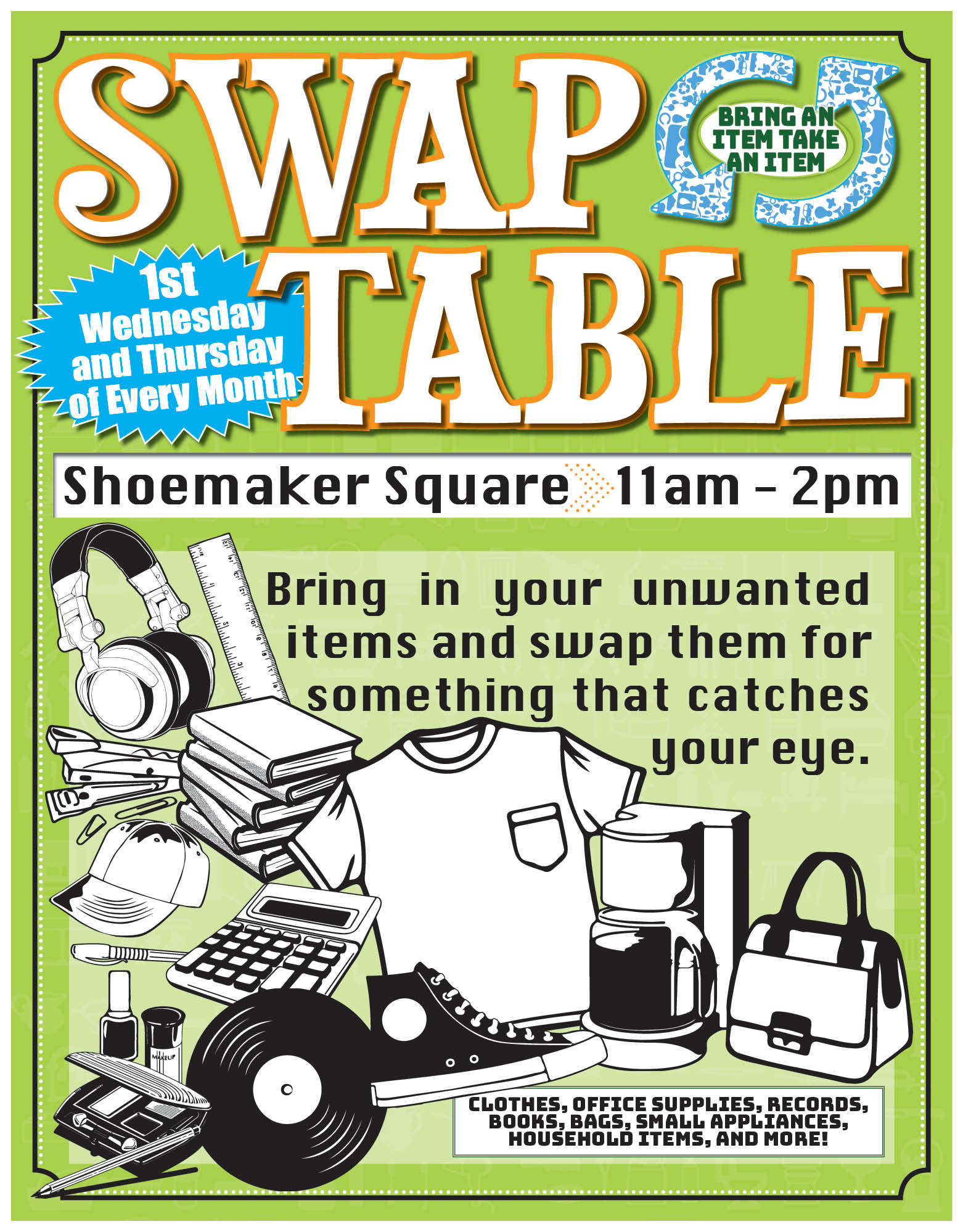 Swing by Shoemaker Square from 11 am-2 pm, the first Wednesday and Thursday of each month to visit Swap Table! This event, hosted by the Office of Sustainability, provides a great opportunity to trade unwanted items for something you do want. Participating in the Swap Table helps to reduce your carbon footprint by extending the life cycle of goods and keeping usable material out of the landfill. We have a variety of items to choose from, including books, clothes, music, electronics, kitchen items, office and school supplies, makeup, jewelry, etc. It's a "bring an item, take an item" event and its fun! For more information, email Melissa Covington-Olsen at melissa.covingtonFREEMississippi.
Looking to get involved on campus? The ADOPT A SPOT Program is the perfect choice for you. Individuals and organizations can help keep Southern Miss beautiful by adopting an area and pledging to keep it clean at least once per semester. Click here for more info:
https://www.usm.edu/physical-plant/adopt-spot-program.