What is Applied Technology?
The development of business, management, leadership, and human resource development skills in combination with technology.
The Bachelor of Applied Science in Applied Technology program at the University of Southern Mississippi has been designed with reference to the Talent Development Capability ModelTM from the Association for Talent Development (ATD).
Request infoOnline Program Details Apply
Who should enroll in Applied Technology?
Community College students completing a technical/occupational degree or certificate program.
Working professionals who wish to complete their Bachelor's degree and possess


a technical/occupational certificate or a 2-year degree, or
some technical college credits, professional development credits, or work experience.

Active or retired service members with a technical/occupational certificate, a 2-year degree, or military credit.
If you have completed or are completing a two-year technical degree or a technical certificate and are interested in developing your leadership and management skills for your future career, this program is for you.
You can transfer up to 45 technical credit hours plus additional general education or elective hours. Our advisors will help you determine the exact number of hours that are eligible to transfer.
Program Pathway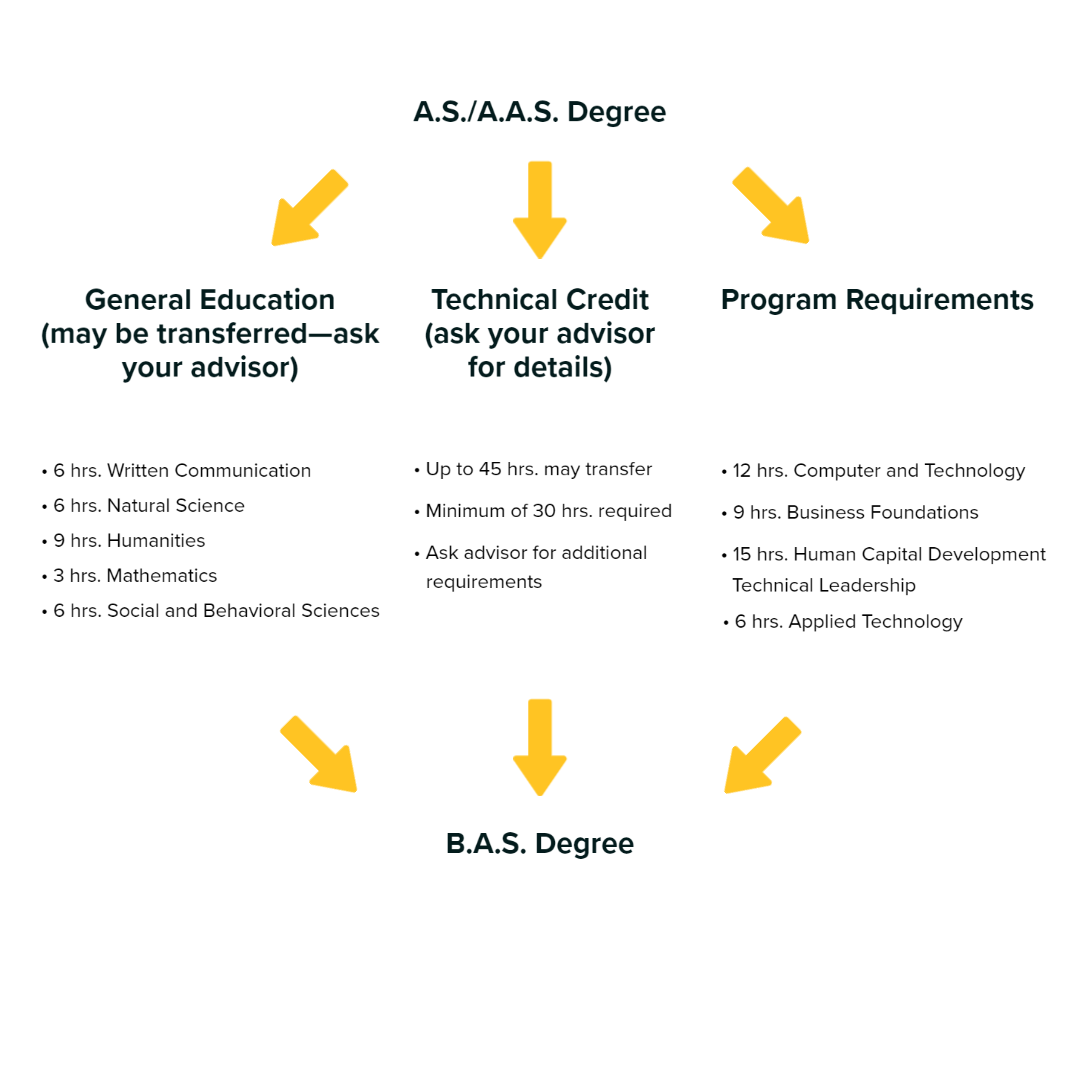 Are you a working professional who has thought about finally finishing that college degree you started years ago?
Are you in line for a promotion but have been told that you need a bachelor's degree first?
Our Bachelor of Applied Science program in Applied Technology prepares you to become a skilled manager and leader in your field and moves your career to the next level.
Program Pathway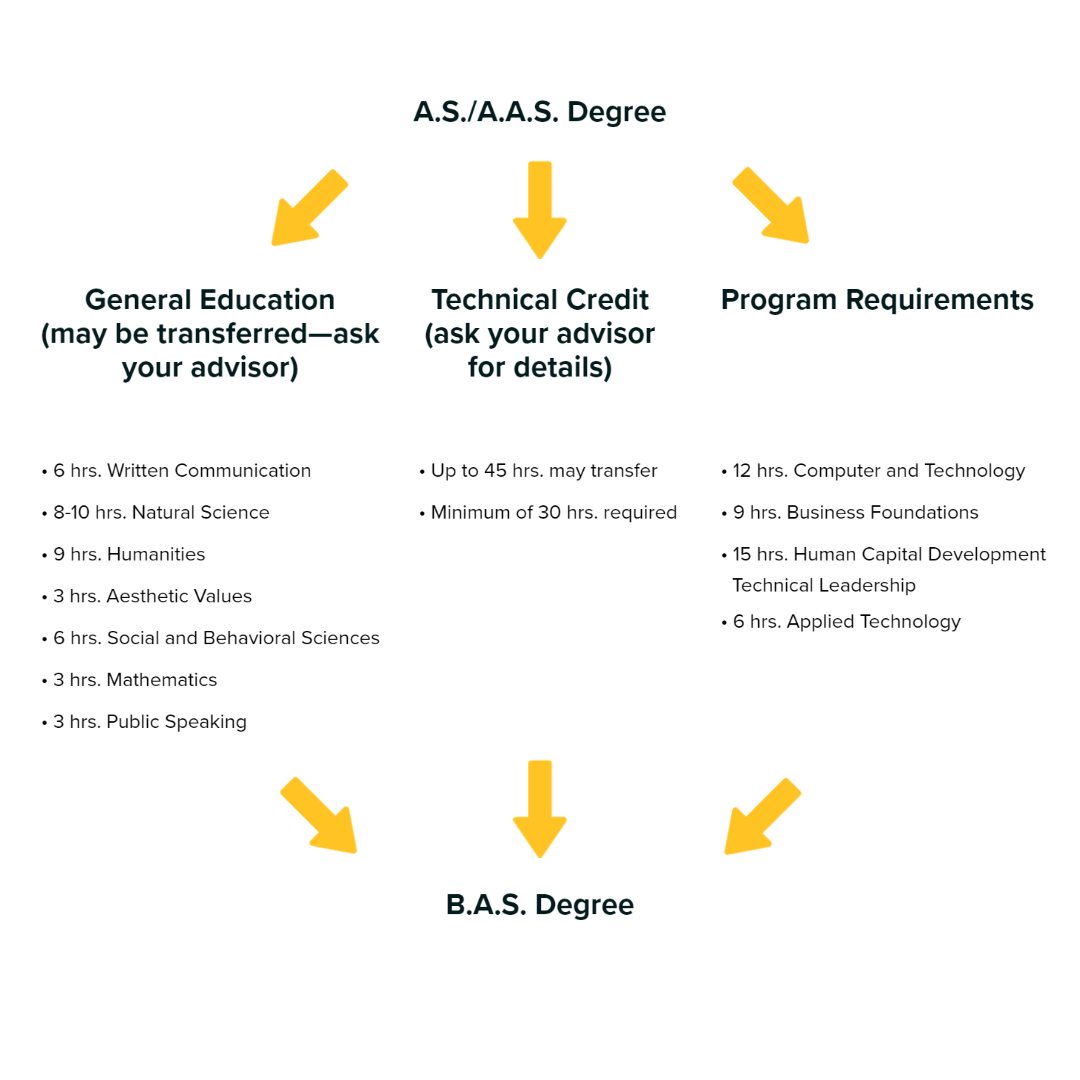 The Bachelor of Applied Science in Applied Technology program provides an opportunity for active service members and veterans to prepare for their future careers in leadership and management if they
are completing a career and technical degree program through the military, or
are taking technical classes through the military.
You will be able to apply up to 45 hours of military credit toward your B.A.S. degree in Applied Technology at USM.
USM's and APT's Commitment to Active Duty and Retired Service Members
Recognized by Military Times as the #3 "Best for Vets" college and #1 among four-year universities in the Southeast
Nationally designated as the #1 "Gold Status" military-friendly school by Viqtory Media
Designated as a Purple Heart University by the Military Order of the Purple Heart
Cooperative Partnership
The University of Southern Mississippi is an Air University Associate to Baccalaureate (AU-ABC) Cooperative partner! The University of Southern Mississippi Bachelor of Applied Science (BAS) in Applied Technology is the first officially approved degree in the AU-ABC program. The AU-ABC partnership marks an important milestone in providing a smooth transition for Air Force students pursuing their bachelor's degree at Southern Miss.
The University of Southern Mississippi accepts Joint Services Transcripts (JST) for Army, Coast Guard, Marine Corps, and Navy service and CCAF transcripts for Air Force service.
Visit our Center for Military Veterans, Service Members and Families to learn more about our services.
What value can an Applied Technology degree provide?
Prepares students for careers in business, technology, and human resource development.
Provides skills and knowledge for work and promotion in today's changing technology environment.
Gives students the broad background necessary to thrive in a knowledge economy.
What will I learn?
Individuals enrolled in this interdisciplinary degree program will learn how to
Provide leadership to others using technology in organizations.
Foster understanding of technology among colleagues and stakeholders.
Manage projects and implement complex processes and change.
Make sound judgments using information technology, business, and marketing skills.
Build effective organizational and team cultures.
Create processes, systems, and frameworks that encourage learning, improve organizational performance, and develop the potential of other employees.
PROGRAM REQUIREMENTSSEMESTER GUIDEstudent learning outcomes
Availability
45 Hours
of technical credits can transfer
45 Hours
of military credits can transfer