Assistantships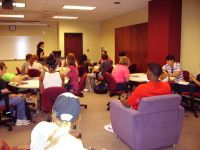 Each year the Department of Foreign Languages and Literatures has approximately nine assistantships available for qualified individuals to tutor, assist in and teach introductory language courses in French or Spanish. Assistantships in TESOL may be possible if the applicant can assist in or teach Spanish or French. But these vary from year to year. Applicants in TESOL can also work in other departments including athletics as a tutor or at the English Language Institute. Inquire by sending an email to the Graduate Director. Assistants receive a monthly stipend, health insurance, and a 12-month full tuition waiver to pursue work on their degrees. Assistants are also eligible for possible summer appointments which pay an additional amount. Assistants must be admitted to the department's Master of Arts in the Teaching of Languages (MATL) degree program. Within the MATL, students concentrate on one of three possible emphasis areas: French, Spanish or Teaching English to Speakers of Other Languages (TESOL). An assistantship in French or Spanish to teach courses at the university generally requires that the TA complete 18 hours of graduate credit in the target language. Assistantships are most often awarded in French and Spanish for a two-year period to give students a chance to teach their own class and to work on a dual emphasis in the MATL.
Graduate students who do not receive an assistantship may also be able to find other employment on campus.

See: Student on-campus employment
See: Financial Aid Information
Admission to the University of Southern Mississippi requires the submission of an application and appropriate transcripts, scores for the GRE as well as IELTS or TOEFL scores, if the applicant is an international student and a nonnative speaker of English. Because of the time needed between applying for these tests and receiving the scores, individuals interested in the MATL, and particularly in an assistantship, should initiate the process as soon as possible. For those interested in an assistantship, application materials to the MATL program are due April 1. A separate letter of interest in an assistantship addressed to the Department Chair and a resumé are required for consideration for a teaching assistantship. Assistantships cannot be awarded until an individual is fully admitted to the university.
The granting of an assistantship is based on the merits of the student's application materials, qualifications, and departmental need. The department reserves the right not to award an assistantship.