Nonprofit Studies
Pursue a Career that Makes a Difference
Gain firsthand knowledge on how and why community organizations operate and make a lasting impact.
Through the Nonprofit Studies minor, you will gain the skills necessary to work in the nonprofit sector, which includes charities, government agencies and non-governmental organizations that provide important support services, perform educational outreach, or advocate for various charitable or social causes.


What Will I Learn?
From gaining a variety of business and fundraising skills to real world experience as an intern with local nonprofit agencies, students expand their understanding of the nonprofit sector and will be ready to work in a highly diverse field with many career opportunities.
The sector includes organizations that focus on:
social services;
human rights and advocacy;
the arts, culture, and history;
education and educational support;
the environment and animal welfare;
health care, education and research; and
international affairs and foreign affairs, among others.
Faculty Affiliates

Do you have a question about the Nonprofit Studies minor program? Click above to get the contact information for the Nonprofit Studies Director.


Faculty Spotlight
Faculty Book
Dr. Ann Marie Kinnell
Visualize and identify with NGOs through a series of case studies: The e-book titled, "Nongovernmental Organization Case Studies in Leadership From Around the World" features organizations from around the globe and portrays a host of issues and problems from the roles that professionals and volunteers play in the operation of NGOs to the ways in which NGOs combine forces to collaborate, to the important role of NGOs in policy advocacy. After reading each case, you will be able to critically apply knowledge from your course and stimulate creative responses to issues and problems of each NGO case.


Alumni Spotlight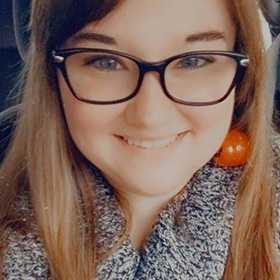 Service Experience helps Luckyday Scholar find Career Path
Service experience with the Eagle's Nest Food Pantry helps Luckyday Scholar, Amanda Moss, '19, find career path. The year Moss started volunteering with the Eagle's Nest, is the same year she added a Nonprofit minor to her degree plan. Moss always knew from that moment forward that she wanted to spend her life helping others. Now, she is the program manager at United Way of the Pine Belt Region.

Career Pathways
A minor in Nonprofit Studies is appropriate for students in all majors who wish to pursue a variety of careers working in organizations that help others and make the world a better place.
Examples of nonprofit organizations include: Habitat for Humanity, the American Red Cross, St. Jude Children's Hospital, American Society for the Prevention of Cruelty to Animals, the Girl Scouts and the Smithsonian Museums.
What you could learn…
how to communicate messages effectively and persuasively to large and small communities or audiences
how to help people access and understand important messages or to communicate during crises
What you could do…
work for the American Red Cross as a communication officer helping coordinate disaster relief
work for the American Heart Association as a marketing director on its newest campaign related to cardiovascular health
What you could learn…
how to write creatively and persuasively for digital media
how to write grants for nonprofit organizations that seek to secure funding
What you could do…
work for the National Park Foundation to write online guides for park visitors
work for the Little Free Library organization to write grants that support reading in rural communities
What you could learn…
how to think globally to understand international issues across cultures and borders
how to put problems in historical perspective and derive lessons from past events
What you could do…
work for World Villages for Children to plan schools for children around the world
work for the National World War II Museum to conduct research for new exhibits or to acquire new artifacts
What you could learn…
how to improve your linguistic proficiency and interact successfully in intercultural or international environments
how to use language skills to promote education, cultural awareness, and wellness among immigrants or people around the world
What you could do…
work for Hispanic Scholarship Fund as an academic counselor to help Latinx students graduate from college
work as a translator or interpreter for agencies around the world
What you could learn…
how societal and institutional forces shape our lives in terms of class, race, age, gender, sexuality, and religion
how human cultures have developed or what studying primates tells us about being human
What you could do…
work for Feeding America as a program coordinator to provide food for communities in need
work at a zoo using experience studying and working with primates
What you could learn…
how local, state, and national governments and elections work in the U.S. and internationally
how to help people fight for their rights, stand for justice, and improve their lives
What you could do…
work with Rock the Vote to increase voter turnout among young people ages 18-24
work for Amnesty International to help increase membership in support of human rights around the world
What you could learn…
how to produce campaigns to promote an organization or its goals
how to work with the media to communicate an organization's mission or activities
What you could do…
work as a public relations specialist for Goodwill and help raise awareness of services and events
work for Accuracy in Media as a social media editor to manage all social media content
What you could learn…
what connects individuals to a sense of purpose and belonging by studying Christian, Muslim, and east Asian religions
how religious institutions support communities and individuals in times of need
What you could do…
work as a youth outreach coordinator in a religious community for the Children's Study Home
work for Catholic Relief Services to promote the health of women around the world
What you could learn…
how to express emotions and ideas through different kinds of creative activity
how to use performing and visual arts to enhance people's lives
What you could do…
work for Americans for the Arts and connect community members to arts programs as a local arts advancement program manager
perform for Heart & Soul providing programming for hospitals, retirement communities or rehabilitation facilities
Availability
You will need to submit an application through Graduate School Admissions, pay the application fee online, and submit complete transcripts and immunization records.