Season
The USM Symphony Orchestra announces its 103rd season, opening Sept. 29, 2022 and offers a concert a month throughout the academic year.
This year's season is entitled, Classics! The Symphony takes the liberty of defining "classics" as "works that are familiar or of lasting worth with a timeless quality." With programming including familiar "classics" like Beethoven's Symphony No. 5, and Stravinsky's Firebird Suite, audiences will also hear Prokofiev's 'Classical' Symphony the massive Requiem Mass by Verdi. Programs will feature a multitude of talented School of Music faculty and students in concertos that will have a familiar ring to many of their themes.
Possibly the most classic of all musicals, Guys and Dolls, takes to the Mannoni Performing Arts Center stage November 10-12. Considered by many as the perfect musical comedy, Guys and Dolls will delight audiences with its familiar and "classic" collection of songs with a unique staging vision by director, Mike Lopinto.


"We are thrilled to be completely back and offering a full season of wonderful, diverse programming. From Beethoven to Broadway and holiday classics to the Verdi Requiem, this truly is a wonderful season for the symphony."
Dr. Michael Miles
Director of Orchestral Activities




Five by Five
September 29, 2022, 7:30 p.m.
Bennett Auditorium
Dr. Michael Miles, Conductor

Opening Night at the Symphony provides our listeners with two all-time classics from the pen of Ludwig van Beethoven. The Piano Concerto No. 5 (Emperor) is Beethoven's most performed piano concerto. Pianist Anton Nel joins the Symphony Orchestra for this masterpiece. The Symphony No. 5 in C minor is Beethoven's most well-known and most performed work. The "fate knocking at the door" motive that begins the first movement is the most recognized motive in all classical music. The Symphony Orchestra will dazzle the audience with its expressive interpretation of this seminal work.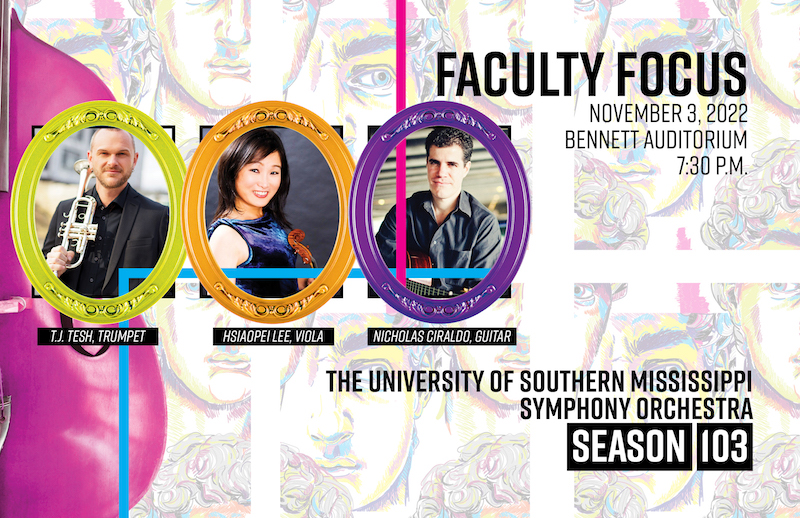 Faculty Focus
November 3, 2022, 7:30 p.m.
Bennett Auditorium
Carlos Fernandez, Conductor
For its second concert of the season, the USM Symphony Orchestra focuses on the talented artist faculty in the School of Music. This program will feature trumpet professor Dr. T.J. Tesh performing the Neruda Concerto for Trumpet and Strings, guitar professor Dr. Nicholas Ciraldo performing Joaqín Rodrigo's beautiful Concierto de Aranjuez, and viola professor, Dr. Hsiaopei Lee, performing Ralph Vaughan Williams' Suite for Viola and Orchestra. In keeping with the "Classics" theme for the season, the Orchestra closes the evening with Prokofiev's rousing Classical Symphony!




Guys and Dolls
November 10-12, 2022, 7:30 p.m.
Mannoni Performing Arts Center
Dr. Mike Lopinto, Director, and Dr. Michael Miles, Conductor
Considered by many to be the perfect musical comedy, Guys and Dolls ran for 1,200 performances when it opened on Broadway in 1950. It received nearly unanimous positive reviews from critics and won a bevy of awards, including Tony Awards, Drama Desks and Oliviers. Set in Damon Runyon's mythical New York City,Guys and Dolls is an oddball romantic comedy. Gambler, Nathan Detroit, tries to find the cash to set up the biggest craps game in town while the authorities breathe down his neck; meanwhile, his girlfriend and nightclub performer, Adelaide, laments that they've been engaged for 14 years. Nathan turns to fellow gambler, Sky Masterson, for the dough, and Sky ends up chasing the straight-laced missionary, Sarah Brown, as a result. Guys and Doll stakes us from the heart of Times Square to the cafés of Havana, Cuba, and even into the sewers of New York City, but eventually everyone ends up right where they belong. Frank Loesser's brassy, immortal score makes Guys and Dolls a real crowd pleaser for audiences of all ages!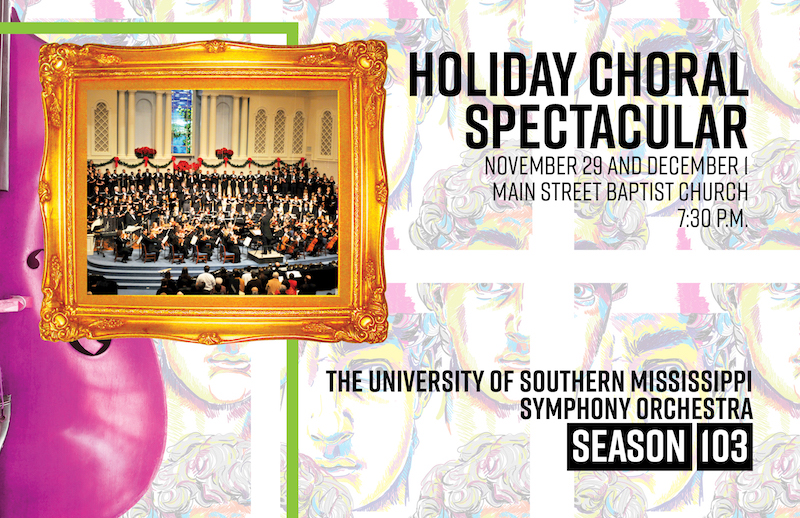 Holiday Choral Spectacular
November 29 and December 1, 2022, 7:30 p.m.
Main Street Baptist Church
Dr. Gregory Fuller, conductor
The USM Symphony Orchestra joins forces with the USM Choral Activities program, the Hattiesburg Choral Union and several high school choirs to present our annual gift of the holiday season, the Holiday Choral Spectacular. Join as we kick off the holidays with a grand selection of seasonal works for orchestra, choir and chambere ensembles.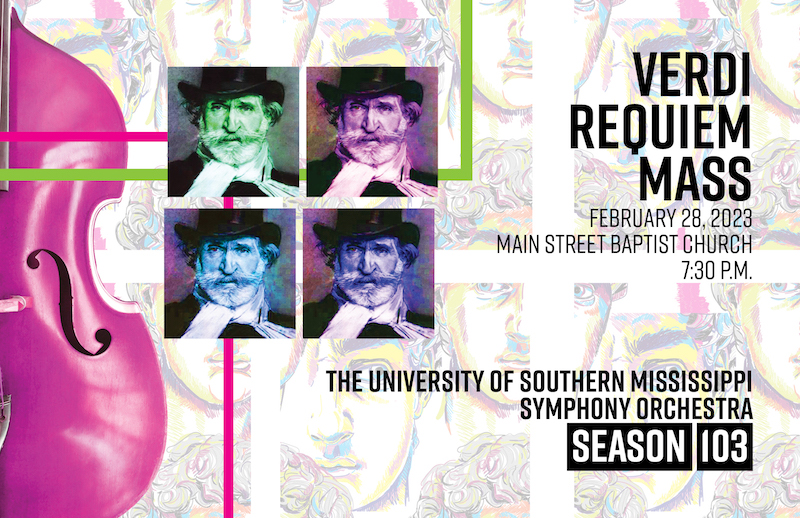 Verdi Requiem Mass
February 28, 2023, 7:30 p.m.
Main Street Baptist Church
Dr. Gregory Fuller, Conductor
In its first performance of the new year, the USM Symphony Orchestra will present Guiseppe Verdi's Messa da Requiem. The Symphony Orchestra will team with the Hattiesburg Choral Union and USM Choral Activities program in this epic work involving over 350 participating musicians. This "classic" work calls for an expanded orchestra of 80 musicians, four solo voices, and up to275 singers in the chorus. The Dies Irae is one of the most well-known movements in the oratorio canon, having been quoted in commercials and used in a number of movies.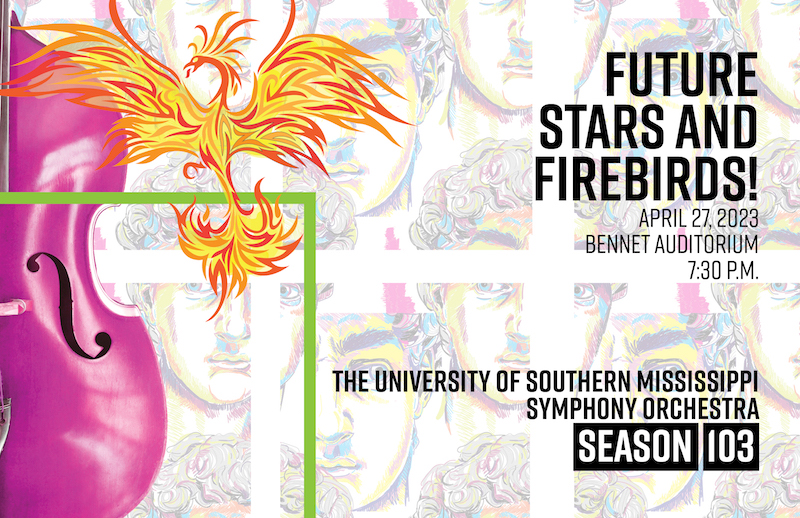 Future Stars and Firebirds!
April 27, 2023, 7:30 p.m.
Bennet Auditorium
Dr. Michael Miles, Conductor
Gower Concerto Winners
Stravinsky Firebird Suite
In its final concert of the season of classics, the Symphony Orchestra will feature this year's William T. Gower Concerto Competition Winners. Three talented student musicians will be chosen to perform solo concertos with the Orchestra. This is always one of the Symphony's best attended concerts, as our patrons come out to support these talented students. The Symphony closes the season with Stravinsky's Firebird Suite. This"classic" work is well-known to most orchestra patrons, and will bring an exciting close to the season.