Donald Drapeau, UGS Benefactor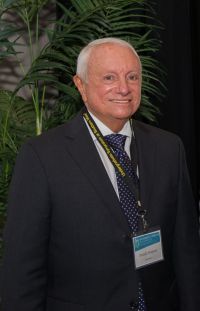 Donald Drapeau, the Symposium's generous benefactor, completed his Bachelor of Science in history at Southern Miss before going on to earn a master's degree at the University of Pennsylvania. He has enjoyed great success as founder and chief executive officer of the Man Drapeau group of companies, which employs financial engineers and maintains offices on multiple continents. In the 1970s, he founded Drapeau and Co. and became a member of the Chicago Mercantile Exchange.

A Fulbright Fellow in Belgium and a Kress Fellow at the Harvard Business School, Mr. Drapeau is a passionate advocate of undergraduate students at Southern Miss and enjoys the opportunity to foster their initiative, personal drive, and lifelong commitment to education and personal growth. His passion has led not only to his sponsorship of the prizes at the Symposium, but also to his support for the Donald Drapeau Summer Research Grants, which provide funds for students to devote full time to their research. In 2016, Mr. Drapeau is also providing support for a number of students to present their scholarly findings at professional conferences, including those funded through the newly created Eagle Wings program.

The Symposium could not exist without Mr. Drapeau, whose vision for a celebration of undergraduate work has driven this enterprise and has shaped Southern Miss and the lives of its students. We thank him for his commitment and his generosity.