Plenary Speaker
The UGS 2019 plenary speaker is USM alumnus Derek Watkins.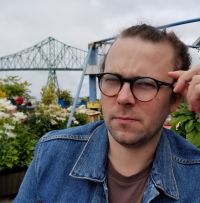 Derek Watkins is a designer, developer, reporter and geographer on the graphics desk at the New York Times, where he uses maps and other visuals to build narratives that explain the news online and in print. The stories he works on are often about how geography influences people's interactions with their environment and with each other. Much of his technical focus is on the ways in which new technologies and creative visuals can combine with traditional journalism to make stories on the web more engaging and informative.
Projects that Derek has been involved in at the Times have been recognized by the Emmy Awards, the Gerald Loeb Awards, Pictures of the Year International, World Press Photo, the Webby Awards and by multiple New York Times Publisher's Awards. His work has also won several annual Best of Show and Best Map awards at the global Malofiej competition, known as the "Pulitzers for Infographics".
He has also worked at Columbia University's Graduate School of Architecture, Planning and Preservation. He holds a Bachelor's degree in geography from the University of Southern Mississippi and a Master's degree in geography from the University of Oregon.
To see a video of a recent talk, examples of his fascinating work, and a list of his awards, go to his website dwtkns.com/portfolio.