Group Counseling
Processing and Support Groups
Group counseling is offered to enrolled students who meet the criteria for the particular group of interests. Several groups are offered throughout the academic year and provide the opportunity for students to obtain a mutual exchange of support and education by interacting with others will similar distress or concerns. If you are interested in participating in or desire more information regarding these groups, please contact our office at 6012664829 to speak with a professional.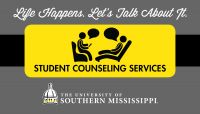 Below you will find a description of the group(s) we offer for the upcoming semester:
Women Sexual Assault Survivors
Facilitator: Michelle Howard, LCSW
A weekly meeting for those who have experienced sexual trauma to discuss experiences, share feelings, and gain support from one another in a safe confidential environment.
Requirements:
Female
Intake and Assessment
Group time and location: Wednesdays 3:30-5p Student Counseling Services Group Room
*If you are already involved in a group and need to complete an online evaluation form, click here.