Center for Black Studies
Southern Miss was desegregated in 1965 when Raylawni Branch and Gwendolyn Elaine Armstrong became the first African American students enrolled at the University. More than fifty years of progress is evident in the wide-ranging programming, research, teaching, and service activities organized and supported by the Center for Black Studies.

Student Spotlight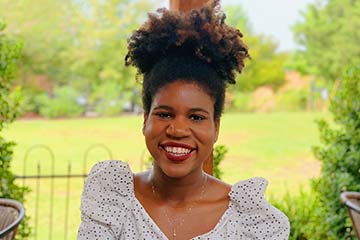 Journalist Alumna Takes on History to Tell Stories of Black People
For Alyssa Bass, '20, Black Studies emphasized the importance of learning history, framing Black people as change agents, and recognizing everyone in the African Diaspora.
Public Forums
Since its establishment in 2005, the Center for Black Studies has sponsored programs featuring scholars, creative artists, and community activists as guest lecturers on wide-ranging topics relevant to the study of Black people and race relations in general.
In the wake of the recent deaths of George Floyd, Breonna Taylor, and Ahmaud Arbery, the Centers for Black Studies and for the Study of the Gulf South co-sponsored online panel discussions to bolster social justice activism on campus, in the wider Hattiesburg community and throughout the state. Most recent forums include:

RIGHTS AND RACISM:
A PANEL DISCUSS

SOCIAL JUSTICE IN SOUTH MISSISSIPPI: HOW TO GET INVOLVED

The Unheard Word
Join us in commemorating the 30th anniversary of The Unheard Word, a publication created for Black students at Southern Miss and circulated between fall 1990 and spring 1993. Dr. Riva Brown, founder of The Unheard Word, produced this project with the support of the Center for Black Studies and assistance from the Southern Miss Association of Black Journalists (SMABJ).