Graduate Student Online Orientation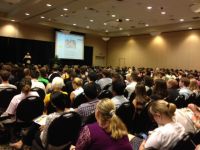 Welcome! We're excited you're here. Each semester, The Graduate School hosts a New Graduate Student Orientation held in a completely online format through Canvas. New students will have easy access to important information regarding their newest adventure in education, including easy references for progressing to their degree and campus resources.
All new graduate students will receive an enrollment notification shortly before classes begin for this fully online module. Be sure to keep an eye on your new Southern Miss email account for additional information regarding this required orientation.

Academic Program Orientations
In addition to the Graduate School online orientation, most academic programs have separate orientations. Please check with your academic unit or specific program for information on orientation.
Additional Resources
To help you get started, here are some additional resources and policies with which you should review and familiarize yourself:
Health Insurance (Graduate Assistants)
Students who are not Graduate Assistants can obtain health insurance through the clinic, contact The Moffett Health Center at 601-266-5390 for additional information.