Apply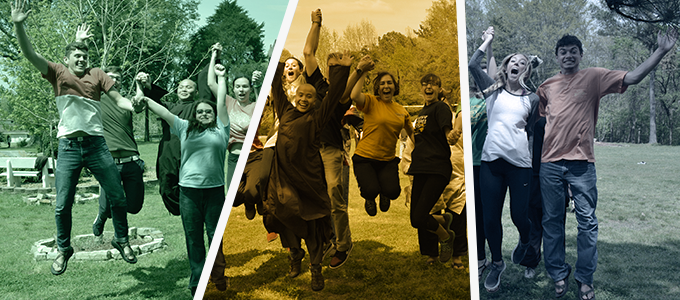 Note: If you have a 3.25 GPA and have completed at least 40 hours of coursework and three semesters at college or university, you may be eligible to apply for our Honors Keystone program. Please visit our Keystone page for more information on the program and how to apply.
Honors College Foundations
Through course offerings and extra-curricular programming, the Honors College Foundations curriculum nurtures the habits of mind, spirit of curiosity, and sense of civic engagement that are at the heart of the Honors College mission.
The curriculum is developmental, cultivating in students the intellectual skills and resources they will need as they advance to the mature achievement of the Honors thesis.
Who can apply to the Honors College?
The Honors College offers an enriched and challenging educational experience for students who exemplify such ideals as intellectual curiosity, creativity, openness to new ideas, passion for learning, and drive. The successful Honors College applicant typically has an ACT score of at least 27 (SAT 1180) and a 3.5 core GPA.* However, the Admissions Committee engages in a holistic review process that is not rigidly dependent on these credentials. Students who believe that they embody the ideals of the College and that their scores do not represent their full and true capacity for Honors education are encouraged to apply. We may seek additional materials should they be needed for a thorough assessment of a candidate's potential.
* Standardized test scores earned through December will be considered for both Honors admission and Achievement Award eligibility. SAT scores are converted to the equivalent ACT score based on the testing concordance in place at the time of the testing date. For core GPA calculation, grades earned in college preparatory curriculum (CPC) coursework are computed on a four-point scale; thus, weighted grades earned in AP, advanced or honors classes are not calculated into core GPA.
What is the application process and what are the deadlines?
First, you must apply to the University of Southern Mississippi.
Once you have been admitted to Southern Miss and have a student ID and password, you may apply to the Honors College. The Honors College application is housed in the Golden Opportunities Scholarships and Competitive Programs system.
This means that your application to the Honors College will also serve as a general application for hundreds of donor-funded scholarships for which you may be eligible.
Deadlines are as follows:
December 1: University Admission
January 5: Honors College Application
What will I need to submit as part of my application?
General application
Housing Policy agreement
One report from a high school guidance counselor
Two letters of recommendation from teachers
Two essays (minimum 400 words each)
What are the essay questions?
You will write two essays of a minimum of 400 words each.
Essay #1 (required)
One of the key goals of the Honors College is to create a vibrant, supportive, challenging community of scholars. Why do you want to be a part of this community, and how do you imagine yourself contributing to it?
Essay #2 (required)
Choose one of the following quotations and describe what it means to you, especially as you imagine embarking on your college career:
(1) Legacy. What is a legacy? It's planting seeds in a garden you never get to see.
— Lin-Manuel Miranda and Leslie Odom Jr., "The World Was Wide Enough" (from Hamilton)
---
(2) I look up at the night sky and I know that yes, we are part of this universe, we are in this universe, but perhaps more important than both of those facts is that the universe is in us. When I reflect on that fact, I look up—many people feel small because they're small and the universe is big—but I feel big, because my atoms came from those stars.
— Neil deGrasse Tyson, "The Most Astounding Fact"
---
(3) He often used to say there was only one Road; that it was like a great river: its springs were at every doorstep and every path was its tributary. "It's a dangerous business, Frodo, going out of your door," he used to say. "You step into the Road, and if you don't keep your feet, there is no telling where you might be swept off to."
— J.R.R. Tolkien, The Fellowship of the Ring
---
(4) The encouraging thing is that every time you meet a situation, though you may think at the time it is an impossibility and you go through the tortures of the damned, once you have met it and lived through it you find that forever after you are freer than you ever were before. If you can live through that you can live through anything. You gain strength, courage, and confidence by every experience in which you stop to look fear in the face.
— Eleanor Roosevelt, You Learn by Living
.
Are there special Honors College scholarships available?
Yes, we offer two Achievement Awards: the Presidential Scholarship and the Discovery Scholarship. Upon submission of the Honors College application, students with a minimum composite ACT of 30 (SAT 1390) and a minimum core GPA of 3.5 will be placed into competition for these awards. No additional materials are required to compete for these awards. Both the Presidential and the Discovery Scholarship are intended for students who have an impressive academic record and who also represent the ideals that the Honors College embraces: intellectual curiosity, creativity, engagement, openness to new ideas, passion for learning, and drive. Please note that these scholarships are awarded through a competitive process and are not automatically given to students who meet the minimum consideration requirements.
For more information about these awards, visit Achievement Awards.
What is ZeeMee?
The Honors College is interested in applicants as "whole people," as both strong students and well-rounded individuals. We are curious about who you are—your likes and your passions, your talents, hopes, and dreams. That's why we partner with ZeeMee, a free platform where you can share short videos and photos that help us get to know you better. It's easy: just download the free ZeeMee app for iOS or Android and follow the prompts to get started.
ZeeMee offers many options to tell your story. Be sure to record a general introductory video. You can also add pictures, and make videos in answer to prompts that ZeeMee provides. Be as creative as you like!
Questions?
If you have questions about your Honors application, contact honors@usm.edu, or call 601.266.4533.