Apply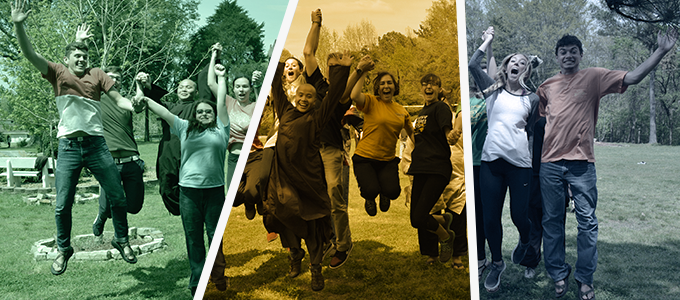 Note: If you have a 3.25 GPA and have completed at least 40 hours of coursework and three semesters at college or university, you may be eligible to apply for our Honors Keystone program. Please visit our Keystone page for more information on the program and how to apply.
Honors College Foundations
Through course offerings and extra-curricular programming, the Honors College Foundations curriculum nurtures the habits of mind, spirit of curiosity, and sense of civic engagement that are at the heart of the Honors College mission.
The curriculum is developmental, cultivating in students the intellectual skills and resources they will need as they advance to the mature achievement of the Honors thesis.
Who can apply to the Honors College?
The Honors College offers an enriched and challenging educational experience for students who exemplify such ideals as intellectual curiosity, creativity, openness to new ideas, passion for learning, and drive. The successful Honors College applicant typically has an ACT score of at least 27 (SAT 1180) and a 3.5 core GPA.* However, the Admissions Committee engages in a holistic review process that is not rigidly dependent on these credentials. Students who believe that they embody the ideals of the College and that their scores do not represent their full and true capacity for Honors education are encouraged to apply. We may seek additional materials should they be needed for a thorough assessment of a candidate's potential.
Honors Foundations courses are only available in face-to-face format.
* Standardized test scores earned through December will be considered for both Honors admission and Achievement Award eligibility. SAT scores are converted to the equivalent ACT score based on the testing concordance in place at the time of the testing date. For core GPA calculation, grades earned in college preparatory curriculum (CPC) coursework are computed on a four-point scale; thus, weighted grades earned in AP, advanced or honors classes are not calculated into core GPA.
What is the application process and what are the deadlines?
First, you must apply to the University of Southern Mississippi.
Once you have been admitted to Southern Miss and have a student ID and password, you may apply to the Honors College. The Honors College application is housed in the Golden Opportunities Scholarships and Competitive Programs system.
This means that your application to the Honors College will also serve as a general application for hundreds of donor-funded scholarships for which you may be eligible.
Deadlines are as follows:
December 1: University Admission
January 15: Honors College Application
What will I need to submit as part of my application?
General application
Housing Policy agreement
One report from a high school guidance counselor
Two letters of recommendation from teachers
Two essays (minimum 400 words each)
Supplemental item of your choosing
What are the essay questions?
You must submit TWO essays (a minimum of 400 words each) in response to the prompts below. Both essays should be thoughtfully and carefully executed. There is no "right answer."
ESSAY #1: REQUIRED – Choose ONE of the following prompts and respond accordingly.
According to demographers, social scientists, and others, you are a member of "Gen Z"—a generation of digital natives born into a world profoundly shaped by 9/11. Spend some time looking into what researchers say about Gen Z and then write an essay exploring the Gen Z idea: what does it mean to be a part of Gen Z? To what extent is the Gen Z idea accurate in relation to you and your friends? In what ways might your identity as a Gen-Z'er shape your attitude about the college experience you hope to have?
In Fahrenheit 451, Ray Bradbury writes: "We need not to be let alone. We need to be really bothered once in a while. How long is it since you were really bothered? About something important, about something real?" Write an essay about a time when you have been "really bothered" about "something real": what bothered you, why, and what did you do about it?
Names can have a great deal of significance. Some names are rooted in family history; some names have been changed—at Ellis Island, or as part of a process of immigration or forced departure, or by choice; some nicknames bear great significance; some people love their names, some wish to cast them off. Tell us the story of your name—all or any part of it. Where does it come from, and what does it mean to you and for the life you propose to live?
ESSAY #2: REQUIRED – Choose ONE of the following quotations and describe what it means to you, especially as you imagine embarking on your college career.
"Without leaps of imagination or dreaming, we lose the excitement of possibilities. Dreaming, after all is a form of planning." — Gloria Steinem
"[O]urs is a generation bloated with information and starved for wisdom." — Arianna Huffington
"A good book is an education of the heart. It enlarges your sense of human possibility, of what human nature is, of what happens in the world." — Susan Sontag
"Success is a journey, not a destination. The doing is often more important than the outcome." — Arthur Ashe
"Try not. Do, or do not. There is no try." — Yoda, The Empire Strikes Back
What is the required supplemental item?
Please submit a supplemental item of your own choosing. This should be something you have written or created that you feel tells us something about you that the other portions of the application do not. This might be a short video, a song or other piece of music (written or performed), a work of art, a presentation, a piece of writing (whether academic or creative), or something else.
Are there special Honors College scholarships available?
Yes, every student who is admitted to the Honors College as a freshman will automatically receive our Honors Scholar Award, which recognizes the special commitment made by HC students. This award provides $2000 per year, renewable for eight semesters, for a total of $8000.
Additionally, upon submission of the Honors College application, students with a minimum composite ACT of 30 (SAT 1390) and a minimum core GPA of 3.5 will be placed into competition for our two scholarships: the Presidential Scholarship and the Discovery Scholarship. No additional materials are required to compete for these scholarships. These highly competitive awards are intended for students who have impressive academic records and who also represent the ideals that the Honors College embraces: intellectual curiosity, creativity, engagement, openness to new ideas, passion for learning, and drive. Please note that these scholarships are awarded through a competitive process and are not automatically given to students who meet the minimum consideration requirements..
For more information about these awards, visit Scholarships.
Next Steps
Please refer to the checklist above for all required items to complete your application for the Honors College Admission. You are responsible for monitoring the following steps to make sure they are complete by the deadline of January 15, 2018.
FAFSA – As stated on the General Application, applicants must complete the Free Application for Federal Student Aid (FAFSA) to be considered for this opportunity. You are responsible for ensuring your FAFSA has been completed.
Admissions and awards decisions will be posted in the portal by March 15. Be sure to log back into the GO System to get the results of your application.
Questions?
If you have questions about your Honors application, contact honors@usm.edu, or call 601.266.4533.