All-South Activities
All-South Drum Major and Guard Camp
June 16-20, 2019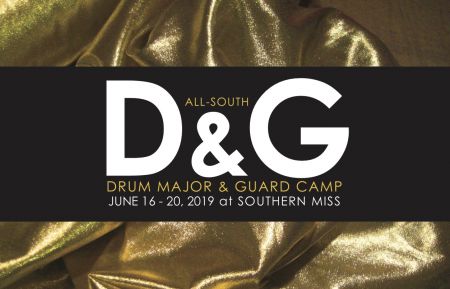 REGISTRATION for resident and commuter campers will be held on Sunday, June 16 from 3:00 - 5:00pm in the lobby of the Mannoni Performing Arts Center (PAC). After registration, resident campers should go to their dorm for housing assignments.
COSTS: $350 for residential campers; $275 for commuter (day) campers.
HOUSING accommodations will be located in Century Park 1 and Century Park 3. Room assignments will be made at the dormitory. Roommate requests will be honored when possible. Only two people may be assigned to a room. If no roommate preference was requested when you registered online assignments will be made according to the camper's age and grade level. Qualified counselors will be housed on each floor of the dorm. Dormitory rules are strictly enforced. Each room contains a micro fridge and private bath.
WHAT TO BRING TO CAMP: Sheets (extra-long twin), blanket, pillow, pillowcase, toiletries, towels, sunscreen, comfortable walking shoes, and a small personal water cooler or water bottle (classes are held outdoors). Guard participants, please be sure to bring your own flag and pole. PLEASE PUT YOUR NAME ON ALL POSSESSIONS!
COMMUTER CAMPERS: Daily activities will begin at 8:00am on the lawn adjacent to the Fine Arts Building. Day campers daily departure will be at 5:00pm. The day camp fee includes the lunch meal only. Day campers may participate in nightly activities; however, these activities are not required. FIRST FULL ASSEMBLY: Sunday night, June 16, 6:30pm in the Mannoni Performing Arts Center Auditorium. All students are required to attend.
HEALTH SERVICES: The Southern Miss Clinic, local hospitals, and the Family Practice After Hours are available should campers need medical assistance. Payment for any and all medical services is the responsibility of the parent(s) or guardian(s). You will receive a Southern Miss Drum Major and Guard Camp Medical Information Sheet in your email. Please fill it out completely and return it via email or postal service to the USM Band office. Failure to complete this form with result in your registration being cancelled.
AUTOMOBILES: Campers will not be permitted to operate automobiles while at camp. If a camper brings an automobile, the keys must be turned in to the camp director. The keys will be returned at the end of camp. A university parking permit may be purchased at registration for $2.00.