Uncrewed Maritime Systems (UMS) Certificate Programs
Autonomous vehicles are becoming increasingly involved in routine, innovative, and emergency data collection in the marine environment yet few curricula exist worldwide to train operators for this equipment. This certificate will provide students with a working knowledge on the operation of a variety of autonomous marine survey vehicles and to help them to understand the environment in which vehicles operate and how that environment factors into decisions and mission planning.
If you are interested in the UMS program, please send an email to%20UMS%20Program%20Coordinator or contact at (228) 688-3556.
UMS Certificate Program - Tier 1
Next Course Delivery: March 20 – April 21, 2023
Class size is limited to 15 students.
Applications will be considered on a first-come, first-served basis.
Application deadline is 6 March 2023 at 5 PM CST.
Address any questions to%20carl.szczechowskiFREEMississippi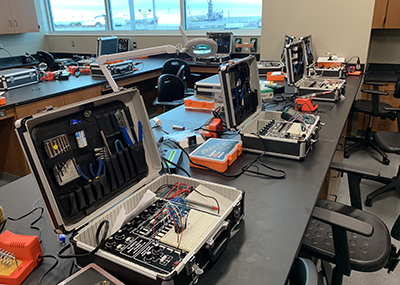 Students will learn foundational material in oceanography and ocean engineering related to unmanned undersea and surface vehicles (UUVs and USVs), such as powered gliders. This 10-credit hour program compressed into five weeks of instruction is intended to provide sufficient background to safely operate vehicles in challenging marine environments.
Prior to operating with vehicles, students will work with individual electronic workstations and glider kits to provide them with the necessary background knowledge in electronics, materials, batteries and connectors. They will also work with a variety of sensor systems, including ADCPs, CTDs, cameras, fluorometers, and several types of sonars and other acoustic gear.
The UMS Certificate program consists of three courses and one lab, as well as several hours of basic field work during which students will program, launch, monitor, and recover several types of unmanned systems.
UMS Operator Certificate Program - Tier 2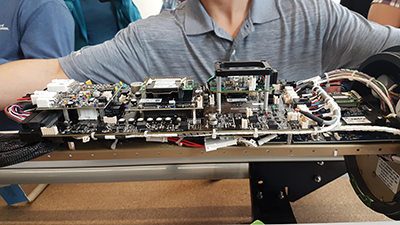 In this follow-on curriculum students will delve into ocean science and engineering topics, including characteristics of specific platforms and sensors, physical environmental factors affecting UMS in both operational and research and development settings. The curriculum draws knowledge from real-world case studies of specific situations, sensors, and platforms. Students will apply these concepts in developing and conducting operations during a short field project.
The UMS Operator Certificate program consists of four courses totaling 12 credit hours compressed into five weeks of instruction including a field project during which students will conduct mission analysis & planning, specific vehicle and sensor matching, specific vehicle preparation, launch, operation, and recovery, followed by quality review of collected data.
---
Student Learning Outcomes/Objectives:
SLO1: Students will be able to evaluate the specific requirement of a given mission, consider the environmental limitations, and select the appropriate hardware for the task.
SLO2: Students will be able to read schematics, assemble electronic components, and program micro-controllers similar to those used in modern undersea vehicles.
SLO3: Students will be able to properly determine and adjust the ballast and trim of several types of autonomous undersea vehicles varying conditions.
SLO4: Students will be able to troubleshoot failures in cables, connectors, and simple electronic components.
SLO5: Students will be able to properly plan a glider mission and write the operational program with which to execute it.
SLO6: Students will be able to properly plan a powered AUV mission and write the operational program with which to execute it.
---
USM's Uncrewed Maritime Systems Fourth Class Graduates
The class recently graduated 15 students in a ceremony while observing Covid-19 guidelines. Graduates, guests, faculty and speakers maintained a six-foot distance and wore masks. The ceremony was also streamed live via zoom. Read more
| Class of 2019 | |
| --- | --- |
| | |
Navy Unmanned Certificate Program Began on 5/2/2017
NAVY Students will be first in the nation to earn a certificate in Uncrewed Maritime Systems at USM. Read Navy article here.