Who We Are
Moffitt Health Center is a multi-service health care facility located on the Hattiesburg campus of The University of Southern Mississippi. All currently enrolled students and employees at Southern Miss are eligible to receive the services we provide. We are accredited by the Accreditation Association for Ambulatory Health Care, Inc. (AAAHC) and have served the university community for more than 40 years.
Under the direction of Melissa Roberts, M.D., our qualified staff includes physicians, nurse practitioners, physician assistants, and registered nurses with a student-focused mission to provide quality, cost-effective comprehensive health care, and educational services to the university community.
Request a ProgramSubmit%20an%20Insurance%20Card
Our Mission
Student Health Services exists to enhance student success by providing high quality, cost effective healthcare while promoting a culture of wellness through outreach programs and patient education.
Fall and Spring Semesters
Monday-Wednesday: 8 a.m. - 5 p.m.
Thursday: 9 a.m. - 5 p.m.
Friday: 8 a.m. - 4:30 p.m.
*Pharmacy opens at 9 a.m. Monday - Friday*
Semester Breaks and Summer
Clinic and Pharmacy
Monday - Friday: 9 a.m. - Noon, 1 p.m - 4 p.m.
On behalf of the employees at the Student Health Services, we would like to inform you of things that you might not be aware of as a new or existing patient.
HIPAA (Health Insurance Portability and Accountability Act) – is a federal law that requires the Southern Miss Student Health Services to protect your health information and to keep everything confidential.
You will be given a copy of our notice of privacy practices and required to sign this form upon your first visit.
You as a patient have rights and responsibilities. A copy of these rights and responsibilities can be found in each patient room.
Health is Golden is a campaign to create a culture of wellness at The University of Southern Mississippi. This campaign aims to provide students, faculty, and staff with the education and resources to accomplish that goal through programming, events, presentations, outreach, and other activities. Topics cover all areas of wellness, including but not limited to, fitness, nutrition, sexual health, mental health, alcohol and drugs, sun safety, and other wellness related topics. Primary departments involved in the Health is Golden initiative include the Office of Health Promotion at Moffitt Health Center and Campus Recreation, housed in the Payne Center.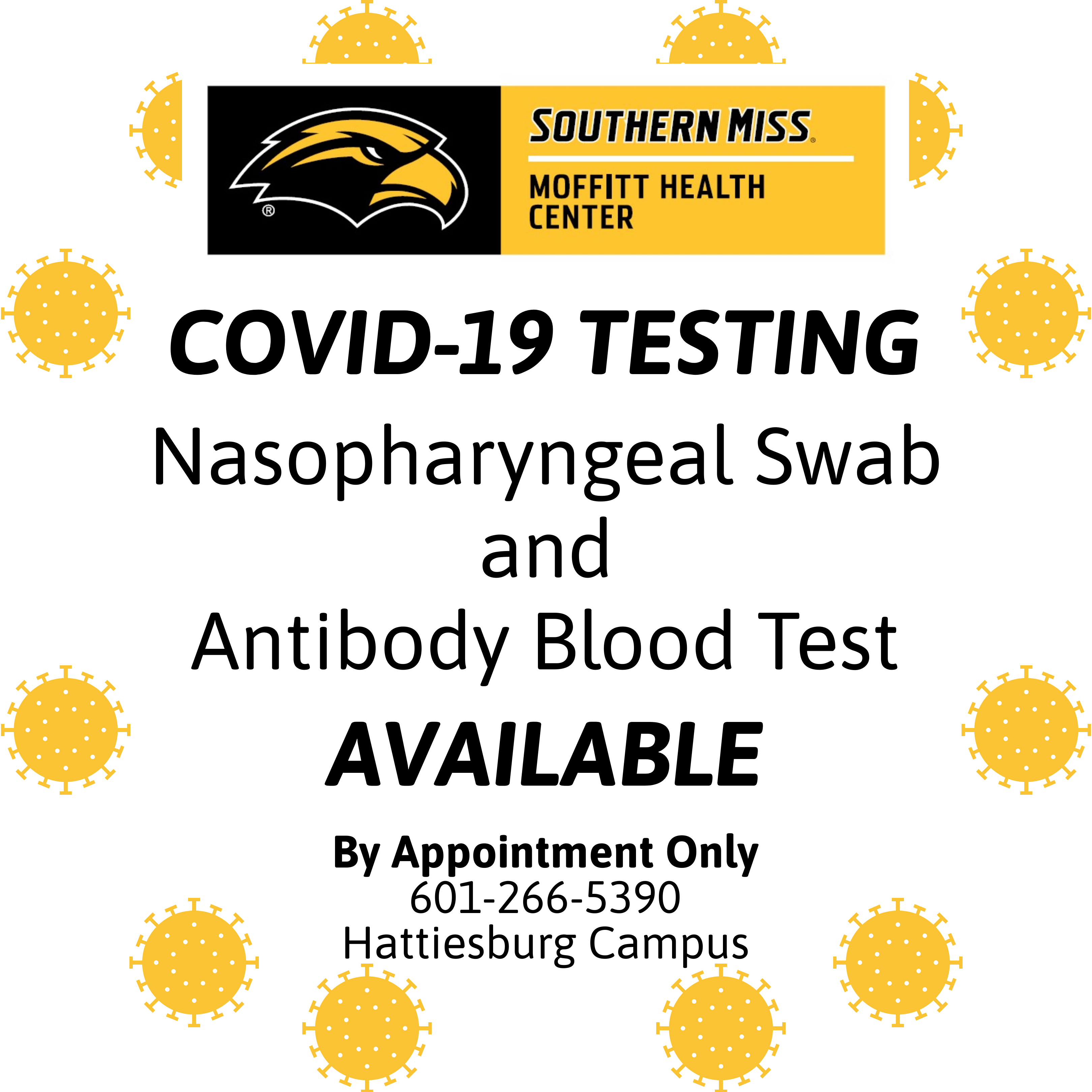 How To Get Tested for COVID-19
Testing for Current Infection or Previous Exposure
We are taking all precautions to keep our campus community—including patients and employees—safe. A facemask is required upon entering the clinic. Your safety and health are our priorities as we help you.
For at-risk populations and those who prefer to stay at home, telehealth appointments are also available, allowing you access to a provider over the phone.
Moffitt Health Center is Offering 2 Ways to Test for COVID-19

Swab Test: This test is FDA approved and performed with a swab of your nasal passages to determine if you currently have an active COVID-19 infection. Most results are available in 1-3 days. You will be billed an office visit (either through your insurance or self-pay). The cost of your test will be billed to your insurance if you have coverage.

Antibody Blood Test: This FDA approved test determines if you have antibodies to COVID-19 (SARS-CoV-2 IgG). This test can show previous infection or exposure to the disease. Most results are available in 1-2 days. You will be billed an office visit (either through your insurance or self-pay). The cost of your test will be billed to your insurance if you have coverage.

Testing is available on the Hattiesburg campus only.
Announcements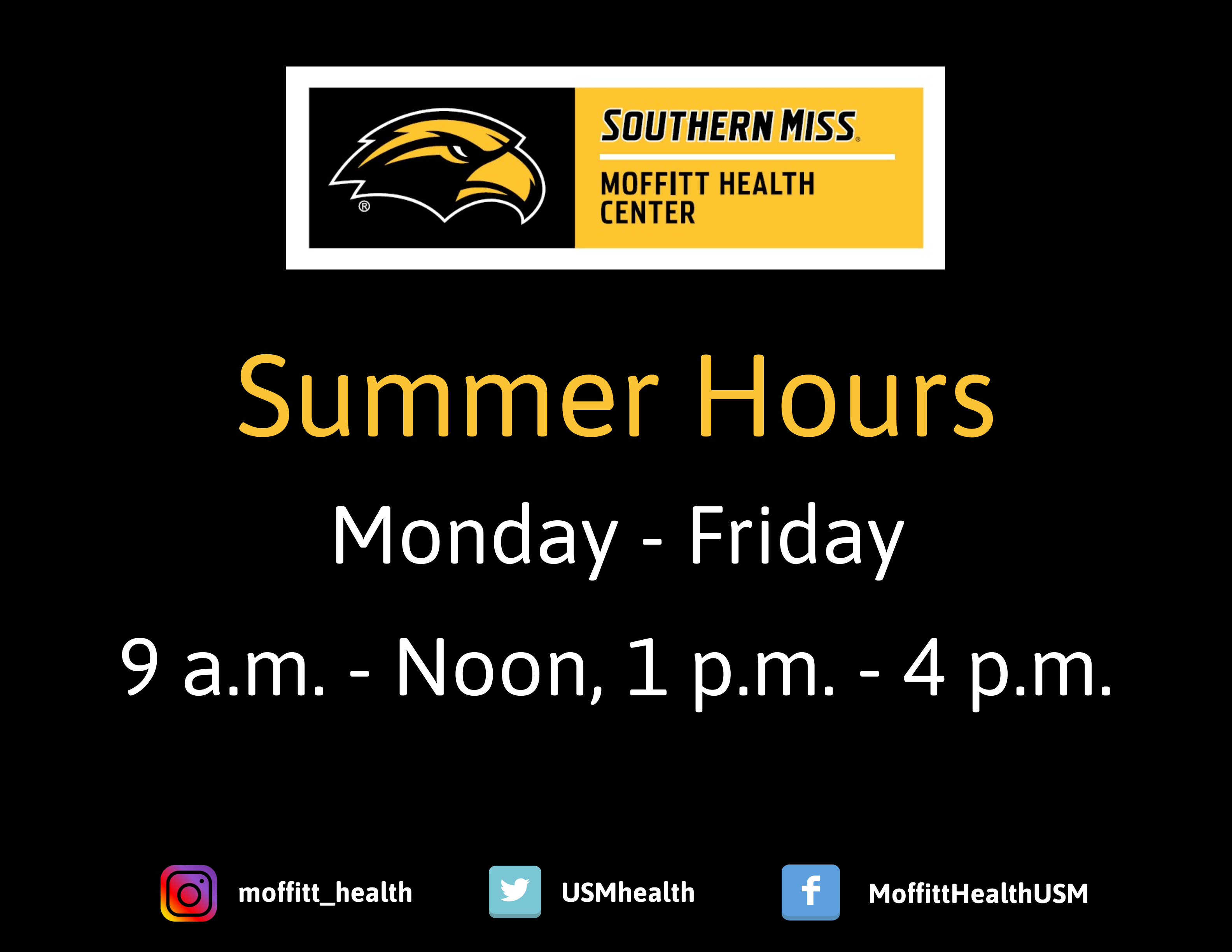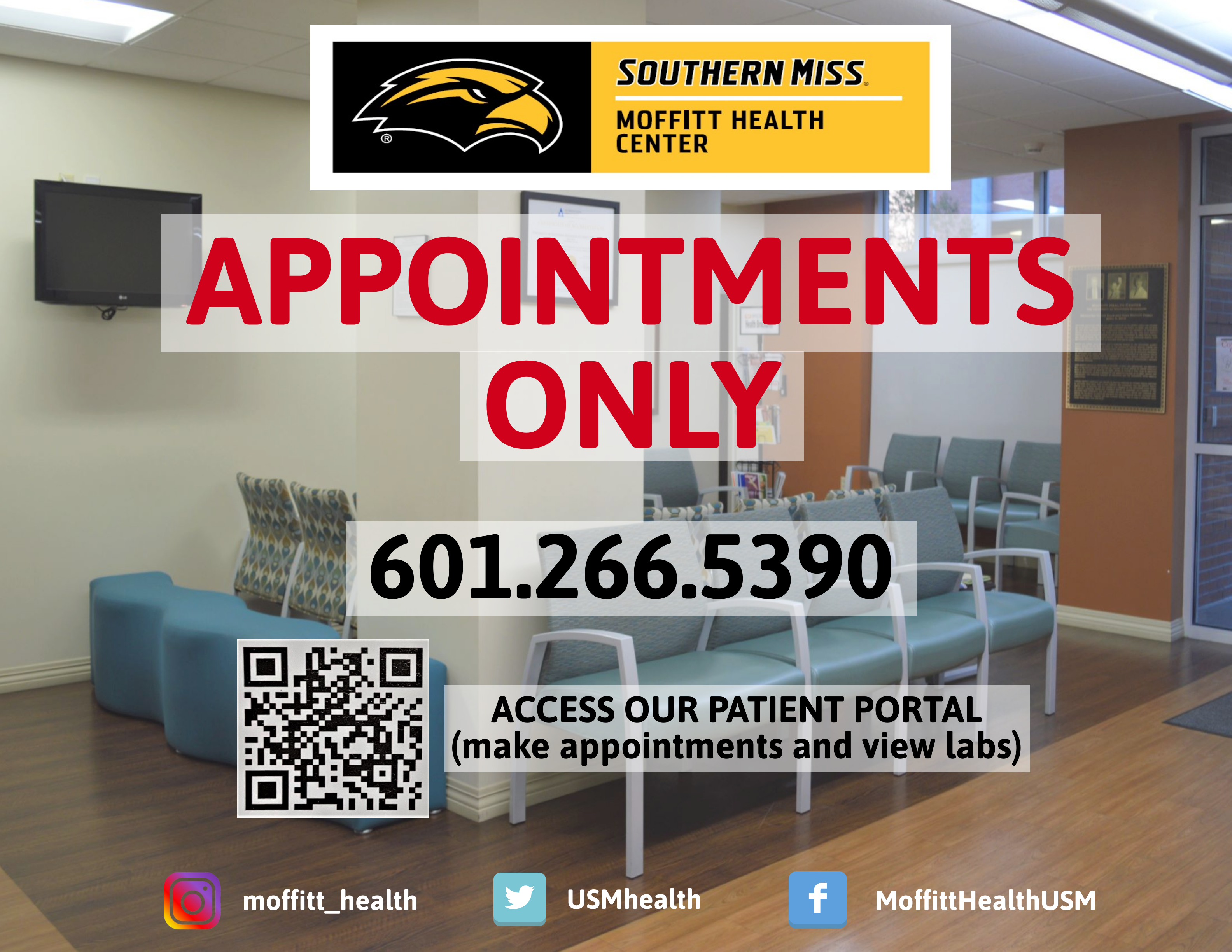 We are currently in the process of updating our website. If you are unable to find the information you need, please call 601-266-5390 or email us at clinicadminFREEMississippi.