TRIO-SSS at Southern Miss
TRIO-Student Support Services (TRIO-SSS) at Southern Miss is a $1.3 million five-year U.S. Department of Education grant. Our mission is to provide academic assistance, advocacy, and individual support to eligible undergraduate students. We aid TRIO-SSS Scholars in maintaining good academic standing, successfully persisting in college, and graduating from Southern Miss. Scholars work with staff and peer mentors to identify and achieve individual goals and academic success strategies needed to accomplish them. TRIO-SSS is a supportive and inclusive environment that fosters the holistic development of each Scholar through exclusive access to tutoring, educational workshops, and other success-related services.
The Center for Student Success
Celebrate National First-Gen Day!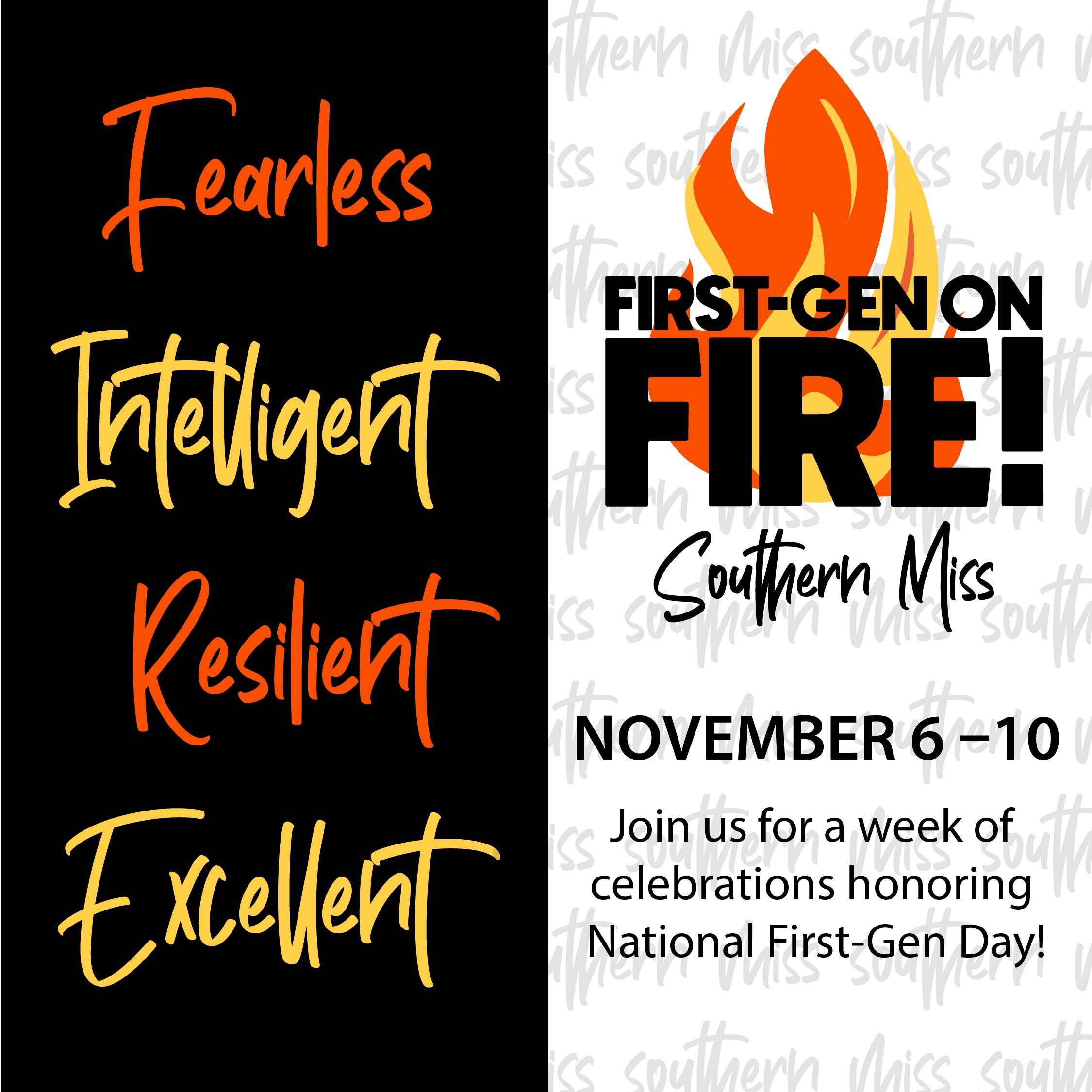 Join us for a week of festivities as Southern Miss commemorates National First-Gen Celebration Day, recognized annually on November 8th to celebrate students, staff, and faculty who are the first in their families to pursue and graduate with a four-year degree.
All first-gen students are welcome!
Learn More about TRIO-SSS
We appreciate your interest in participating in the Student Support Services Program. Use the links below to learn more about us!
Course Tutoring
Academic Coaching
Financial Literacy and Personal Advising
Private Computer Lab Access and Study Rooms
Free Printing
Career Exploration
Mentoring
Student Success Skills Workshops
Familial and supportive environment and network
Cultural and Social Activities
In addition, TRIO-SSS may also provide Supplemental Grant Aid to currently enrolled first and second year TRIO-SSS Scholars who are Federal Pell grant recipients.
To be a TRIO-SSS Scholar, a student must be a citizen or permanent resident of the U.S. and must be enrolled at The University of Southern Mississippi. Additionally, the U.S. Department of Education stipulates that scholars must fall into one or more of the following categories:
A first-generation college student (neither parent/guardian completed a bachelor's degree)
an Income-Eligible student (determined by taxable income level and family size)
A student with a documented disability (verified by registration with the Office of Student Accessibility Services)
Selected students must also be U.S. citizens or permanent residents enrolled at the Southern Miss Hattiesburg campus.
*Program eligibility is established by the U.S. Department of Education.
In order to apply to TRIO-SSS at Southern Miss, click the link below or stop by the TRIO-SSS office in Cook Library, Room 109K.
Once your application and all required documents are properly submitted, your application will be processed. Once we receive your completed application, you will receive an email confirmation that we successfully received your application and pending your eligibility, and intake assessment will be scheduled.