Our Mission
It is the mission of the Southern Miss Physical Plant to provide a safe, secure and enriching environment, in an effective and efficient manner, consistent with the university vision, mission and values.
Work Order Submission
A work order must be submitted for all non-emergency requests made during Work Control Center Office Hours: Monday through Friday, 7:30 a.m. to 4 p.m.
All other emergencies (danger to life, limb or property) that take place after hours on holidays or weekends should be reported to the University Police Department at 601.266.4986.
Place/Query Work OrderReport Outdoor Lighting Issue
Updates & Announcements
Stay up to date on outages, interruptions and construction projects happening on the Hattiesburg campus.
Alerts
Fire Department Drills to begin the July 30
The Hattiesburg Fire Department will conduct training exercises the mornings of Tuesday, July 30 and Friday, Aug. 2, in the now vacant Pinehaven Apartments. Expect to see fire trucks and equipment, as well as related personnel in the area. For questions, contact the Physical Plant Fire/Safety Department at 601.266.4414.
Shut Downs
Chain Technology Flooring Replacement
Repairs to the third-floor hallway of the Chain Technology Building will begin on Saturday, July 27. The first phase of the project will involve the removal of hazardous material. Therefore, the third-floor will not be accessible to any faculty, staff, or students, until this phase is complete in approximately one week. This phase will also require a total shut down of the HVAC system to all floors of the building. The temperature of the accessible floors will be quite warm during this phase. A notification will be sent to the building liaison when this phase is complete, on approximately August 2.

The second phase of the project will involve the installation of new flooring, which will be completed in sections, to allow for some access to the third floor. The HVAC system will function normally during this phase throughout the building. Barring any unforeseen problems, the all work will be completed by August 14.
Detours & Other Updates
Golden Eagle Avenue Closure Extended
Due to the amount of rain received in the Hattiesburg area, opening of Golden Eagle Avenue, from Pearl Street to Montague Boulevard has been delayed until Aug. 2. The faculty/staff and ADA parking spots along Golden Eagle Ave. are still accessible from Montague Blvd. For questions, call the Physical Plant at 601.266.4414.
There are numerous construction projects underway or set to begin on the south side of the Hattiesburg campus. Please view the maps below for an overview of the pedestrian and vehicular detours.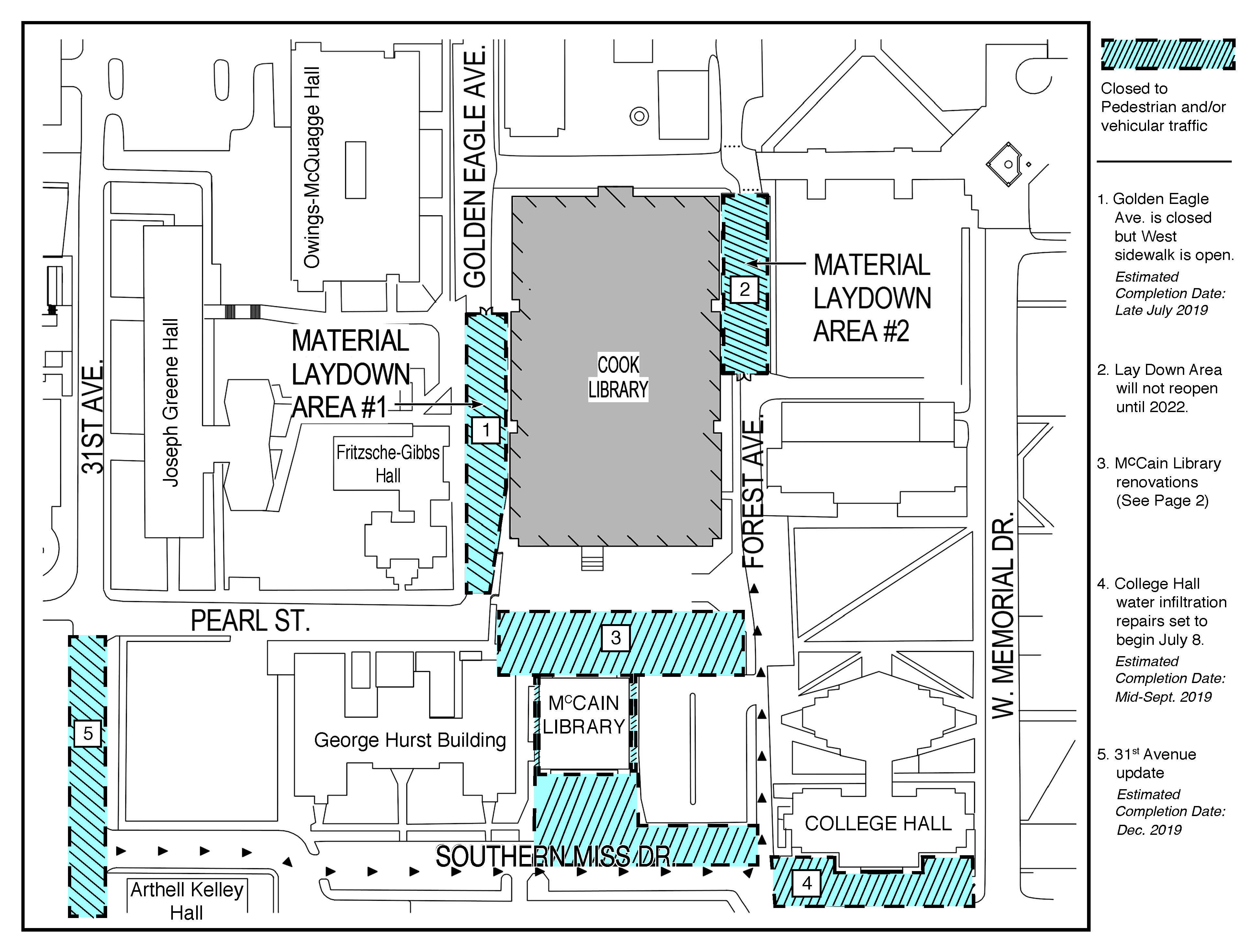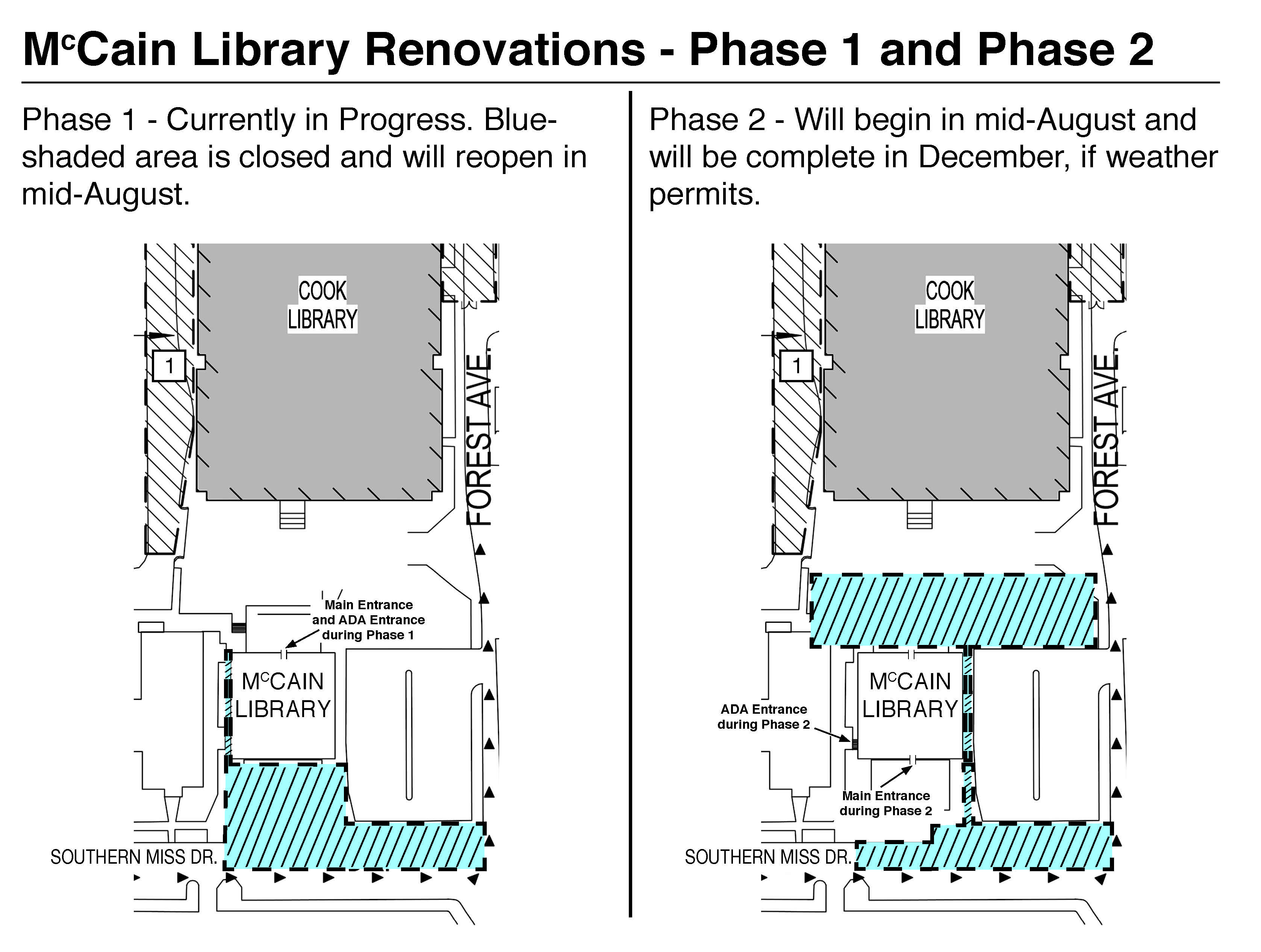 The Physical Plant strives to construct an environment conducive to the education, research and service goals of The University of Southern Mississippi. All projects initiated and managed by the Physical Plant are intended to address the tenets established by the University Master Plan. Last approved by the IHL board in 2008, the plan addresses the following:
-Ensuring the physical campus setting continues to strengthen the quality of the collegiate experience
-Reforming and reshaping residential life through creation of vibrant living/learning districts
Regenerating the historic core as the heart of campus
-Promoting a strategy for growth that organizes development in accordance with existing campus districts
-Maintaining a respectful, engaged relationship with the city of Hattiesburg
Projects, Renovations and Upgrades In Progress
-Bower Academic Center Completion Date: TBD
-Building ID Signage Installation Completion Date: Ongoing
-Campus Lighting Upgrade Completion Date: Ongoing
-Demolition of Houses & Trailers Completion Date: Ongoing
-Energy Reduction Retrofit Completion Date: Ongoing
-GIS Mapping and Infrastructure Survey Completion Date: Ongoing
-Joseph Greene Hall Renovations Completion Date: Summer 2019
-McCain Library Envelope Repairs Completion Date: TBD
-Wellness/Volleyball Complex Completion Date: September 2019

Projects on the Horizon
-Fritzsche-Gibbs Hall Renovations
-Kinesiology Building Renovations
-Parking Lot Improvements
-Southern Hall Renovations
Building Liaisons
Building Liaisons serve as the central point of contact for day-to-day maintenance services of university facilities, and function as the liaison between building occupants and the Physical Plant.
Routine failures and maintenance should first be reported to the Building Liaison, who will initiate the work order and notify building occupants of its status.
Building Liaison responsibilities also include:
Contacting building occupants of both planned and unplanned events
Serving as primary point of contact in the event of an emergency in a building during working hours
Conducting periodic walk-thru of building and report issues to the Physical Plant
Serving as point of contact for building safety reports
A listserv has been created to provide building liaisons with updates, notifications, and helpful hints from the Physical Plant and iTech. To sign up send your name and email address to physicalplant@usm.edu.
Click here to view the building liaison list (PDF).
Looking to get involved on campus? The ADOPT A SPOT Program is the perfect choice for you. Individuals and organizations can help keep Southern Miss beautiful by adopting an area and pledging to keep it clean at least once per semester.
Click here to apply or for more info: https://www.usm.edu/physical-plant/adopt-spot-program.
Are you planning an event on the Hattiesburg campus? If so, don't forget to place a work order at least three working days before the event.
Things to consider:
Will you need assistance from our landscape team, who will have to approve the location of a stage, tent and any other equipment to be used on a lawn?
Will you need electrical support or stand-by service?
Will you need trash cans or stand-by custodial services?
Does the HVAC schedule of the event location need to be adjusted for the date and time of your event?
If any of the above are true, please submit a work order with specific details about the event and list how we can support your event.
At the end of FY 2016, Southern Miss, along with other IHL member institutions, completed a 10-year energy reduction initiative. As of June 30, 2016, the university has reduced energy consumption by 31% and realized a cumulative cost avoidance of $16,506,140 for electric and gas usage during the initiative.
Energy Update
FY18 energy use per gross square foot (GSF) increased 1.1% from FY17. FY18 campus energy costs per GSF slight increase of 0.2% from previous year. The colder winter caused an increase in natural gas usage offsetting electrical savings.
Water Update
FY18 water usage index decreased 7.2% from previous year resulting in 9.1% GSF cost reduction from previous ye
The Physical Plant maintains more than 315 acres.
With 180 team members, we support 4.5 million square feet of facility space.
We are dedicated to satisfying our customers by providing quality service.